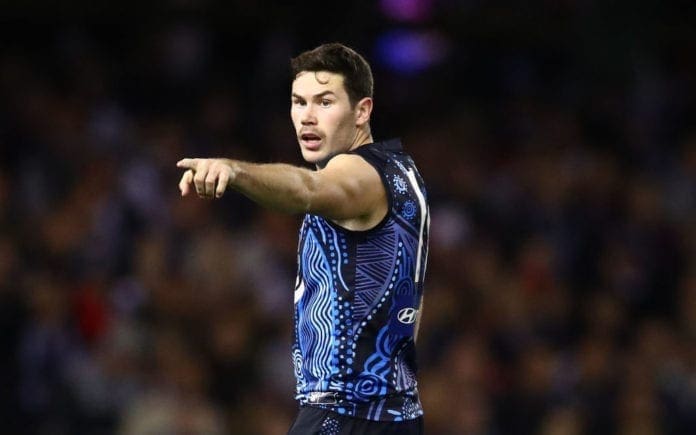 There's no doubt that at full strength the Blues have a surplus of talls that can't fit into their 22-manside for matchday.
There is a theory that the Blues should look to offload a tall in order to help fill a hole somewhere else on the ground.
Levi Casboult and Matthew Kreuzer are the oldest of the Blues tall stocks, with Kreuzer absent since round one.
Forward trio Harry McKay, Mitch McGovern and Charlie Curnow are seen as the Blues attacking structure for the next decade despite the latter yet to feature in 2020.
Marc Pittonet and Tom De Koning are currently holding down Carlton's ruck spots in the absence of Kreuzer.
But what do the Blues do if and when Kreuzer and Curnow return? They won't all be able to play together, so what are their options?
Do the Blues hold onto them all in case of injury like this year, or do they get active in the trade period?
Tim Watson and Garry Lyon spoke about Carlton's overloading height stocks on SEN.
"This is my question for you. Harry McKay, Levi Casboult, Mitch McGovern, Charlie Curnow, Tom De Koning and Marc Pittonet – how are they going to fit all of those blokes in?" Lyon said.
Watson: "They won't, they can't play them all at the one time."
Lyon: "So what will they do? Do they get aggressive and go to the market with one of those players?"
Watson: "I think you should."
Lyon: "Who? Which one?"
Watson: "Well that's the other question that needs to be answered, which one of those blokes do you think you're going to get the best deal for. I don't know which one is going to get the best deal right now. I wouldn't be giving McKay away."
Harry McKay and Levi Casboult are in good form this season, while Mitch McGovern started the year well before injury. Tom De Koning has emerged as a rising ruckman who can play forward, as has Marc Pittonet, and both Charlie Curnow and Matthew Kreuzer are waiting in the wings come 2021.
So what does Carlton do with them all? One option would be to hold firm and keep the depth given the injury issues among the group. Another option would be to put one on the trade period in order to improve other parts of their list.
Both Lyon and Watson stated that McGovern would be the best fit for off-season trade bait.
Lyon: "Casboult is not going to land up massive value. So then you're thinking either McGovern or Curnow, would you be looking at either one of those?"
Watson: "McGovern, If someone came to you, but it's not going to happen, no one is going to come to you and offer a great deal for McGovern and you're not going to get the best deal right now for Curnow given what he is coming off of. If you put him on the market now someone's going to want a discounted deal given you're not sure how he's going to come back to the game. It's a good problem to have for Carlton."
The Blues are set to play Collingwood on Sunday in hope of breaking into the top eight.