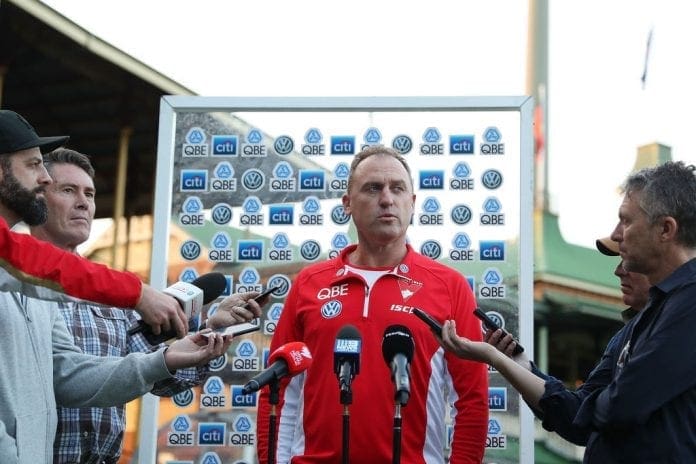 Sydney coach John Longmire has described the secret meeting between Hawthorn coach Alastair Clarkson and AFL cheif executive Gillon McLachlan as "unusual and unnecessary".
After Clarkson made controversial comments post game about blocking tactics used by the Swans defenders that cost Jarryd Roughead a goal in the last quarter, Clarkson then had a follow up meeting on Monday morning with the AFL boss in order to clear the air and seek some clarification.
Clarkson told the media the Swans defenders are "very sophisticated with the way that they defend, but at different stages they're getting away with blue murder too", naming Dane Rampe and Heath Grundy that main culprits.
Longmire voiced his concern and displeasure with the meeting this afternoon.
"Obviously after the game it can be difficult (at media conferences) but to follow it up on Saturday, and again this morning with Gill to go through some vision, is a bit unusual," Longmire said in his press conference on Monday.
"I spoke to Gill and asked what it was about, but it's got nothing to do with Gill, he didn't know what the chat was about (before the meeting).
"I'm not sure if it was under the guise of (talking about) the charter of the game or what it was, but it's unusual and unnecessary I would suggest.
"It was strange from Alastair, considering the three previous times when they beat us nothing was said.
"I had a look on the AFL website today and there's plenty of examples of Hawthorn players doing exactly the same thing, so let's not kid ourselves.
"It's an important part of the game that Hawthorn are very good at.
"It's a bit on unusual that he can make comments about other teams and what they do, then think to yourself that your team does everything right."
After Friday night's thrilling contest, Longmire did admit that he has spoken to Clarkson in the aftermath where they both reiterated that talk about the state of the game need to be made at the conclusion of the season.
"We've had a couple of exchanges, and we probably agree to disagree on this one," Longmire said.
"We've all got passionate thoughts on the game, but there's a time and a place to have those discussions.
"When we're in the heat of the season and particularly after a loss, I don't think it's appropriate to put it on the agenda like he did."
The Hawks look to bounce back this week when they play the Lions on Sunday afternoon while the Swans face the Dockers on Saturday night.