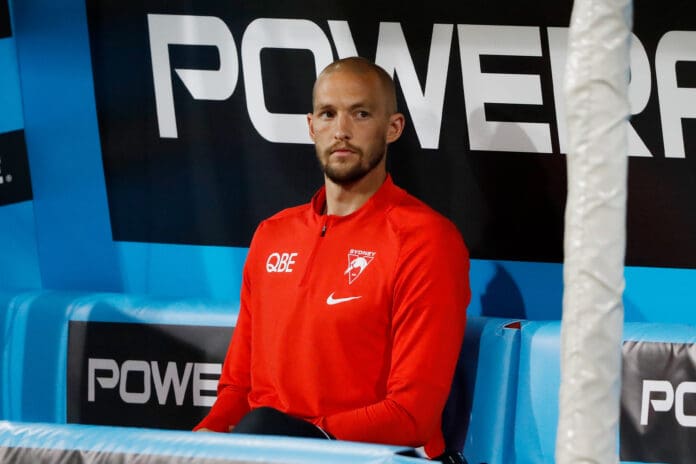 Sydney coach John Longmire has admitted he and his match committee made an error in selecting Sam Reid for the grand final.
Reid played just over a half before he was subbed out of the game for Braeden Campbell with the key forward unable to create any form of contest due to his sore groin.
Young forward Logan McDonald was omitted from the side that defeated Collingwood in the preliminary final and Hayden McLean entered the side but the decision to include Reid was clearly an error.
Alternatively, Geelong made the brutal call to leave out Max Holmes (hamstring) with the young winger unable to win over Chris Scott who decided to bring in Brandon Parfitt and elevate mark O'Connor to the starting 22 for the season decider.
Reid and McLean both had four disposals for the game and only managed one goal and two marks between them. While Sydney's forwards were starved of opportunity, it wasn't an output that justified the decision of Longmire and his team. 
Lance Franklin was another forward who struggled only managing to collect five disposals for the afternoon.
Speaking after their humiliating 81-point loss, Longmire admitted the gamble to play Reid and leave out McDonald was ultimately the wrong call.
"We made a mistake there too. Not much went right," Longmire said.
"Well, we were obviously confident (in his body), that's why we picked him, but we made a mistake."
Speaking on Channel 9's The Sunday Footy Show, Kane Cornes criticised the decision to back Reid in when the stakes were so high.
"They should not have picked Sam Reid, he didn't have a kick of the ball," Cornes said.
"He was just hampered right from the start. He only had four handballs for the game (and) halfway through the second quarter he was done.
"The same for McInerney, he had the ankle injury. (He's) talking to the medicos throughout the game and it's a distraction. They got that wrong and the contrast with how Geelong handled Holmes and Sydney handled Reid was there for us all to see."
Co-host Matthew Lloyd backed Cornes' opinion, highlighting the omission of Holmes, who had reportedly done all he could to convince Geelong's selection committee he was right to go.
"He passed every test, they expected him to fail but he kept passing," Lloyd said.
"Max Holmes might be thinking 'Ok, I could have played in that game, I could have been the sub.' But you can't take a risk like that."