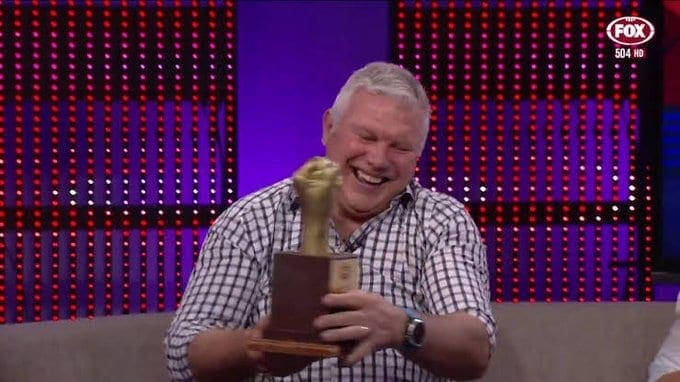 Over 28,000 footy fans have signed a petition to make Danny Frawley's 'Golden Fist' a Brownlow night honour for the competition's best defender.
A highlight segment on Fox Footy's 'Bounce' of which Frawley was a main cast member, the 'Golden Fist' award was created by Frawley for defenders like himself because they don't get the recognition and plaudits for spoils and defensive efforts in the AFL spectrum.
The Change.org petition entitled 'Make 'The Golden Fist' a proper AFL award in honour of Danny 'Spud' Frawley' had received over 10,000 signatures in just over four hours after it was announced that the St Kilda legend had passed away Monday afternoon.
"Danny 'Spud' Frawley was an AFL legend, and made the Golden Fist segment on Bounce something widely recognised across the AFL community," petition starter Alex Baggio wrote.
"In honour of his passing, the AFL should introduce the Danny Frawley Golden Fist award for the best defender on Brownlow night."
The segment was a fan favourite of the Bounce program, and was first awarded in 2012 with the likes of Ted Richards (2012) Josh Gisbon, Brian Lake (2013) Scott Thompson (2014) Alex Rance (2015, 2016, 2017) and Jeremy McGovern (2018) taking home the award.
The petition is aiming to reach 35,000 signatures by day's end.