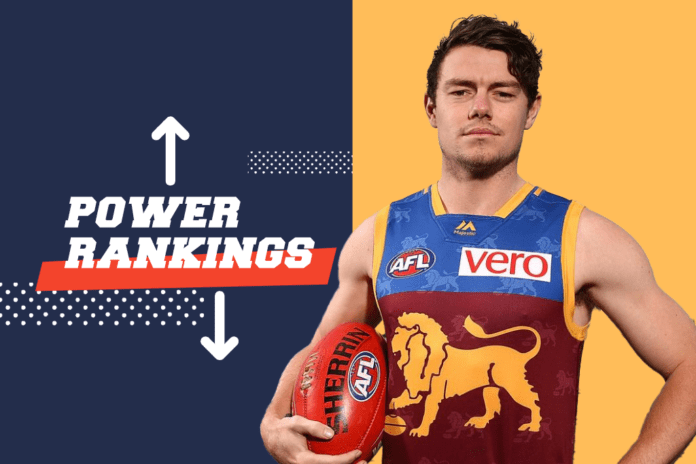 After three rounds of AFL action, we have three teams who remain unbeaten while the same number of sides are left chasing their first win.
Carlton, under new coach Michael Voss, continued their hot start to the season to remain as one of the unbeaten trio, while last year's preliminary finalists, Port Adelaide, succumbed to a third-straight loss after going down after the siren to cross-town rivals Adelaide in the Showdown.
See who the big movers were after Round 3 👇
READ MORE: Carlton, Hawthorn and Collingwood on the movie - AFL Power Rankings Round 2
1. Melbourne
The reigning premiers kept their unbeaten record intact with a 29-point win over the Bombers, who remain rooted at the foot of the ladder as they search for their first win.
The Demons recorded nine more scoring shots and a whopping 27 more inside 50s on the night, and the margin should have been far greater.
That said, the game was in the balance deep in the last quarter, before the Demons kicked three goals after the 23rd minute - again highlighting their ability to score quickly and put the game to bed when needed.
They were the team to beat all throughout 2021 and, at this stage, the Demons remain the yardstick of the competition.
2. Brisbane
Two so-so wins over Port Adelaide and Essendon to start the season saw the Lions undefeated, but a few were left questioning where they were really at.
Those questions were fair, given Port and Essendon are yet to record a win after three rounds, and, to be fair, a Round 3 match-up against cellar-dwellers North Melbourne was never going to provide a great challenge.
However, the Lions dispatched of North with contempt, handing out a 108-point drubbing at the Gabba on Saturday night.
The margin could have been greater too, with the Lions kicking 23.18 to North's paltry 7.6.
The Lions will face tougher tests in 2022, but they appear to be more than capable of passing them with aplomb.
3. Carlton
Perhaps the biggest issue among Blues' fans during David Teague's reign as coach was the club's inability to halt an opponent's momentum.
We saw that again on Sunday at the 'G, as Carlton gave up a five-goal half-time lead against Hawthorn to fall behind deep into the final term.
Despite the inability to stop the Hawks' late run, the Blues were able to get their noses back in front when it mattered to run out one-point victors. That, perhaps, is the biggest difference at Carlton this year - they're finding ways to win.
At 3-0, they're a legitimate chance to get to 5-0 as they face Gold Coast and Port Adelaide in the next fortnight.
4. Sydney
The Swans never got going on Thursday night as they suffered their first defeat of the season, going down to the Bulldogs by 11 points.
Whether it was partly due to the mini-hangover of the 'Buddy 1000' drama of the week before we'll never know, but they simply couldn't hit a target and gave up 26 scoring shots while recording just 16 of their own.
They should bounce back at home to North Melbourne this weekend however and, with West Coast to come after that, it'll be a surprise if they don't sit at 4-1 after the first five rounds.
5. Geelong
If we did these rankings at three-quarter time of Geelong's Saturday night clash against Collingwood, the Cats would be in a considerably different spot.
Trailing by 30 points, a seven-goal to one final term saw the Cats run out 13-point victors in inspirational skipper Joel Selwood's record-breaking game.
With a comprehensive win over the Bombers in Round 1 followed by defeat to Sydney in Round 2 and an up-and-down effort against the Pies, it's hard to know what to make of the Cats at this stage.
But after three rounds they sit 2-1 and will enter favourite in more games throughout 2022 than they won't.
6. Western Bulldogs
Thursday night's victory over the previously unbeaten Swans was crucial for the 2021 runners-up, given the awful record of 0-3 teams being genuine contenders.
Many will point to a lopsided free-kick count in the game assisting the Doggies' victory, the reality is they kicked 9.17 and should've won by more than the 11-point margin.
While they currently have a worse win/loss record than the four teams immediately below them in this list, there's no doubt the Bulldogs would start favourite if they were to play any of them this week - and you'd be surprised if they didn't finish ahead of any of them come season's end.
Whether or not they can be genuine premiership contenders however remains to be seen.
7. Hawthorn
When five-goals down at half-time of Sunday's game against Carlton, the cynics were suggesting reality was coming to bite the Hawks and this was more of what to expect throughout 2022.
However, the Hawks fought back strongly in the second half - even hitting the front late in the last quarter - to lose by the tightest of margins.
The form of North Melbourne and Port Adelaide, who Hawthorn defeated in Rounds 1 and 2, remains ordinary, but, if you are a believer in Carlton, then the Hawks might just be able to exceed expectations in 2022.
With home games against St Kilda, Geelong and Sydney to come, we'll know if a few weeks ...
8. Collingwood
Eerily similar to Hawthorn in that many expected the club would be bottom four contenders in their first season with a new coach, but started the season 2-0 before losing no admirers in their Round 3 defeat.
If they held on to defeat the Cats - which, frankly, they should have - the Pies would be higher up this list and would take all the confidence in the world being undefeated from the first three rounds.
After a home game against a struggling Eagles outfit in Round 4, the Pies will then have their biggest test of the season to date - an away trip to Brisbane to face a flying Lions side.
9. St Kilda
There is genuine hype around the Saints after a last quarter demolition of Richmond, led by star young forward Max King.
The Round 2 win over Fremantle was the definition of 'winning ugly', but the final quarter of Sunday's win was the Saints at their best.
A 2-1 record would've been a pass mark for the club had you asked them before the season started, but you can't help but wonder how the 'vibe' would be if they beat Collingwood as expected in Round 1 ...
10. Fremantle
A Derby win is never something to sneeze at but, given the current state of West Coast, there was a sense of hollowness around Sunday's 55-point win over their cross-town rivals.
That said, the Dockers sit with a 2-1 record and are in a similar boat to St Kilda - ironically, the side who beat them in Round 2.
If the Dockers didn't surrender a half-time lead in that game, they'd be unbeaten and 'flying'. As it sits, they've 'only' beaten Adelaide and West Coast, so still have some questions to answer ...
11. Richmond
Let's cut to the chase - the dynasty is officially over.
The Tigers can't win the flag this year and, with an ageing list, it'll be a few years before they're genuine contenders again.
Despite that, they'll win more than their fair share of games this year - Round 2 against GWS being a prime example.
12. GWS
A comfortable win over fellow expansion side Gold Coast saw the Giants record their first win for 2022.
More than competitive against Sydney in Round 1 before a disappointing defeat to Richmond in Round 2, it was a win the club needed if they're any chance of being final contenders this year.
Whether or not they're genuine contenders is another matter entirely, but there's no doubt the Giants will be buoyed by the imminent return of co-captain Toby Greene.
13. Gold Coast
"Hey Siri, show me vintage Gold Coast Suns."
*Gold Coast suffer a 26-point loss, never really looking a winning chance having shown promise in the first two rounds*
It's just the same old, same old with this club. Nobody will bat an eyelid at the loss, but they simply need to be better - that margin was just 26 but they kicked the last four to make it respectable.
Carlton, St Kilda, Brisbane and Collingwood over the next month will provide a great test.
14. Adelaide
Friday night's Showdown win over Port Adelaide had to be seen to be believed.
The game look dead and buried with 10 minutes to go before Adelaide kicked the last four goals of the game - including Jordan Dawson's effort after the siren.
It provided a much-needed first win for the Crows, who many are still expecting to finish in the bottom four this year.
15. Port Adelaide
The old saying goes 'things are never as bad as they seem', but they're all that and more at Alberton right now.
The Round 1 loss to Brisbane at the Gabba was far from a disaster, given they were in the game and the Lions are one of the top sides in the competition.
But the Round 2 drubbing at the hands of Hawthorn, and the Round 3 capitulation against Adelaide in the Showdown have been simply disastrous.
A 2-1 start to the season would've been the minimum expectation given where most people saw the Hawks and Crows, but instead Port Adelaide are still searching for their first win - and they've got the unbeaten Demons and Blues to come ...
16. Essendon
The scoreboard suggests it was a reasonable performance from the Bombers on Friday night, going down by 29 points to the reigning premiers.
However, the facts are the scoreboard flattered the Bombers, who conceded a mammoth 66 inside 50s while only registering 39 themselves.
There are always ifs, buts and maybes, but if the Dees converted their dominance onto the scoreboard this would have been ugly.
Sunday's match at home to the Crows is simply a must-win.
17. West Coast
The fact barely anybody raised an eyebrow over a 55-point Derby loss sums up exactly where the Eagles are at.
A lot of their current issues are out of the hands of Adam Simpson, and given all these issues they deserve some slack.
But, right now, there's only one team in the competition opposition teams would prefer to play ...
18. North Melbourne
Get used to scrolling down this far to see where your side sits, North fans.
Round 1 was OK against Hawthorn, who admittedly could be better than first thought.
Round 2 ... Well, a win's a win, but they fell over the line over a WAFL team.
And Round 3 was a disaster, simply uncompetitive as Brisbane conducted an open training session in front of 19,817 fans at the Gabba on Saturday night.
We know they're developing, but we need to see more from them - and that could be tough given their next month consists of Sydney, Western Bulldogs, Geelong and Carlton.