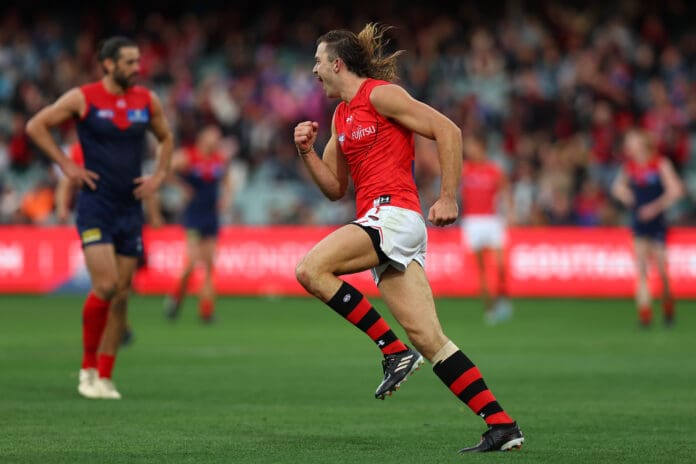 Essendon has provided injury updates on a host of ailing Bombers, including key contributors Sam Draper and Jake Stringer.
Essendon was a side heavily impacted by injury to senior players all season, arguably representing one of the main reasons Brad Scott's men were ejected from this year's finals race in the latter stages of the regular season.
Draper was struck down by a groin injury that restricted him to just one game after Round 13, missing a crucial portion of Essendon's season.
Meanwhile, Stringer's main concern was his foot, receiving surgery after their second-last game of the season; the massacre at the hands of the Giants.
Essendon's head of performance Daniel McPherson provided an update on Draper, as well as the ruckman's next steps, on Wednesday afternoon.
"This time of the year it's fairly conservative given there's a longer timeframe," McPherson started.
"We'll just keep monitoring that. He's doing little bits and pieces but he's not doing a whole heap yet, so the plan will be to get him back running again shortly and progress him and lift that (load) up leading into Christmas, and then hopefully he's in main training again by January.
"That's the plan at this stage. It's been annoying because it's just been hanging around since the middle of the season.
"For a guy who plays in that position where you need a bit of power and jumping, it makes it difficult."
McPherson then commented on the inconsistencies of Stringer's condition throughout the season, labelling him as fit on some days and not on others.
"Sometimes he felt really good at training and then other days it crept up on him really quickly," McPherson continued.
"It just got to the point where we rolled the dice with him in the GWS Giants game up there and he was quite sore post that game.
"Once that game snuffed out our finals chances we chucked him straight in to get surgery after that game."
However, Stringer was not the only recipient of surgery, as youngster Tex Wanganeen received procedural treatment on his navicular injury in his foot, while defender Jayden Laverde had his wrist tended to by surgeons.
In a positive spin, though, McPherson stated Laverde's correction was more for the purposes of comfort rather than for a serious ailment.
"He got that done a couple of weeks ago," McPherson stated. "He'll obviously be able to do a heap of running and then his return date to full training is not known just yet, but he'll be back running pretty quickly.
"It was more a discomfort thing than a significant injury."
Defender Jordan Ridley (quad), midfielder Jye Caldwell (hip), and promising youngster Zach Reid (hamstring) have all been cleared of their respective injuries, with returns in time for full pre-seasons expected.
The rebounding Massimo D'Ambrosio is also expected to return but has yet to re-sign with the Bombers for next year, while forward Harrison Jones is also thought to be tracking well in his recovery from a back issue and ankle reconstruction.
However, McPherson is unsure if Jones will get a full pre-season.
"Harry Jones is going really well. He's been able to do a fair bit of work over the last few months so he'll be full steam ahead when they return," he said.
High-marking and long-kicking forward Peter Wright may have a managed preseason as he continues to manage a plantar fascia injury in his foot that lingered for most of the second half of the season.
"He's (Wright) a little bit similar to Draper in that we're pretty conservative at the moment given that it was something that was loitering," added McPherson.
"[We're] expecting him to be back in modified training when they get back late November/early December and full training after Christmas.
A number of Bombers are in Arizona as Essendon looks to build from a disappointing conclusion to its 2023 campaign.