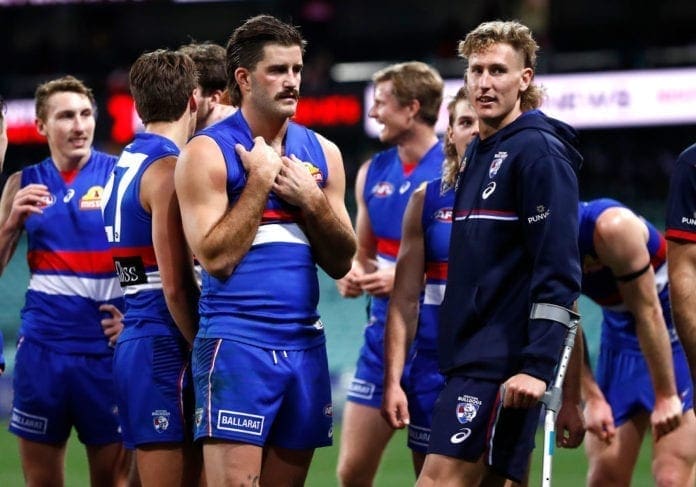 Sidelined Bulldogs forward Josh Bruce has explained the persistent sadness he has felt about missing out on his side's Grand Final run.
Despite lulls across his tenures at both the Giants and Saints, Bruce had been enjoying a much ameliorated season in 2021 before a knee injury in Round 21 saw his campaign come to a careering halt.
Speaking with SEN on Wednesday morning, the 29-year-old stated that watching the Pups propel themselves to a decider in his absence had been a bitter pill to swallow.
"It obviously is extremely difficult at times, the two hours on gameday are the hardest and then the hour afterwards," Bruce said.
"Especially after the victories we've been having, it's really tough not to be there and feel that in person."
Having been forced to remain in Victoria away from his teammates, the Canberran revealed that his mood was often juxtaposed with the joy afforded to those he shares a locker room with.
"It's only natural to feel a tinge of sadness and a tinge of jealousy, there were games where I burst into tears," Bruce explained.
"After the Brisbane game, I just burst into tears at the final siren, I couldn't hold it back. I just felt such a longing to be there and to be involved in finals like that."
Given Bruce has only played in a single finals match across his decade long career (last year's elimination final loss to the Saints), his emotions are more than understandable.
But after turning his form around in 2021 to finish with his second-highest seasonal goal tally of 48, the long-haired and mustachioed forward had led himself to believe that a chance to reap what he had sowed had finally been afforded to him.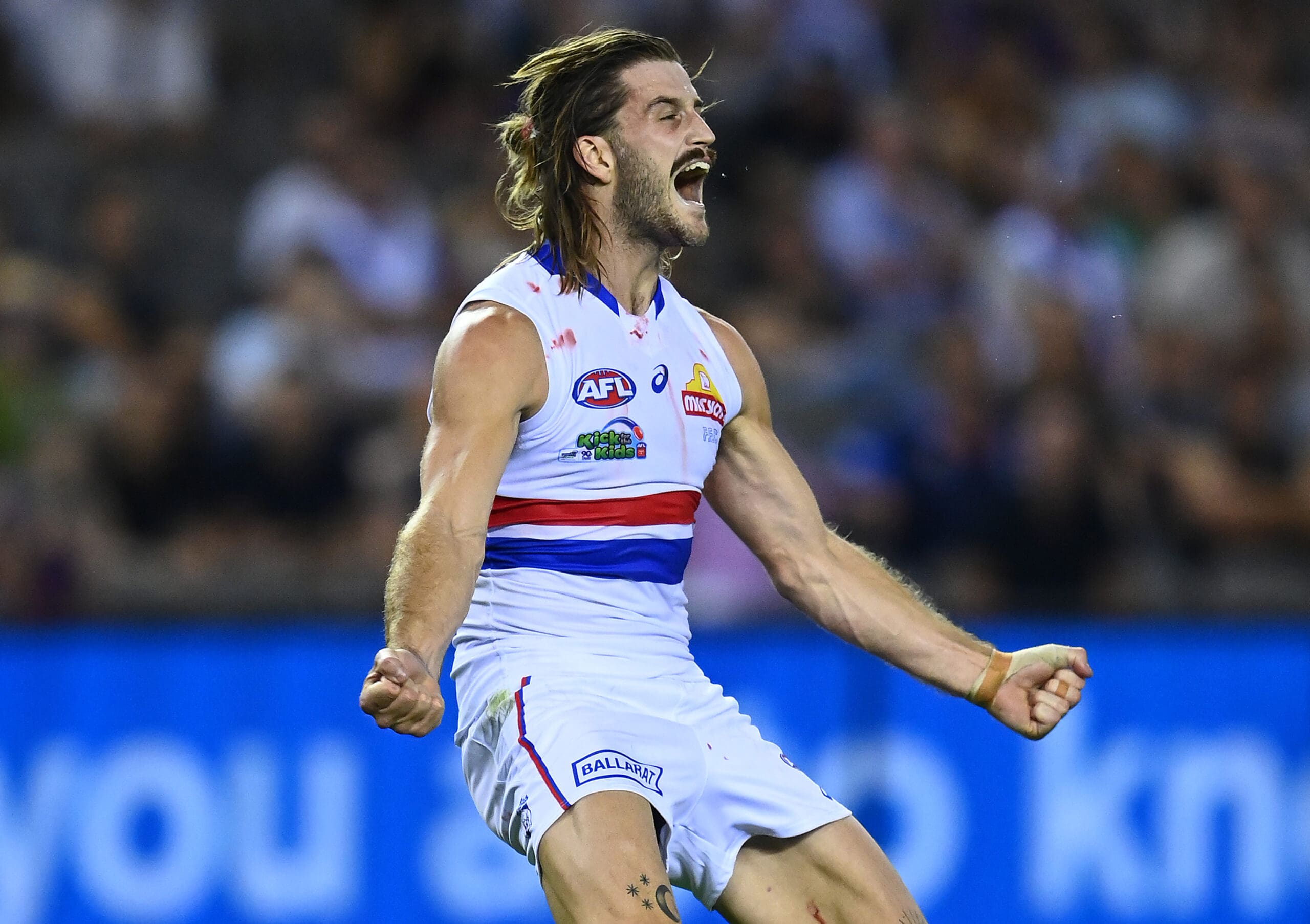 "I thought that this year was going to be the year for me, everything seemed to be lining up perfectly and to have it ripped away at the last minute has been bloody tough to deal with," Bruce continued.
"I still have moments nearly every single day but it's getting slightly easier and I've moved on to wishing the team to have as much success as we can. Fingers crossed we can get back in next year and I can have another tilt at it."
Irrespective of the tears shed and his fleeting moments of envy, the resilient key forward showed his warm character this week by rolling up his sleeves to help the club fulfill their plethora of merchandise orders.
True character manifests in many ways…rather than wallow in self-pity at being the only current @westernbulldogs player not in Perth, @joshuabruce has instead been helping our staff fulfil the mountain of online merchandise orders we've gratefully received 👏 #HumbleExcellence pic.twitter.com/GrIGC2pccG

— Ameet Bains (@Ameet_Bains) September 20, 2021
With the annual debate over whether each player on the winning club's list should receive a premiership medallion once again coming to the fore, Bruce weighed in by suggesting the view of widespread accolades lacked merit in his mind.
"I did get sucked in a little bit and it was tongue in cheek with the way that I was saying it but probably tradition has to stand," Bruce said.
"There's hard-luck stories and there have been hard luck stories for the last however long so I think that the 22 or 23 guys that run out there are the ones that do really win it.
"It's funny, if I did actually get presented with a medal now I'd almost feel like I didn't deserve it."
Like Melbourne's Nathan Jones, Bruce will watch Saturday night's decider in his lounge room alongside his young family.