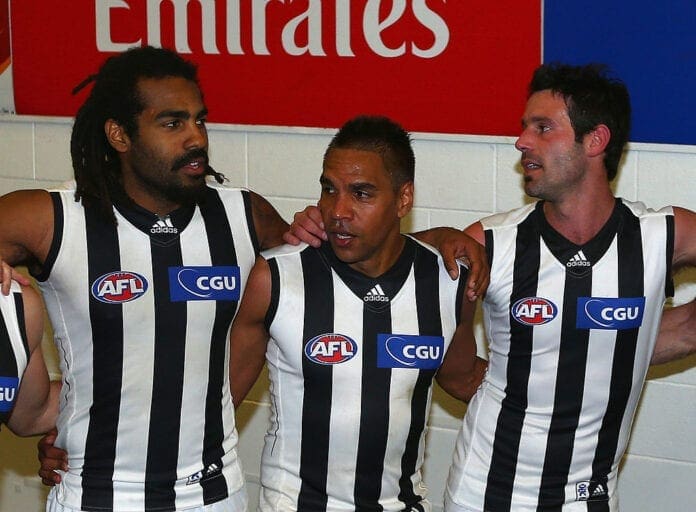 Former Collingwood players Leon Davis and Andrew Krakouer have made their return to the Collingwood Football Club. The decision to bring back the indigenous legends as members of staff marks a resolution to issues circulating the club regarding racism and discrimination.
Davis has been employed on a full-time basis to work with the football club in order to aid the club's commitment to building a culturally safe environment for all involved within the club, while Krakouer was employed to assist the same movement.
Both former players recently shared their experiences of racism with representatives from the club board. The pair both committed to being involved in Collingwood's 'Truth-Telling Program', which is designed to more deeply understand the player's experiences and the impacts racism has had on their lives.
Along with Davis' 2010 premiership teammate, Héritier Lumumba, the pair alerted members of the Magpies' hierarchy in April of their formal desire to terminate communications with the club.
Club President Jeff Browne said the club thank both players for sharing their experiences, and thank the former players for reconnecting with their club.
"We are extremely grateful to have Leon and Andrew reconnecting and returning to the Club as employees to help continue to embed the cultural learning and practices across all 156 athletes in our Club, our staff and the wider Collingwood community and we look forward to having them commence in those roles immediately," Browne said within a prepared statement.
"Racism is never ok and we will continue to listen and learn from both former players, we apologise for the racism they both suffered."
"The hurt racism causes runs deeper than the individuals involved so I want to thank both Leon and Andrew for speaking up about their experiences, it can be incredibly difficult for people who experience racism to share it and speak about it."
Speaking on his return, Davis stated his excitement to get back to working with his former club and is hopeful to use his own experiences with racism to benefit the community in the future.
"I'm pleased to be back," Davis said.
"l want to use my experiences of racism to better educate the community and better equip everyone with the knowledge, tools and education around our country's true history and why we still face the issues we do in today's society."
"This is a community issue, a nation-wide issue and ultimately a world issue and we must do better to stop racism."
Krakouer also voiced his approval of his return and is keen to get to work.
"I am looking forward to starting this journey with the Collingwood Football Club," he said.
"I echo Leon's words and like him, I feel I have a role to play in football and in the wider Australian community to educate people to eradicate and stamp out racism."
Drafted in 1999, Davis went on to play 225 games, kicking 270 goals for Collingwood.
Krakouer, initially drafted by Richmond went on to play a total of 137 games, with 35 of those for the Pies.