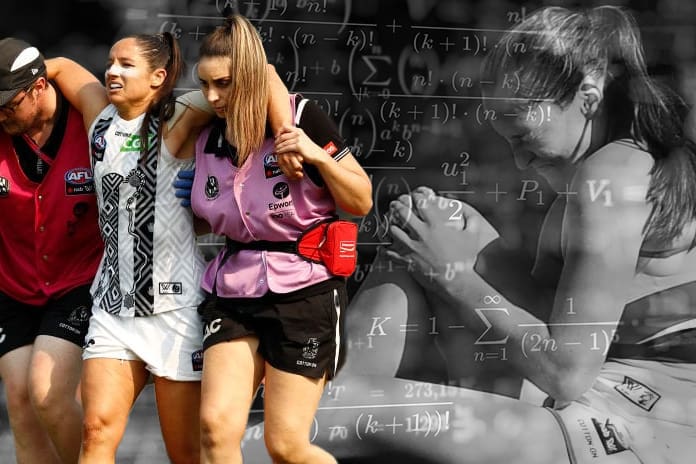 After a lengthy break, a string of lockdowns and the sanity of almost every Australian snapped since April of last year, the clouds finally parted during the first week of January when another summer of football beamed down on us all.
But while the fervour and optimism a new season can bring were both abundant across the opening weekend of the 2022 AFLW campaign, by its completion, a familiar feeling of dread had well and truly settled.
Between the first bounce of the Western Bulldogs' Round 1 date with the Demons and the final siren of Collingwood's clash with historic rivals Carlton, three of the competition's most distinguished drawcards had hit the deck whilst clasping their knees.
In the space of less than 24 hours, not only had the services of Isabel Huntington, Kate Lutkins and Brianna Davey been lost to their respective sides for the rest of the sprint-like season, but the league themselves had seen their reigning best and fairest winner, a triple All Australian and a recent Rising Star winner each succumb to ACL injuries.
And while a cleaner bill of health was recorded across Round 2, statistical evidence provides a stark warning that the smooth sailing of last weekend can't be expected forever.
Since the AFLW's inaugural season in 2017, the competition has recorded and released the devastating blow that these debilitating tears have had within their ranks.
Across the course of that debut schedule, an average of 4.3 players were hampered by ACL tears for every 1000 hours of AFLW action that took place.
This climbed to 6.5 in 2018, dipped mildly to 5.1 in 2019, but skyrocketed to an all-time high within 2020 when a mean of seven-and-a-half footballers saw their campaigns closed after rupturing their stabilising ligament.
Thankfully, this figure fell to just 3.2 last year, but with a trifecta of in-game injuries already occurring ahead of February, grave fears for the health of the game's athletes have arisen again.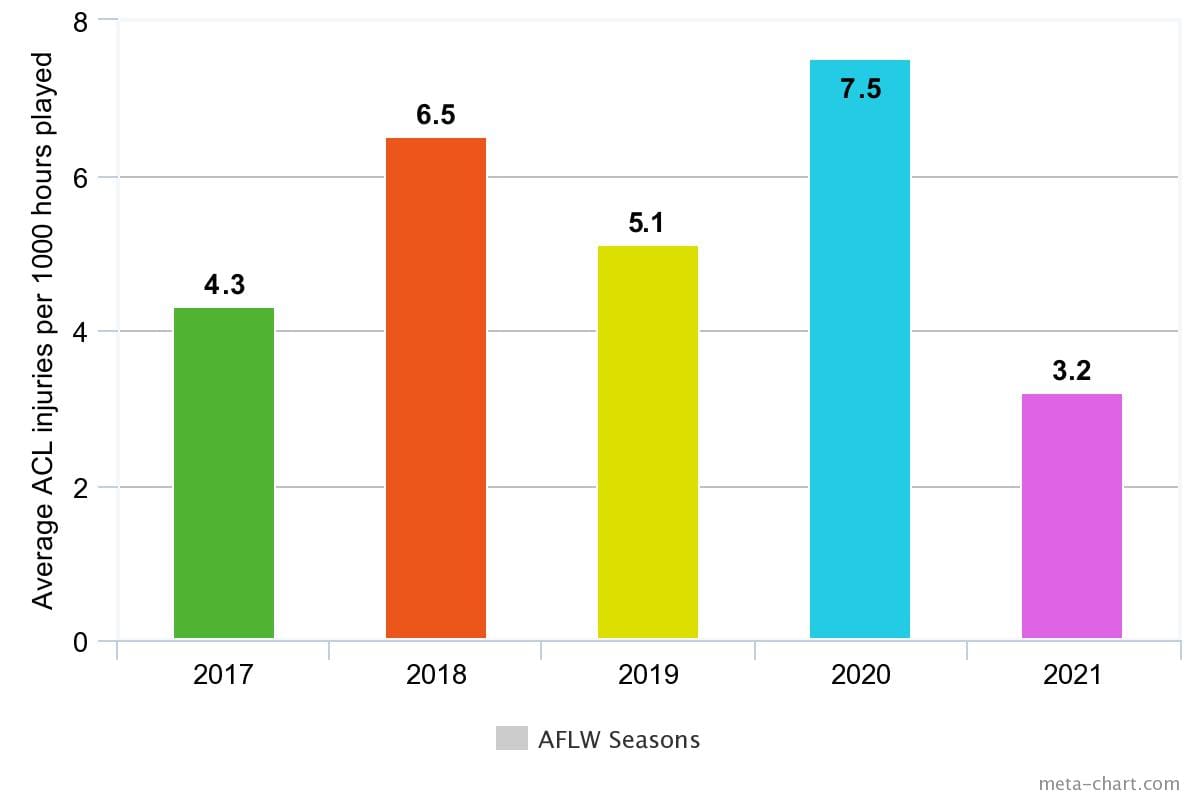 To add context to these numbers, it must also be stressed that research has shown that AFLW players are between 6.2 and 9.2 times more likely to suffer these joint injuries than their male counterparts.
Further studies have also shown that players aged under 25 who have been sidelined with ACL ailments are 30 per cent more likely to suffer the same injury than their unaffected peers.
But while these figures provided by the game's governing body can be arranged into a straight-forward bar graph, the causes for these ligament tears, as well as the subsequent tears, are far less pinpoint.
Viewers, administrators, athletes and coaches may have clues as to why ACL injuries have become an unwanted plotline each summer, but to truly creep closer to finding a remedy, the views of those in lab coats, along with those in studded boots, must also be studied closely.

Forced to spin a set of plates
With the knowledge that no AFLW player can earn beyond $37,155 for a single season of play, those that ply their trade for points across the stinking hot summer months do so on a part-time basis.
For this reason, there are no visible women's footballers that can earn a comfortable living for their deeds with a Sherrin in hand.
As the ability to earn hundreds of thousands of dollars, staggering endorsement deals and enjoy luxurious off-season breaks is still beyond the reach of the 420 players currently at clubland, each are currently earning the bulk of their annual wage outside of the boundary line.
Given this splitting of schedules ahead of explosively short training schedules and warp speed seasons, it should come as little surprise as to why so many of these devastating injuries occur.
Speaking in the wake of the cruel blows of Round 1, Adelaide champion Erin Phillips adamantly stated that should a bridge between the status quo and the ability to play full-time be met, then the current scourge of sidelinings would naturally dissipate.
"I honestly believe that when it does become a full-time role — I'm not saying that ACLs will never be a part of sport, that's just not how it works," Phillips told The W Podcast with Sharni and Sam.
"But I do feel very confident that, if girls were given the opportunity to play year-round and put the time and effort and money and practice into their body just being purely paid as an athlete, you've got to believe that there's going to be less injuries."
Phillips isn't alone in this view, with AFLPA CEO Paul Marsh delineating in December of last year that he had been routinely made aware of the fact that those risking their health were hungry for appropriate support.
"What we've got is a group of players now who have, since the competition started, been trying to combine AFLW with work and/or study," Marsh was quoted by ABC and Siren Sport journalist, Kate O'Halloran.
"What a lot of them have been saying to us now for a few years is, 'we need to know where this competition is going so we can work out whether we're going to commit to it or not.'
"To know what they might be getting paid so they can plan their lives around that is important."
Although this acknowledgment is proof that those tasked with the guardianship are listening, the roadmap towards equity remains ambiguous.
The AFL may have explained last month that they wished for AFLW players to be the highest-earning female athletes in any code across the globe, but without a date for this boost ahead of further expansion next summer, it can be argued that this indecision just leads more women into confusion.
Add in the fact that last season's average for ACL injuries has already been met within just 26-hours of play, and a view that these same women are being ushered into harm's way can also hold water.
While male footballers were also required to hold day jobs during the vast majority of the 20th century, it is an array of noted physical differences between genders that has led researchers to believe that earning a wage away from the playing field is not the sole reason for the spike in strains and tears.

Beneath skin level

Although the rate of ligament tears and the restrictive nature of remuneration have been empirically evidenced for some time, the proof of what part genetics and gender play in ailing ACLs is much less concrete.
Yet, despite the lack of a catalytic cause as to why they occur, a plethora of weighted theories have been tested.
According to Victoria University professor Nigel Stepto, there is a prevailing belief that players' menstrual cycles have a part to play in their heightened risk of succumbing to injury.
While not yet entirely proven, Stepto has previously stated that in the post-ovulation stages, elevated levels of progesterone have arisen alongside injury. Still, Stepto was also willing to stress these shifts in hormones were not something that affected all AFLW players.
Melbourne Demons Team Doctor Laura Lallenec told The Age in March 2021 that spikes in estradiol and relaxin within this same window could also play a leading role.
But even with these perspectives on record, further research undertaken at Deakin University suggests that while biological factors can be highlighted, doing so actually runs the risk of "misrepresenting a root cause of the ACL injury problem".
This Deakin collective headed by Aaron Fox claims that it would be "myopic" to suggest gendered differences are at the heart of the ill and has instead impressed that environmental and sociocultural components play a far larger role.
While the belief that the part-time nature of the competition is what is hindering its athletes both physically and economically, it has also led to a level of unpreparedness that has heightened risk of injury.
Within their findings, Fox and his four fellow researchers claimed that if players were afforded an ability to practice proper techniques - such as landing techniques after aerial contests - this level of nurture over nature could curb the frequency of physical damage.
However, concurrent explorations suggest that the disparity in injury rates exists due to the marked differences in men and women athletes.
Melbourne-based physiotherapist Lauren Suleiman has claimed that a higher joint laxity in post-pubescent women is a major reason why AFLW rosters continue to be hit hard by knee complaints.
Suleiman also explained that a reliance on higher activation of the quadriceps muscles and greater landing forces were attached to the number of ACL injuries. The view that male footballers possessed greater hip control, power, strength and co-ordination was also held.
Latrobe University researcher Professor Kay Crossley's contention is in line with Suleiman's in that the structure of women's bodies caused these 'dynamic knee vulgas'.
When speaking with Sarah Burt of The Age, Crossley revealed that the larger width of a women's pelvis saw a greater strain placed between the quads and patella tendon which could lead to an increased chance of knees collapsing inward.
But while this reported 'Q-angle' delicacy could lead to despair, studies as to how these ACL injuries have been obtained within AFLW circles have provided a narrower focus for remedies.

Contested, congested and on the deck
Given its original shoots first protruded during the 1870s, differences between the AFL - or AFLM - and the AFLW are quite often discernable.
Shorter quarters and seasons have routinely caused smaller scores and fewer shock upsets through the women's competition, but if you cast a keen eye over both forms of elite-level Australian Rules Football, you will notice that the sharpest dissimilarity lies in the style of each.
For the men in the middle of the oval, possession-based tactics are routinely employed with a kick and mark plan the key to success.
For the women that do battle in warmer conditions than their male counterparts, large quantities of each fixture are spent weaving through congestion at ground level to win 50/50 balls.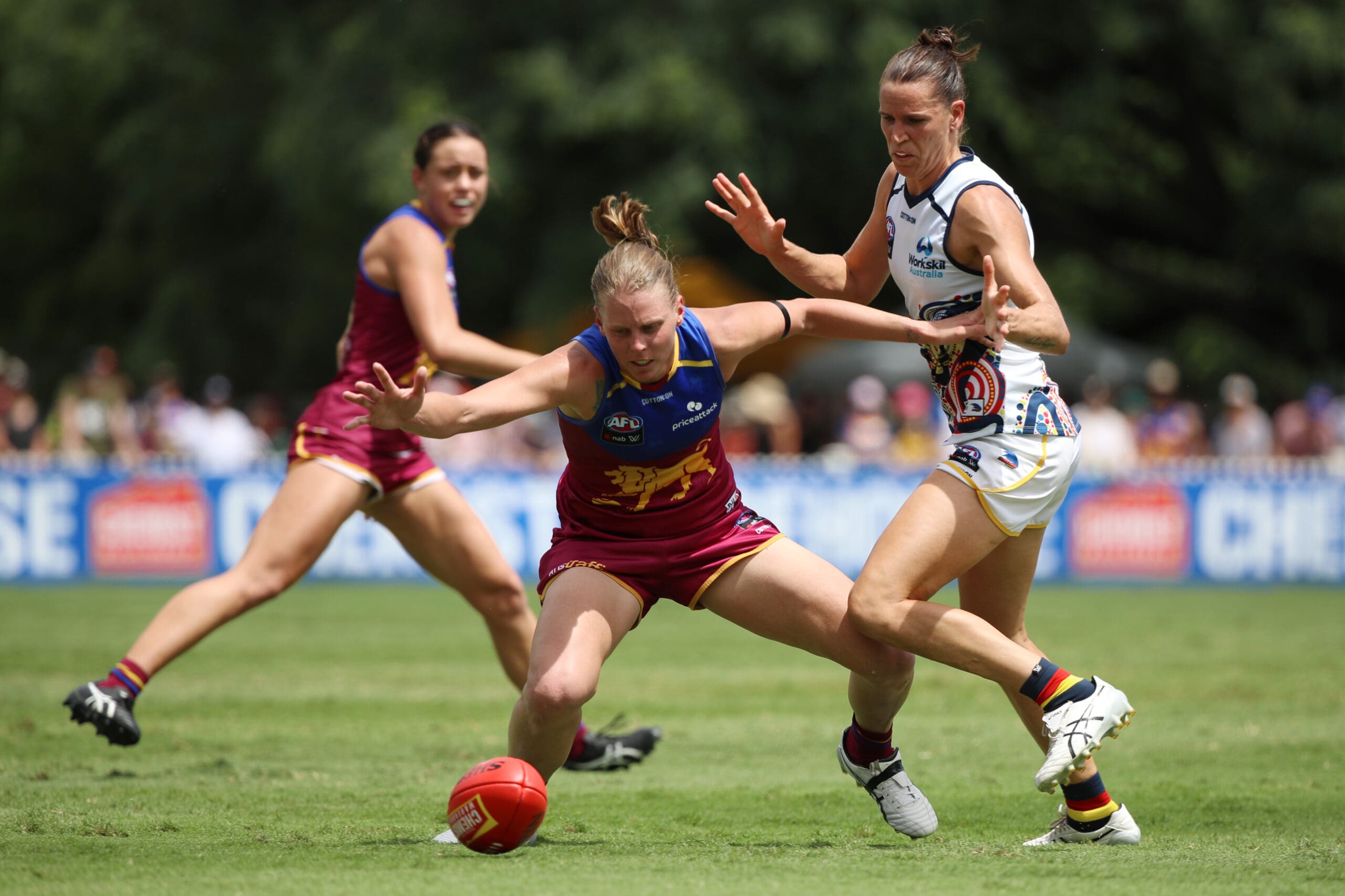 It is for this reason that between 70 to 80 per cent of AFLW ACLs occur during non-contact situations such as decelerating, changing directions or landing on one foot.
And despite often being referred to as occurring in "innocuous" circumstances by commentators, sports scientist Tess Rolley's research suggested that her numbers provided strong trends in the toxicity of tears.
Of the ACL injuries occurring during the first four-years of the competition (2017 to 2020), a third came when a player was wrong-footed. Players losing balance whilst tackling, or being tackled, also equated for around 30 per cent.
In direct opposition to Fox's contention that players were landing poorly from marking contests, Rolley told the ABC in April of last year that the nature of AFLW play meant that this view was off the mark.
"The key difference that we found was landing isn't a predominant injury characteristic in the AFLW," she claimed.
"In AFLW, they are playing a more ground style of play, more congested football, there's more contested possessions, there's less contesting marking situations."
The increased pace of the game can also be circled as a cause for concern, with eminent sports clinician Dr. Peter Brukner hypothesizing that the reason why so many knees were injured early in seasons was due to a lack of fatigue.
"It happens every year, particularly at the start of the season in the first two rounds," Brukner expressed to News Corp earlier this month.
"It may have something to do with a move from training to games and the lift in intensity. The fact the players are fresh and not fatigued at all, they are probably going harder than they would at the end of the season."
While unwilling to pay much credit to any of the listed hormonal and genetic factors, Brukner did raise a notion that has left many currently raising their eyebrows.
"It may have something to do with harder grounds," he claimed.
Irrespective of whether you are a soil scientist or not, it doesn't take a PhD holder to understand that the oppressive temperatures of the summer months will leave previously plush playing fields akin to the Rock of Gibraltar.
While it is the current view of the masses that the primary reason players are seeing their seasons end and their knees buckle is that they are asked to play on what is essentially green concrete, further digging suggests that this argument requires further grounding.
Speaking in the aftermath of Huntington, Lutkins and Davey's disastrous weekend, host of The Outer Sanctum podcast Emma Race tipped that the correct procedures were being carried out in regards to preparing playing surfaces.
"The grounds are Clegg tested, which is the scientific version of sticking the key in the pitch," Race revealed.
"I have it on good authority from people who are out there that the grounds are actually feeling really good and really cherry ripe. Of course, that's fantastic, but it means that you can run faster on those ground which can also be part of the causation of these kinds of injuries."
But if this Tony Greig-esque approach has been taken to ensure player's safety, why is it that so many ruptures are arising?
Former Melbourne player, the Demons' AFLW development coach and current women's ACL researcher Dr. Brooke Patterson believes she has the answer.
Although the hardened grounds found between Casey and Cockburn are, obviously, not the ideal surface to act out the rigours of a game of football on, Patterson is of the view that the footwear worn by AFLW footballers played a hand.
"It's the shoe itself and it's the surface or the grass and the interface between the two that can create an increased traction," she told Kick Like A Girl podcast in March 2020.
"Players will report that they felt their boot get stuck in the grass and then they've tried to move in the opposite direction. It's definitely a factor in some ACL injuries."
The 11-game midfielder also divulged that there was a genuine dearth of football boots specifically designed for women.
"We need to start looking at shoes as well," she said.
"We really don't understand the different shoes that are available to the women and then what types of studs and blade configurations are best for the surfaces women are playing on."
When asking our overarching question within a zeitgeist, it is obvious that a firm answer won't simply appear.
And as there are still so many variables as to why the rate of seeing an AFLW player clutching their knee is well beyond that of the 757 names on AFL lists in 2021, this has also led to a panorama of conclusions.
Even while there is a myriad of research projects currently dedicated to finding a  answer to this issue, a bounty of remedies to this veritable catalogue of potential causes can already be offered.

The multi-million dollar question

With the severity of an ACL injury forcing any athlete into a 12-month rehabilitation period, the importance of studying the black box of any crash landing is important.
But with a mean of four-and-a-half AFLW players forced onto crutches every 1000-hour window - including three poster people within the past fortnight - the need to analyse the wreckage to improve the future is imperative.
Although a thorough checklist of modifiable and non-modifiable factors are available to those tasked with searching under the wings, a quick fix is still not available in the eyes of Patterson.
"It's obviously still a significant problem for any female athlete playing football sport," she was recently quoted by The Age.
"If someone had the magic answer, they'd be pretty rich."
And as recent studies undertaken by the ex-Demon and her academic partner, Crossley, have found that more around 5 per cent of the half-a-million women currently playing Australian Rules Football will suffer an ACL injury this year, it's not hard to see why a king's ransom is on the table.
Yet, by implementing aid ahead of future pain, this heart-rending rate need not be set in stone.
In 2017, Patterson and the Darebin Falcons combined to commence tailor-made warm-up programs for the club's junior participants.
With the view that spending a quarter of an hour running young girls through lunges and squats each session would prepare their growing joints for the attritions of game day, those with an eye on being drafted could come ready for the taxes of the AFLW.
Patterson and Crossley have continued this check-in with amateur footballers by both helping craft the league's 'Prep To Play' program and inspecting those that adhere to it.
The pair's study with Latrobe University - in conjunction with the AFLW and the Australian Physiotherapy Association - is seeking to place upwards of 3000 women who play the code under the microscope in an effort to find techniques to avoid injury.
It must also be noted that Deakin University associated clinician Dr. Stephen Gill has joined forces with members of Geelong's AFLW roster to review those that currently play under brighter lights.
While these efforts to both uncover and protect are sure to add more brushwork to what was a blank canvas less than five years ago, those that are still coming to the grips of their respective reinjuries believe more must be done.
Speaking in the year prior to her third major leg injury, Huntington echoed an identical view to that offered by Phillips this month.
"At the crux of the issue is the fact we're part-time athletes," the former No.1 draft pick said via The Age.
"If we were full-time and had the same amount of time to spend on our bodies and injury prevention [as the men] … then I think it would be a very different story.
"Injuries are an unfortunate reality of any sport at any level, regardless of gender or age group, and we need to figure out how to prevent them rather than deter them from playing sport."
Davey - herself a victim of a third major injury - contended that more must be offered to players around her so they won't end up in her current predicament.
"I think it is one of those things you can do prevention and things like that," the Collingwood co-captain said on SEN radio waves.
"It's not going to always stop it, I guess, but for us, there have been different things thrown out there.
"I probably don't know enough to throw out a solid answer but I know there have been things like giving us a longer conditioning period where we can get ourselves ready for games.
"Whether that is more practice matches and we have a longer training block, things like that where we can condition our bodies and get them ready."
Still, in a cruel twist of irony, even if these requests for more time - and more money - to help minimise risk are met by the league and their 14-clubs, if the correct equipment isn't provided, this merry-go-round of nightmares is set to continue spinning.
At the present, there is a genuine scarcity of footwear manufacturers that provide appropriate boots for AFLW players.
While Asics has joined the market of late, the products made by, and for, women available from Ida Sports have reportedly proven revolutionary. With their differing dispersion and length of studs, they have already received public approval from physiotherapists.
As a small player in the sporting goods market, their presence on AFLW playing fields is still, sadly, being dwarfed by behemoths such as Nike, Adidas and Puma. But at the bare minimum, their punk-like 'do it yourself' ethos to go beyond just paying lip service to women athletes is a sound step in the right direction.
Given their ability to continue pushing boundaries in the face of pain, pressure and pillocks on social media, there is very little need to alert any AFLW footballer that there are plenty of decks stacked against them.
With those at AFL House already planting their flag over both the expansion of the competition and the healthier bottom lines those within it can look forward to enjoying, there should be a genuine buoyancy about what the future holds.
RELATED: Crypto app to partner with AFL as major backer for women's game
But as conditions for those currently ticking the scoreboard over are still believed to be below par, when can these summertime superstars expect to cash these paycheques?
As previously stated, a date for this utopian future has yet to be shouted from the rooftops, but as the league will contain all 18-teams when the 2023 season gets underway, a condensed season played out between January and April no longer appears feasible.
To echo the sentiments of Rana Hussain's piece for The Guardian this week, a shift to a longer schedule played simultaneously with the men's competition makes sense from every angle besides one.
The AFL may wish to keep the women's competition pegged into the 'clear air' gap of post-Christmas and pre-AFL season in an effort to see their product remain a year-round one, but if the faces of the league continue to hit the deck on a weekly basis, perhaps, like the introduction AFLW itself, a move to playing football during football season will be brought forward.
And if the numbers, and names, of those afflicted have proven anything, an ACL injury simply doesn't discriminate when it comes to footballing ability.