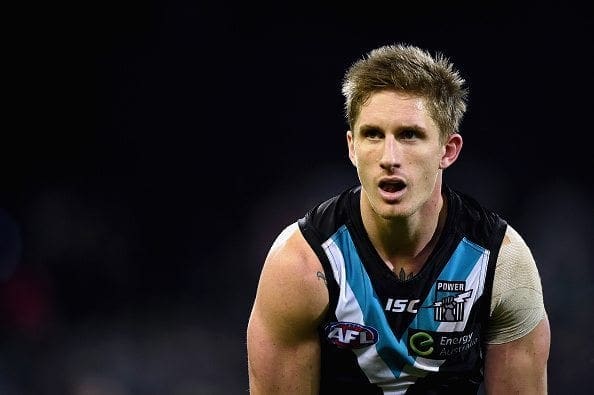 Former Port Adelaide midfielder Hamish Hartlett will return to Alberton Oval this year as an assistant coach for the club's AFLW side.
Harlett will work under the Power's inaugural senior coach Lauren Arnell for the club's first season in the league, which is anticipated to begin in August this year.
The former Port Adelaide vice-captain departed the club at the end of last season after 193 games and 13 years in the teal and black, returning to SANFL side West Adelaide as a development manager and player for 2022.
Hartlett becomes the first signing for the Power's coaching cohort since Arnell's appointment last month, with the 31-year-old expressing his delight to work with the former Carlton and Brisbane midfielder.
"I'm really excited to work with Lauren and welcome a group of young footballers to the club, who are going to be really enthusiastic to learn and improve their game," Hartlett said via the club's announcement.
"We now have the opportunity as a football club to make our mark on the competition and show the AFLW how we want to go about things, on and off the field. It's something I'm very, very excited to be a part of.
We are excited to announce Hamish Hartlett has joined our @pafc_w coaching team as an assistant coach 👏#weareportadelaide

— Port Adelaide FC (@PAFC) May 3, 2022
"Coaching is a real passion of mine and I look forward to playing my role in helping build our AFLW program from the ground up."
The Power will continue to seek further personnel for their first campaign in the AFLW, both on the field and in their coaching department.
The club announced their inaugural player signing for 2022, with three-time premiership Crow Erin Phillips heading across town in her own return to Alberton Oval.
In augural Adelaide vice-captain Angela Foley has also made the venture to Port Adelaide for the coming season.