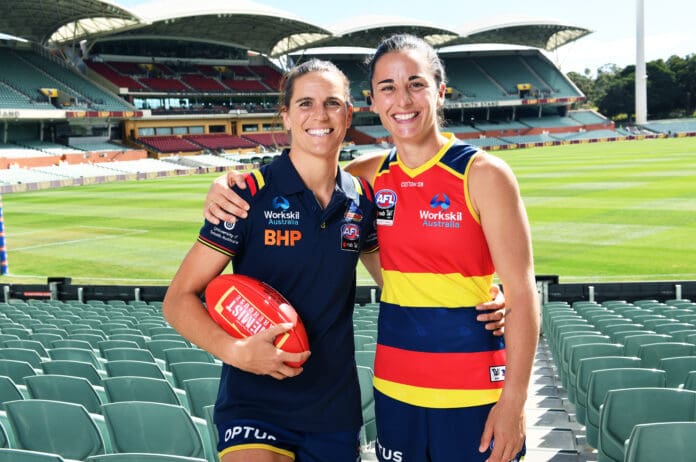 Two-time premiership Crow Angela Foley has committed to Port Adelaide as part of their inaugural AFLW team.
Drafted in 2016, Foley has played 40 games for the Crows - including the 2017 and 2019 grand finals.
SEE ALSO: Crows confirm Erin Phillips' exit
The inaugural Crows vice-captain has spent much of the last 12 months on the sidelines after suffering an ACL injury during the 2021 grand final, but revealed that she is eager to get a fresh start at the Power.
"I'm really excited to start a new chapter of my football career," Foley said.
"It's nice to be part of something that is so fresh and new, I'm really looking forward to being on board.
"It will be great to have a new environment to hopefully take my footy to the next level and to also help the group by being a leader, after being part of the leadership group at the Crows. I want to bring some experience and leadership here to Port Adelaide."
Port Adelaide AFLW coach Lauren Arnell expressed her excitement at the 33-year-old joining the club, lauding her leadership ability.
READ: Arnell to make history as inaugural Port Adelaide AFLW coach
"Ange is a really composed, good ball using half back but she can certainly play a bit higher up the ground as well. I'd describe her as a utility," Arnell said.
"One big thing for us in this signing period is securing players who have an ability to perform themselves but also bring others along with them, and we know that Ange is going to play an important role in ensuring this happens here at Port Adelaide.
"I'm really excited for what she can bring in a leadership space but also from her own personal development.
"I know that she is really driven to get more and more out of herself and see how much further she can take her football."
Adelaide Women's Head of Football Phil Harper released a statement through Crows media, wishing Foley the best at her new club.
"It's disappointing to see any player leave, particularly someone of such great character and experience, but Ange has received an offer that is simply too good to refuse," Harper said.
"We will always be grateful for her contribution, especially in the early days when she was a key leader among our Darwin-based players.
"She was a key driver in that group forging a strong connection with their teammates here in Adelaide and setting high standards.
"Ange is a quality person and leader who makes those around her better and we wish her well with the next phase of her playing career."
The Crows and Power will enter in talks to facilitate Foley's move once the AFLW Trade and Sign period begins, with dates still to be confirmed by the league.