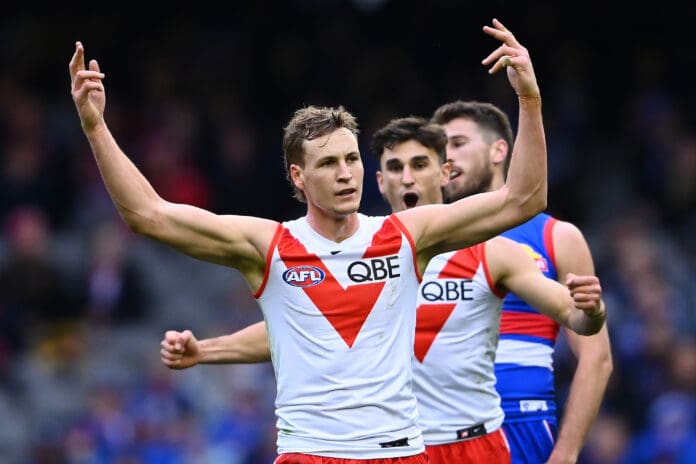 Sydney General Manager of Football, Charlie Gardiner, says Adelaide never used the threat of walking Jordan Dawson to the pre-season draft in trade negotiations.
Dawson requested a trade home to South Australia despite being offered a very attractive offer by the Swans. The silky left-footer eventually got his move despite the Swans not being pleased with the final result.
Lookin' good 🤩👌#weflyasone pic.twitter.com/IeyM3cg8o7

— Adelaide Crows (@Adelaide_FC) October 14, 2021
Dawson went to Adelaide in exchange for Melbourne's future first-round pick. A deal Gardiner wasn't happy with at the time.
"Throughout the trade period we worked extremely hard to reach a fair outcome in regard to Jordan, despite challenging circumstances," Gardiner said recently.
"Ultimately, we have settled on a deal that we don't think quite reflects Jordan's true value but is one that, after extensive negotiations, we don't believe we could improve upon."
It was thought that Adelaide held all the power in negotiations given their ability to walk Dawson through to the pre-season draft, where they hold pick 4.
Last year the Crows couldn't reach an agreement with GWS over a deal for Jackson Hately and ended up recruiting him via the pre-season draft.
It would be unlikely any of the three clubs ahead of Adelaide would swoop on Dawson given he'd have put a high price on his head to get to the Crows.
Speaking to the media on Thursday morning, Gardiner said that the Crows negotiated in good faith and never threatened to use the pre-season draft.
"We rated him slightly higher than where we landed the deal with Adelaide," Gardiner said.
"But when you take into account the dynamics in the negotiation, we elected to accept it because we thought that was the right thing to do and in the best interest of the club.
"It (the pre-season draft) was never discussed with Adelaide, it didn't come up. But it is a reality. If we couldn't agree to a deal, the alternative was to lose him for nothing. That was something that we couldn't discount and was part of our decision making when we accepted the deal."
Gardiner said the club considered making a stand and letting Dawson walk to the pre-season draft should a fair deal not be reached, but ultimately decided it was best for the club to accept the future first-round selection on offer.
"We discussed that internally. He wasn't a free agent, we put six years of development into him. We're in a unique position along with the other Northern clubs where over 70% of our players don't originate from New South Wales.
"The go-home factor is relevant and we don't like to see really good players walk out the door and we think that you need to look at each individual circumstance on its merits.
"We were conscious of that but in the end, we thought the right thing to do by the club was to accept the deal."