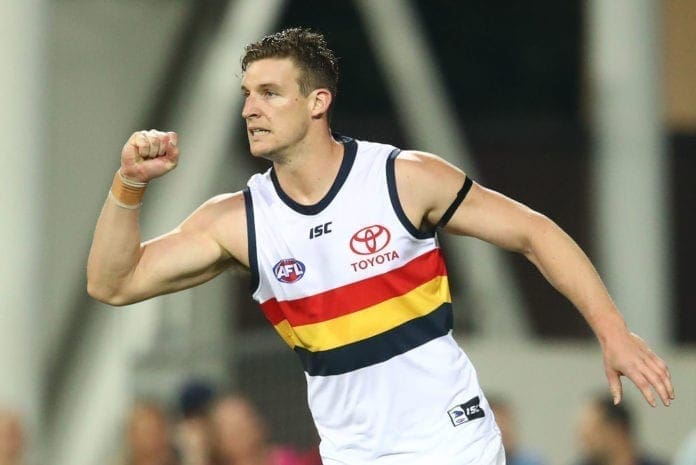 Former Adelaide and Geelong forward Josh Jenkins has called for the AFL to take a look at the way clubs use the rookie draft going forward.
Friday's rookie draft was littered with players being reselected by clubs who had delisted them as opposed to drafting in new talent that had maybe missed out on the first two nights of the draft.
Jenkins, who was originally drafted as a rookie, says that the competition needs to do something about the way the rookie draft is being handled as it is taking away from the original reasoning of the selection period.
Lewis Taylor (Sydney), Lochie O'Brien (Carlton), Matt Cottrell (Carlton), Cam Ellis-Yolmen (Brisbane), Jared Polec (North Melbourne), Mitch Crowden (Fremantle), Connor Blakely (Fremantle), Ben Davis (Adelaide) and Sam Mayes (Port Adelaide) were all picked up by the clubs that had delisted them in the lead-up.
Jenkins said that while he understands why clubs do what they do, it just didn't feel like it was fulfilling the potential of the rookie draft.
"Straight away it doesn't sit well," he told SEN Drive.
"It's a financial decision as far as I'm aware, for him (Polec) to come back on the list and them to take care of him from a financial point of view.
"I think if he was out of contract he's not coming back.
Jenkins said he had no problem with experienced players getting a second chance at another club but argued that the system is not being used in the spirit it was first intended.
"Jarred Polec pick one, Levi Casboult pick three – which is fine, I can understand that because he's going to a different club," Jenkins added.
"Ben Davis from the Crows has been re-rookied, Lochie O'Brien has been re-rookied by the same club, Lewis Taylor at pick 10, Cam Ellis-Yolman at pick 12, so there are a lot of players who have just been re-listed.
"In some situations, you can understand, but it's taken over the rookie draft.
"It needs a complete overhaul."