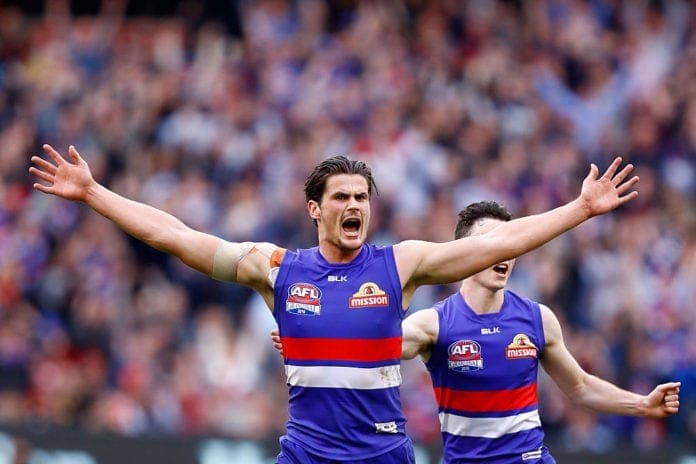 Former number one draft pick and 2016 Premiership star, Tom Boyd, has opened up on The Jim Session podcast about the struggles and pressures that he faced as a footballer, and the life that he lives post retirement.
Boyd was taken by the GWS Giants with pick one in the 2013 AFL Draft and had all the pressure to perform at a high level as every number one draft pick does, and felt that something wasn't quite right.
"I thought about retiring in 2013, or 2014, I should say when I first went to Sydney... these were never actionable thoughts, they were always just like, I'm not quite sure this is for me," Boyd told the Jim Session podcast.
As it has been well documented since his retirement in 2019 that Boyd suffered from depression, anxiety and insomnia. Meaning he found life as an AFL footballer hard to deal with.
"I didn't feel comfortable being represented as just an AFL footballer rather than as a person. And I think that that was really difficult for me to grapple with over a long period of time," Boyd said.
"I probably found myself realizing that so much of my life had been dictated by other people."
Boyd also provided an interesting insight on the podcast about how he would enjoy the pre-season more than the regular season.
"Often people describe preseason as the hardest part of the year. In my opinion, I found it the easiest. I mean certainly difficult physically, but in terms of your ability to live like a balanced life, it's much, much better than in the season," Boyd said.
Boyd would go on to play a key role in the Bulldogs' 62 year drought breaking premiership in 2016, kicking three goals in the Grand Final.
The premiership was a highlight in Boyd's short AFL career, but he felt that it was like paper covering the cracks of the personal problems that he was facing.
"Unfortunately for me, on the other side, or the flip side of the coin is that it really didn't give me the motivation or the inclination to really focus in and deal with the issues I was facing in any serious way," Boyd said.
"I really am grateful for that period of time in 2016. I'm so happy that I was a part of such a significant day in the club's history, and I'm also grateful for the people and the the impact we had on the broader Bulldogs community, and I wouldn't change it for the world."
Western Bulldogs psychologist, Lisa Stephen, was instrumental in helping Boyd through his personal issues while at the Bulldogs and still keeps in contact with Boyd to the present day.
"So in no small part, Lisa was a massive, massive assistance to me, and you know, it's still it's still to this day," Boyd said.
Since Boyd's retirement in 2019, he has obtained his degree in Business Management and is a mental health advocate for HeadtoHelp, carrying out public speaking which he is really passionate about.
"I knew what I want to do, what I wanted to do, and to build that over the past 18 months and get to the point where everything on my calendar is something that I've chosen to be a part of," Boyd said.
Everything on my calendar is something that I'm passionate about, I'm really lucky."
The Croydon Hills native also outlined the lessons that he's learned from his AFL experience and how he wants the younger generation to learn from his experiences.
"The one thing that I often really think about in my own journey is the fact that the most difficult thing was admitting that there was anything really going on," Boyd said.
"I think there's still a massive appetite for the messaging surrounding mental health to be at the forefront of people's minds."
"Creating a framework that allows you to deal with little blips on the radar in terms of stress or, you know, adversity or difficult circumstances and failure, which is obviously a part of life as a whole, it's been really important for me."
"If you can teach someone a lesson that you took 10 years too long to learn, when they're 15 or 16, you know, you can potentially save them a whole heap of suffering, and I think that's really, really the integral part of what I try and do."
Aside from his public speaking, Boyd plays local footy at Norwood Football Club and is scheduled to get married at the end of the year.
You can listen to the full podcast here.