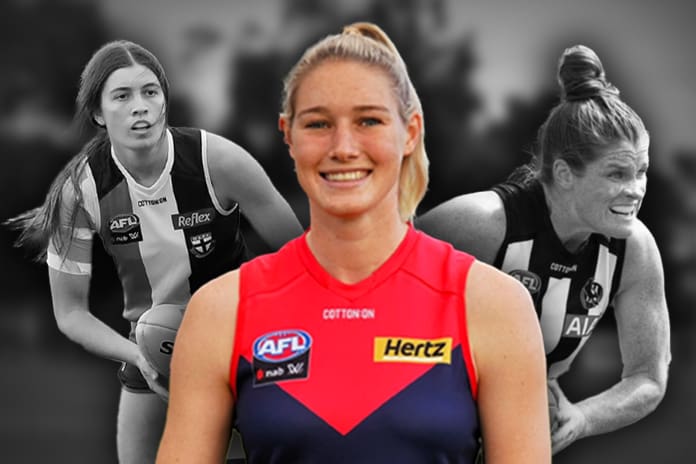 When you consider the condensed nature of the AFLW's schedule, tired expressions likening seasons to marathons simply don't apply.
While the home and away portion of the men's competition is reminiscent of a 42-kilometre race under duress, the efforts of those that share the Sherrin across the summer months are far more in step with runners whose deeds are done in seconds rather than hours.
With only two handfuls of games filling each of the 14 club's calendars, the season is far more akin to a hurdled dash at the Olympic games.
Both assignments are quick in every sense. There are 10 barriers that need leaping at a breakneck pace and a falter or fall at any stage is enough to see dreams of gold disintegrate in an instant.
Given the dizzying demands levelled at the still part-time playing groups, it remains imperative that each enters their starting blocks with plans to avoid replicating Jeffrey Julmis' blunder in Brazil.
Although staggered expansion is sure to see some sides well off the pace before hitting the line ahead of autumn, fledgling newcomers in the Cats, Suns, Tigers, Saints and Eagles will be hopeful of replicating the Kangaroos' early rise.
And while many of these youthful rosters are unlikely to be vying for finals finish, the fleet of genuine contenders will need to remain nimble, nifty and unimpeded given there are only six invitations to the post-season on offer.
So, before the starter fires their pistol on January 7 to set the latest AFLW season in motion, we have sought to analyse each club's biggest hurdles that await them down the straight. 

How ruffled are the Crows' feathers after their grand final loss?
Having fallen short of a barnstorming Brisbane side in the 2021 Grand Final, Adelaide will enter their sixth season under unfamiliar circumstances.
While the Crows have been able to pluck a pair of premiership trophies since the commencement of the competition in 2017, the loss against the Lions on their home deck may have left Matthew Clarke's side lacking a few feathers ahead of their pre-season program.
But even if minds may be jaded after blemishing their previously spotless record in deciders, the state of any wounds must be thoroughly assessed before their redemptive arc gets underway.
Although the individual pain of their trip at the season's final hurdle is unlikely to be completely quantifiable, the manner in which the only club from the City of Churches chooses to tackle their bounce-back will hold seismic ramifications by the time the season's final siren sounds.
As a highly decorated and seasoned outfit, the prevailing view ahead of this season is that Adelaide will, once again, find their form and act as a genuine threat for the flag.
But with a tough start to their schedule, as well as the losses of key ruck Rhiannon Metcalfe and dual premiership duo Deni Varnhagen and Angela Foley, should a splutter from the starting gates occur, the pressure and frustration felt in the sheds last April is likely to stay simmering.
Still, given their forward line's ability to create a league-high average of 13 scoring shots per week last year, the task of trumping the likes of Fremantle, North Melbourne, West Coast and Melbourne across the first month is not beyond them.
Add in the fact that superstar Erin Phillips is still clad in a tri-coloured guernsey, and there is unlikely to be any fear emanating from the Crows' nest.
Although Adelaide is fixtured to face each of their fellow finalists from last season, the fact that four of their five 'eight-point' contests are scheduled for South Australian decks will be regarded as a positive.
And with the West Lakes-based club currently holding a 14-6 record from their 20 matches played in Croweating territory, the minor premiers will consider their rough road back to the business end as one that they are steeled to walk.
RELATED: AFLW 2022 season preview: Adelaide Crows
Adelaide's skill and nerve have long seen them deemed a commanding presence within the still growing competition. Yet, after having been jumped when push came to shove last season, each member of their returning murder will now have an added level of motivation available that was once completely foreign.
Despite the likelihood that their collective plumage is no more than tousled, should any Crows under Clarke and skipper Chelsea Randall have any scars re-open in 2022, they will need to be stitched together quickly given the remarkable difficulty of their scheduled sprint.
Could an altered identity lead the Lions to alternative results?
After defying the odds at the Adelaide Oval in April, Brisbane finally broke through for their maiden flag at the third time of trying.
Although narrow defeats in 2017 and 2018 deciders were enough to see Craig Starcevich's side slapped with the tag of routine runners-up, the unwanted label was lifted after comfortably eclipsing the Crows.
But while the scars of their single-digit losses to round out the competition's first and second seasons obviously spurred their success, the footballing world is yet to see how the reigning premiers react now that they are in the competition's crosshairs.
Externally, the Lions will be seen as the safari target rather than the pith-helmeted hunter scoping from safety. Still, it is not yet known whether their altered identity has been embraced internally.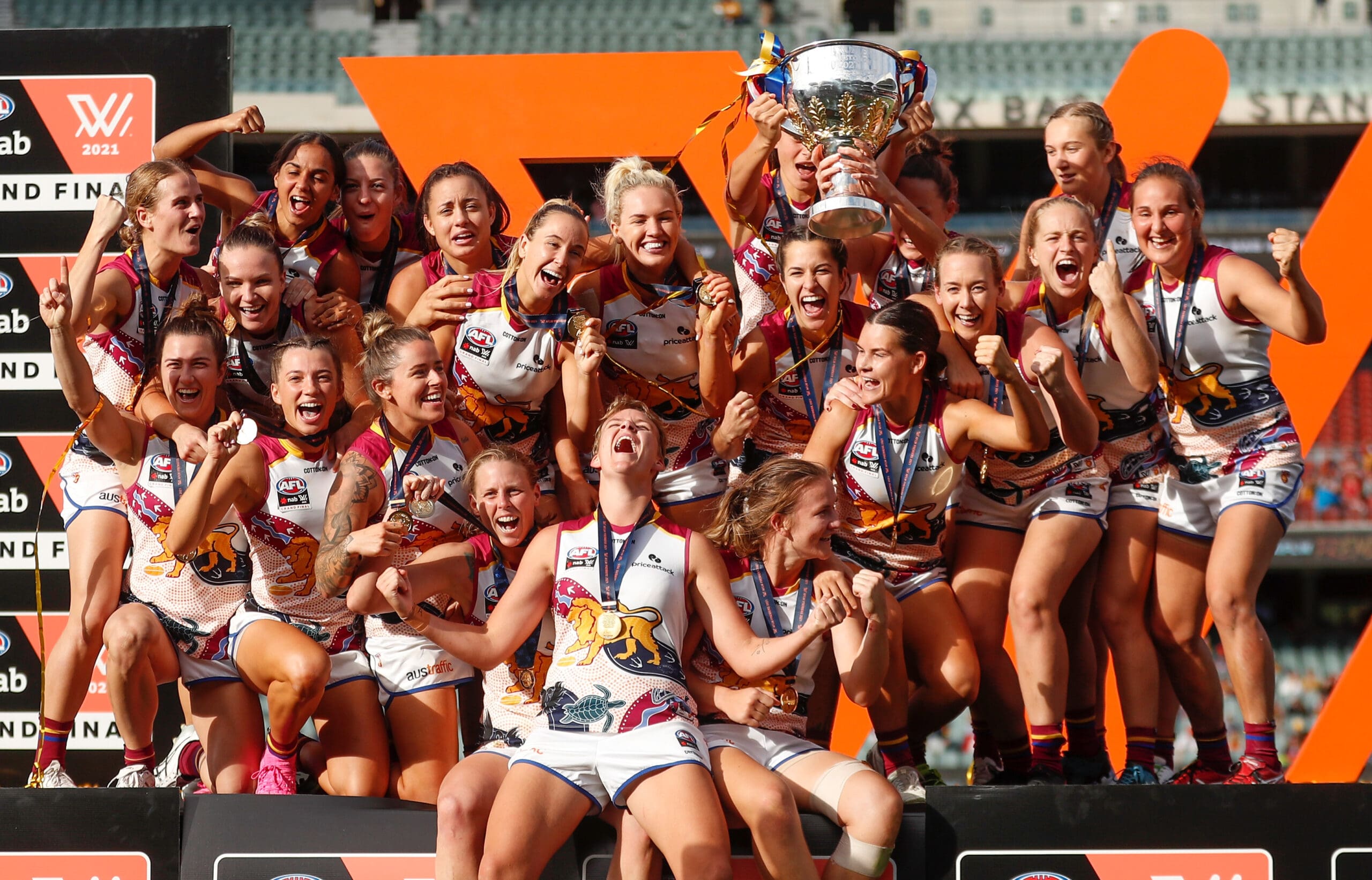 Across the course of the competition's brief history, no team has been able to win back-to-back flags. So, with this in mind, Brisbane will need to buck a burgeoning trend to truly entrench its facelift.
But given their summer schedule appears softer than the year prior, this leg up to continue clearing barriers will be warmly welcomed.
Although Starcevich's pride will need to face four fellow finalists along their road back to the post-season, the fact that the brunt of these will take place in the Sunshine State is sure to boost moods even further.
RELATED: AFLW 2022 season preview: Brisbane Lions
Still, any strong expectations that the Queensland club will be able to avoid banana peels and combat competitors have only arisen due to shattering their ceiling last season.
Essentially, Brisbane's past deeds have seen their exterior changed, but punters, pundits and players alike will only know whether the same alterations have been made below skin level once the season is run and won.
For almost the entirety of their existence, the Lions have found themselves lunging to the line only to be pipped by a whisker.
But as they will now be expected to set the pace without the likes of Emma Zielke and Lauren Arnell in tow, all eyes will be on the premiers to see whether they are equipped to repeat the deeds of the Leigh Matthews' Lions from the early 2000s.
How important are home wins for the Blues?
Despite claiming the competition's opening victory before a packed home crowd on February 3, 2017, Carlton has proven unable to round out any of their six campaigns with the premiership cup in hand.
Although the Blues advanced to the decider in 2019, a seven-goal loss to Adelaide before 53,034 spectators scuppered any chance of claiming the club's first flag since the mid-90s.
While Carlton has tasted success after 53 per cent of their 36 home and away fixtures, a mixture of misfortune, medical advice and misses on their home deck have left the Princes Park side outside of the finals cut more often than not.
Though these business-end misses are an ill shared by both of the club's playing branches, it is the growing trend of losing crucial home contests that has become a real woe for their AFLW side.
RELATED: AFLW 2022 season preview: Carlton Blues
Across the course of their five seasons in the competition, the Blues may have produced a 10-1-6 record at home, but as five of these defeats were dealt out by sides who finished above them on the ladder, it is clear that this rift is a contributor to their serial middling status.
With this inclination creeping, head coach Daniel Harford will be desperate to repeat the efforts of his predecessor, Damien Keeping, who produced a 100 per cent win rate at Ikon Park throughout 2017.
Still, with three of Carlton's five clashes on Royal Parade coming against 2021 finalists in Collingwood, North Melbourne and Adelaide, a return to this zenith will be no mean feat.
Given the recent strength of this trifecta of teams, claiming home victories when matched against the Saints and Suns will be as close to non-negotiable as humanly possible.
As the Bagger's two wins and two losses at their headquarters had them out outside of the six last season, the antidote is obvious if they are keen to press for a first flag. But if dropping important games at their digs remains de rigueur, then any plans to sweep the chips are likely to fall short.
Where do the Magpies sit amongst the competition's contenders?
While some clubs are facing complications relating to form, injuries and even vaccination swerves, Collingwood's most obvious hurdle is of a far more existential nature.
Following a season in which co-captain Brianna Davey led a balanced line-up to a 7-2 home and away finish, the Magpies broke through for their first finals victory after nudging North by a straight kick.
Although Collingwood's brightest campaign on record came to a heartbreaking halt a week later after their narrow loss to the eventual premiers Brisbane, Stephen Symonds' side had already announced themselves as a genuine threat ahead of the 2022 season.
But while the roster studded with six past All Australians will be tipped to continue their upward trajectory, their true status amongst the competition's elite is not completely clear cut.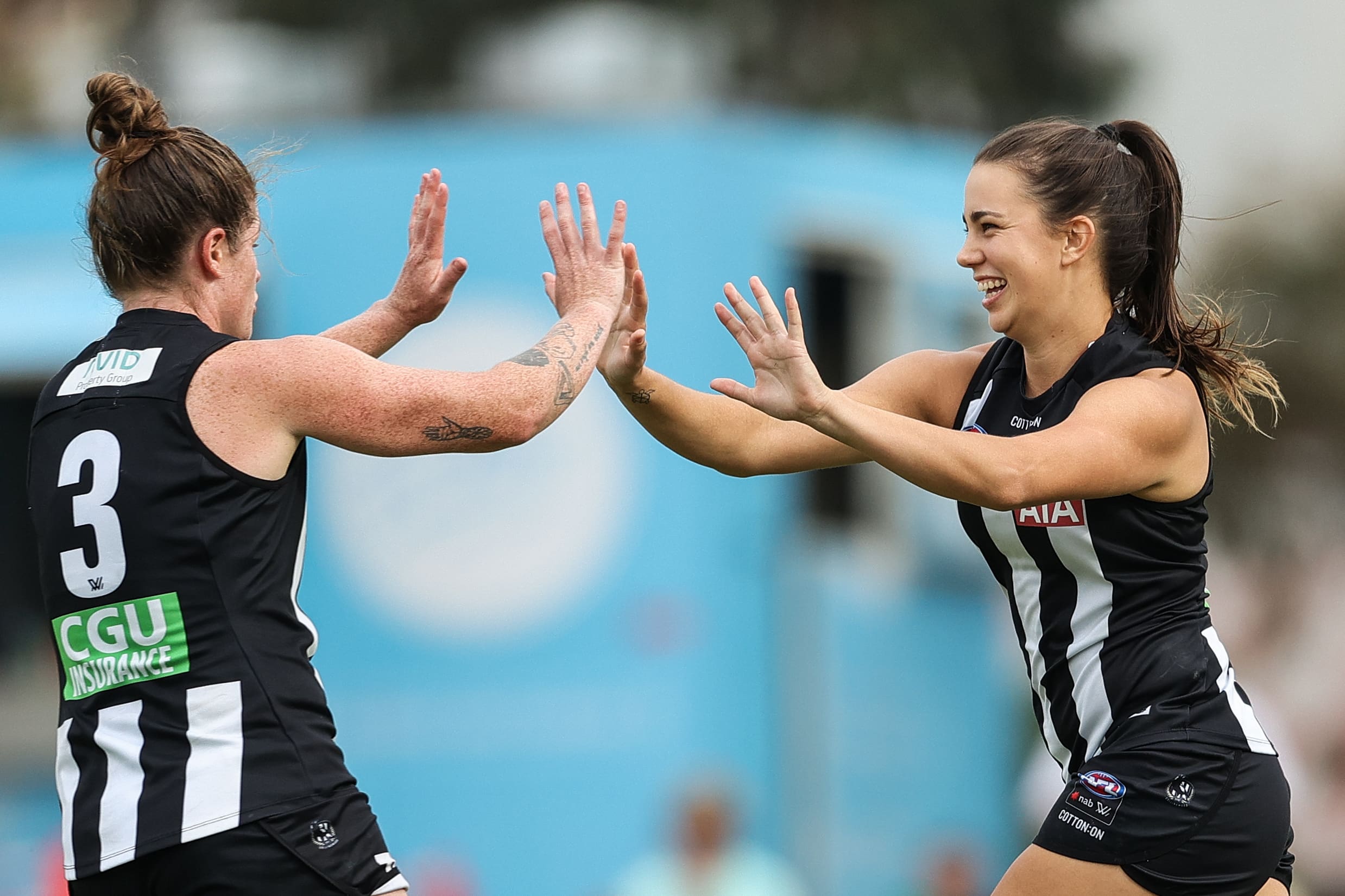 Throughout their nine-week schedule in 2021, the Victoria Park team faced four eventual finalists and finished with a 2-2 record.
While wins against the Kangaroos and Demons remained part of their unbeaten stretch across the first six rounds, interstate losses to the Lions and Crows within the final month culled their chances of claiming the minor premiership.
RELATED: AFLW 2022 season preview: Collingwood Magpies
Although the much-improved Magpies ended the regular season in third place - only a fractional percentage outside of top spot - their defeats at the hands of the grand finalists proved that there remained a void between the bronze medalists and those on the highest pedestals.
Given Collingwood has only been asked to face-off against four finalists from last season, a return to the podium remains well within reach.
Add in Sabrina Frederick joining the likes of Chloe Molloy, Ruby Schleicher, Brittany Bonnici and Davey in black and white stripes, and Collingwood, on paper at least, are more than equipped to progress beyond the status quo.
But if inroads during away clashes in Adelaide and Brisbane are not made, yet another sprint down the straight is likely to end with an undesired medallion.
Do the Dockers have enough offensive coverage?

Having claimed 19 victories from their past 25 outings, Fremantle will enter the season as one of the competition's premiership contenders.
But while the Dockers produced an average of 13.6 scoring shots per week across their last three campaigns, Trent Cooper's side will also be forced to face 2022 without two integral sharpshooters.
With a combined 49-goals from their 60 shots on goal between the start of 2020 and the cessation of last season, both Sabreena Duffy and Ashley Sharp have proved more than menacing inside the offensive arc.
Yet, as both forwards will miss this summer's action due to work commitments and an impending birth respectively, Fremantle's selection committee will be searching for suitable replacements for when the Sherrin hits the deck.
Still, despite Duffy and Sharp's sabbaticals, Cooper isn't facing a complete dearth of options in this department.
With 12 scoring shots across her last 10 outings, Gabby O'Sullivan's impact was evident on the scoreboard in 2021.
Add in the fact that draftees Dana East and Amy Franklin impressed during the Dockers' pre-season loss to the Eagles, and further coverage for their conspicuous cracks appears to have arrived on time.
RELATED: AFLW 2022 season preview: Fremantle Dockers
Irrespective of height stretching her out of a small forward role, Irish import Aine Tighe will also be seen as another piece that can finally fit into the purple club's offensive puzzle.
And while listed as a natural midfielder, Ann McMahon's return from injury as a half-forward will boost both moods and forward pressure.
But even if the mere presence of Roxanne Roux and Gemma Houghton will chew some of the slack, the task of ticking the scoreboard over cannot be left entirely at the duo's capable feet.
After averaging upwards of 37 points per appearance last season, the port city side dipped to score just 23 from eight shots against West Coast last month. And while this will only be cause for concern if it is replicated during their Round 1 Derby, fingers will still be crossed that the incident was isolated.
Even if these downward trends are rectified, Fremantle's waywardness during their forward thrusts is still a sticking point ahead of their sixth season.
In 2021, only 40 per cent of their 132 scoring shots managed to split the big sticks, so an emphasis on straightening up when firing at the goal mouth is sure to have been imparted on those within the forward arc.
Though it is not yet known whether the dual withdrawals of Duffy and Sharp will lead to a dented wins and losses column, it is clear that there are both statistical and physical gaps that require narrowing before a debut flag can dock.
Will a marked rise from the Cats' youth occur?
After a single-win season in which they lost eight decisions by an average of 32-points, a lunar bound rise will be needed for Geelong to join the six this season.
And given this stalled status, it is little surprise to see plenty of youngsters littered throughout their list.
But while some armchair experts may see this juncture as the perfect place to begin adding seasoned talent to their squad, the Cats have continued their journey in the opposite direction.
Despite having 19 names on their roster who have made 15 or fewer appearances, the Pivot City side still saw fit to part company with Richelle Cranston (34 games), Aasta O'Connor (32), Maddie Boyd (22), Olivia Purcell (19) and Rebecca Goring (17) during the break.
And although these losses mean that less than 40 per cent of Geelong's lockerroom has played more than a season and a half of AFLW football, the new Cats in Dan Lowther's cluster come with glowing referrals.
RELATED: AFLW 2022 season preview: Geelong Cats
With draftees Annabel Johnson and Georgie Prespakis joining the likes of Amy McDonald, Darcy Maloney, Georgie Rankin and Nina Morrison, the Hoops' engine room will be bolstered by both class and some more Gen-Z exuberance.
Also, when one takes into account the array of positions that the recently departed quintet filled, the potential for fellow fledglings Rachel Kearns, Olivia Fuller, Laura Gardiner and Georgia Clarke to press for senior selection should also be improved.
But irrespective of this youthful shot in the arm, can blue and white barrackers expect to see those born in line with the millennium bug drag the Cats to a winning season?
Given the scarcity of success in 2021, the bar for improvement currently sits well below the knees. But with only four upcoming fixtures against finalists from last season, the ability to improve on the club's historical 6-16 record should arise.
Though we can't currently know for sure whether a youth-led rise will be written into this summer's plot, if more members of their most recent draft litters can make an impact each week, then the Cats' decision to play the long game may well provide the makings of a premiership nucleus.
Is the Suns' roster ready to compete this season?
With a winless campaign to their name in 2021 and nearly 140-games of experience heading out the door over the break, the answer to this question appears relatively straightforward.
However, with a class of recruits that include both shrewd selections and some potential stars, Gold Coast's altered complexion has the capacity to intrigue and surprise.
Although the sun has set on the careers of veterans Leah Kaslar, Sam Virgo and Sally Riley, the wooden spooner's decision to replace the trio with a mixture of tested, elevated and drafted names should be seen as the broad catalyst for change at Carrara.
While this recent loss of wisdom will hurt, recent additions Vivien Saad (North Melbourne) and Claudia Whitfort (St Kilda) will already be seen as best-21 staples due to their prior experience.
And even though each of Tara Bohanna, Alana Barba and Charlie Rowbottom will be asked to make the jump in class from respective secondary competitions, the collective will also be in line for Round 1 debuts.
RELATED: AFLW 2022 season preview: Gold Coast Suns
Should you attempt to select the Suns' team to face GWS on Sunday, January 9, you will find that although there are stellar names such as Aherns, Drennan, Bella, Stanton and Yorston on each line, it is the grout that runs between them that could lead to complications.
So, irrespective of any cynical views that some of these recruits wear labels of 'undesired' or 'untried', the chinks in Cameron Joyce's list validate the importance of their selections.
Gold Coast should be commended for pivoting their focus to the future, but given 14 names on the Suns' 30-person roster have made 10 or fewer AFLW appearances, more short-term gloom looks likely to be forecast this summer.
But while a second finals berth is off the horizon, those with a keen eye are sure to see some momentary strikes towards significance this season - even if the wins column remains cobwebbed.
There's no doubting that like the sun itself, the future is bright for Joyce's squad, but as was recently proven during their pre-season hit out against the Lions, the gap between the competition's top and bottom teams is still, sadly, chasmic.
Will a less tempestuous start to the season see the Giants return to the finals?
Although some club's mottos often ring hollow, there is no denying that the Giants' maxim to 'Never Surrender' was well and truly adhered to throughout last season.
Following Brid Stack's horrific neck injury during the club's month-long, whistlestop tour through Albury, Adelaide and Perth, life still remained rough after shifting back the Harbour City, as the Crows proved too classy during their Round 2 meeting.
But while looser-knit lists would have shied away from the challenge of an 0-2 start, Alan McConnell's percussion pressed on to win four of their next seven games.
Despite their desire to dig their heels in, GWS fell short of a second finals appearance. But given the smoother approach to their sixth season, should the 'Orange Tsunami' hold expectations of returning to the six?
In the aftermath of a season in which GWS faced three finals calibre sides in nine weeks, the bar will be raised again this summer with crucial clashes against Fremantle, North Melbourne, Melbourne and Adelaide looming large.
And with three of this quartet of contests taking place far beyond both Blacktown and Newtown, if the Giants are to make the cut by autumn, the decent luck they have been afforded so far will need to continue.
RELATED: AFLW 2022 season preview: Greater Western Sydney
Though fixtures at the Whitten Oval, Arden Street and Casey Fields are enough to have the competition's elite fretting, the recruitment of Chloe Dalton, Katie Loynes and Jasmine Grierson to partner the balanced polish of Alicia Eva and Alyce Parker will provide GWS a fighter's chance.
Yet, as standing toe-to-toe and swinging haymakers until the bell sounds has always been in their DNA, perhaps backing the underdogs to now win a few rounds isn't the worst way to wager.
The fact that this will be the last season that Giants have a monopoly over summer football in Sydney won't be lost on anyone from the boardroom to the back pocket.
So, if a return to the six doesn't come to fruition, the foundation branch of the AFL's youngest club runs the risk of losing even more of their market share to the already well-supported Swans.
Are the Demons truly primed for premiership success?
With Mick Stinear's side recently bolstered by the recruitment of ubiquitous star Tayla Harris and a far quieter achiever in Olivia Purcell, a sole goal to cap their inching rise with a cup was sure to have been the opening item on Melbourne's pre-season agenda.
As their midfield and forward units have gained further fortification, any cynicism surrounding their premiership chances will logically be placed on those within the defensive arc.
And given the Demons conceded more points (293) than any other fellow finalists from 2021, the magnification on this portion of the roster is both fair and pragmatic.
For this reason, it remains strange that Stinear and his recruiting team made no effort to source reinforcements to aid the likes of Lampard, Birch, Colvin, Tarrant and Goldrick during the break.
Still, with Gay, Paxman, Hanks, Hore, Scott, Mithen, Zanker and a pair of Pearces revving their engines further afield, a full-throttle plan to simply score more than they leak is sure to be Melbourne's modus operandi.
RELATED: AFLW 2022 season preview: Melbourne Demons
Ahead of the pistol's fire this weekend, each of the league's skippers were asked for their premiership fancies. And after receiving seven of a possible 13 votes to reign supreme, it is clear that those lacing the boots this summer are wary of the Casey Fields collective.
But as Melbourne are fixtured to face each of the competition's five most potent offensive sides from last season, if their one-way tactics are to reap rewards, their recent mean of 42-points per game will need to be raised.
While it has long been evident that the Demons' best is enough to trump any side in the competition, each of their past five campaigns have still ended shy of a shot on grand final day.
Albeit that many believe that this matter will be rectified by season's end, should a renewed focus for a stingier defence fail to arise, yet another stumble near the end of the straight could well be coming.
Where do the Kangaroos sit amongst the competition's contenders?
When studied in isolation, North Melbourne's three seasons in the competition have provided more positives than not.
With a 14-6 record, finals experience and only Covid, Collingwood and the conference system stopping them from playing off in a grand final, Darren Crocker's team should feasibly be a threat this season.
But after falling to the Pies in the finals at the same stage they advanced past them 12 months prior, is there a risk that this slight dip was also a means of foreshadowing?
While any thoughts of this nature are sure to be scoffed at by ardent Shinboners, North's sixth-placed finish last season was their lowest since entering the league in 2019.
And with sides below them such as the Dogs, Blues and Tigers likely to press again for a finals place, a repeat of their 6-3 record may not be enough this summer.
RELATED: AFLW 2022 season preview: North Melbourne Kangaroos
As every contest carries so much weight within each condensed campaign, any opportunity to bank wins must be seized. But as club captain Emma Kearney is currently on tenterhooks for a Round 1 start, the Roos' opening hop this summer will be less assured than usual.
Although a collective including Duffin, Ashmore, Bruton, Bannister and Garner should prove far too strong for Geelong first up, North is fixtured to face just one more bottom-four side along their dash to the finish line.
Given they were only able to claim a singular win from their five clashes against fellow finalists last year, recent results suggest they currently sit at the tail of those lunging for the premiership cup.
Yet, if a return to their barnstorming form during the Covid halted 2020 season comes to fruition, then their first date with the dais could well be on the cards.
Due to their historic 9-0 record when playing at Arden Street or in the Apple Isle, North's respective fixtures with Geelong, GWS, Fremantle, Collingwood and West Coast will be noted as prime times to strike.
And if this impressive show of perfection stays intact, it will be their far-flung litmus tests against Adelaide, Carlton, Richmond, Melbourne and Brisbane that will see them receive a passing grade or not.
Does the Tigers' teamsheet contain enough balance?
Given it contains the class of Sarah Hosking, Ellie McKenzie and dual-sport star Monique Conti, Richmond's engine room appears a fair match for any other collective within the competition.
And with another All Australian in Katie Brennan lining up just further afield, as well Jess Hosking down back, head coach Ryan Ferguson has an array of levers to pull in pursuit of victory.
But even with new recruits Stella Reid and Poppy Kelly coming in to replace the hybrid workload of the recently defected Sabrina Frederick, can the Tigers claim to have all bases covered ahead of their third season?
Across the course of their three wins and six losses in 2021, Richmond may have proven able to score the eight most points per game (34.6), however, they remained a bottom-five team when it came to conceding scores, leaking 41-points each week.
So, when you take into account that the aforementioned midfield trio combined for a mean of 17.4 disposals each per week and that Brennan and Courtney Wakefield were two of only 12 players across the league to have slotted 10 or more goals, the Tigers' key chink appears to be behind the ball.
RELATED: AFLW 2022 season preview: Richmond Tigers
Yet, when the Tigers' best and fairest count was completed last April, defenders Harriet Cordner and Rebecca Miller had claimed top-five finishes after career-best years.
Although there can be no denying that there are proficient players on every line at Tigerland, an argument can be made that an inability to win more than a third of their games last summer was due to the depth beyond their stars.
Ahead of their opening night stoush with the St Kilda, the average level of experience held by those on Richmond's list sits at 15-games. And when the latest group of draftees are excluded, only seven names on the roster have made 10 or fewer appearances during their time as Tigers.
These numbers reveal a pair of important truths; one, Richmond has created, kept and cultivated a nucleus that was formed ahead of the 2019 campaign.
And two, while there may still be a gap in class between the side's stars and the extras on the Punt Road set, it has well and truly been eaten into since their dismal debut season
Expansion sides are often afforded the right to fledge in peace for a few years while learning game plans and becoming accustomed to those around them, but if Ferguson's ambush is going to press for a place in the six this season, it must be the hands of many that make the work light and not just those owned by household names.
How will the Saints cover their seismic losses?
Losing a pair of starting midfielders during the pre-season period is enough to cruel teams of any calibre.
But with the Saints set to forge on without their dual best and fairest winning All Australian as well as her runner up, the likelihood of a red hot summer in Moorabbin has been dulled.
While the reasons for Georgia Patrikios and Tyanna Smith's absences are stark, the void that they have combined to leave in the centre of Linton Street can be seen from orbit.
Still, with an array of alternative options up his sleeve, head coach Nick Dal Santo won't have to scamper to play his opening hand.
The return of Olivia Vesely will aid the first-year steward when it comes to coverage, as should shifting Tarni White from the backline into the middle.
Nicola Xenos' comeback from an ACL tear will both act as a boost for the Saints' forward line pressure and allow the 20-year-old an opportunity to help out around stoppages.
RELATED: AFLW 2022 season preview: St Kilda Saints
Alice Burke and Tahlia Meyer can also expect to see greater playing time alongside lockerroom leaders Tilly Lucas-Rodd, Catherine Phillips, Nat Exon and Rosie Dillion.
But even though Dal Santo will have placed an onus on this latter quartet to continue forging forward, it is yet to be seen whether the Saints' secondary can cover the absentee's combined averages of 11.1 disposals and 6.2 each week.
Despite any gloom that has set in due to this uncertainty, the opportunities provided to each member of the Saints' list must be seen as a silver lining.
With the competition set to expand again in 2023, St Kilda are likely to lose some key players from their roster. So, even though a debut finals appearance is currently at Prince of Penzance odds to surface this season, the ability to add steel to the depth of their squad must be seen as a positive ahead of an 18-team competition kicking off next summer
Will the Eagles finally win outside of Western Australia?
In the world of men's football, even sides comprised of well-paid, full-time professionals struggling when asked to cross borders.
And although AFL athletes are afforded more time with their teammates due to football being their sole profession, the same, sadly, doesn't apply for almost every name on an AFLW list.
While larger seasons, broader planning and a richer wealth of analytics and staff are likely the root of why interstate droughts remain brief, there has long been a view that players bonding on the road is the actual antidote to exorcising any away game ghouls.
Still, due to a Simpsons-esque 'Crisitunity', the Eagles have been granted a stretch to prove whether this longstanding supposition holds water or not.
Across their two-season tenure in the league, the Eagles have failed to claim a single interstate victory from any of their six attempts, losing each by an average of 31-points.
But with Western Australia's strict border laws forcing Michael Prior's eyrie to spread their wings and play five-straight matches in Victoria, a chance of a lifetime to buck their trend has been birthed.
RELATED: AFLW 2022 season preview: West Coast
Despite last year's form suggesting that contests with Adelaide (Punt Road) and Collingwood (Victoria Park) are likely to end in losses, West Coast's fixtures against Gold Coast (Whitten Oval), St Kilda (Trevor Barker Beach Oval) and Geelong (GMHBA Stadium) will all be seen as winnable.
Although this stretch out East will be bemoaned by their faithful back West, if the Eagles can finally taste success when wearing white shorts, scowls are certain to morph into smiles.
Even if logic and their list make-up suggest that yet another year will pass without reaching the post-season, if this interstate hurdle can be hopped, and duly celebrated in camp, this five-week safari will go into the annals as the stage in which West Coast came of age.
Can the Bulldogs fix their form over the final month?
Although 2021 saw the Bulldogs' finals drought stretch into a third season, their winter spent signing talent from right across the spectrum has the Pups primed to bring a soaking rain.
But while the additions of Alice Edmonds, Amanda Ling, Elle Bennetts and Richelle Cranston can be seen as a boon, will their output be enough to halt a disappointing tendency?
Since claiming their maiden flag in late March of 2018, the Bulldogs' form across the final month of each successive season has been dismal, with the Whitten Oval side winning only one of 12 games played before the season's cessation.
While such fadeouts are distressing in any campaign, the fact that Nathan Burke's pack blew a 4-1 start to last season before limping to a 1-3 finish will have left the St Kilda legend tearing at his once helmeted head.
Although successive clashes against Collingwood, North Melbourne and Adelaide were always going to test such a young team, an inauspicious 1-3 record against the top-six from last season left plenty to mull between seasons.
Given the Dogs' are only fixtured to face two recent finalists - Melbourne and Adelaide -throughout their opening six rounds, a chance to stake an early claim has been afforded.
RELATED: AFLW 2022 season preview: Western Bulldogs
And as their final month sees them clash with the Suns, Magpies, Eagles and Dockers, an opportunity to finally finish strong is also available.
As has been stated ad nauseam, the AFLW season is a hurdled sprint and far from a marathon.
So, if the daughters of the West can find a way to ditch their cement boots when trudging towards their final four barriers, a return to the high-stakes of finals could well come to fruition.