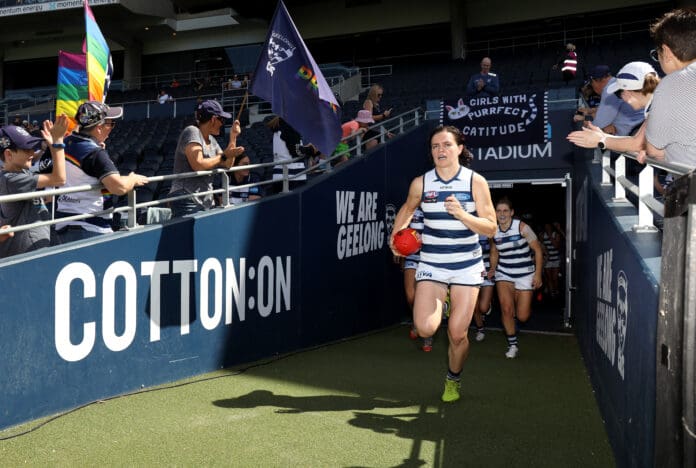 After recording their leanest return since entering the competition, an off-season of soul searching was sure to be in store across the Pivot City.
Although a singular victory was enough to stave off the wooden spoon, Geelong's decision to part ways with a number of senior players ahead of the new year may see their pain extended in the short term.
Still, with a solidified plan for the future, Cats fans can take some solace in the knowledge that many of the pieces for a premiership push are likely in place.
2021 recap
After ending their opening pair of campaigns with a 38 per cent win record, Geelong's dismal 2021 season saw this figure plummet to a paltry share of 11.
With just one win from their nine contests, the Cats could count themselves fortunate that their victory over the Suns was enough to keep them off the foot of the table.
However, with an average score of just over 18-points and a conceded mean of above 45, there was little cause for champagne corks to be flying by autumn of this year.
Given Geelong has committed to selecting youth across the park this season, there does remain a likelihood that this nadir could extend across another year.
But with further experience set to be gained by the likes of Amy McDonald, Darcy Maloney, Madisen Maguire, Nina Morrison, Georgie Rankin, Laura Gardiner and gun recruit Georgie Prespakis, the nucleus for a successful future is evident.
Off-season moves
With head coach Dan Lowther's choice to employ a Gen-Z heavy team sheet next season, the Cats bid farewell to senior members Rebecca Goring, Aasta O'Connor and Richelle Cranston during the break.
While the exit of this trifecta has left an 83-game void of experience, Lowther and his recruitment staff made efforts to plug the gap after luring Chantel Emonson and Chloe Scheer from Melbourne and Adelaide respectively.
The Hoops were also active at the draft, including their choice to pluck Prespakis with the second overall pick.
Recruits: Chantel Emonson (Melbourne), Chloe Scheer (Adelaide), Olivia Fuller, Claudia Gunjaca (mature-age signings), Rachel Kearns (rookie).
Draftees: Gabbi Featherston, Zali Friswell, Annabel Johnson, Georgie Prespakis.
Inactive: Millie Brown (break), Renee Garing (pregnancy), Denby Taylor (break).
Out: Olivia Purcell (Melbourne), Aasta O'Connor (retired), Maddie Boyd, Nicole Garner, Rebecca Goring, Mia Skinner (delisted), Richelle Cranston (delisted, then Western Bulldogs).
Strengths and weaknesses
With an inability to slot more than four goals in any of their opening eight games, Geelong's offensive helplessness was the catalyst for multiple headaches and losses last season.
Yet, if their capacity to create 18 scoring shots - six of which were majors - during a recent practice match victory over Richmond is a sign of things to come, there may be little need to have plenty of paracetamol on hand next year.
Despite the noticeable youth of their engine room, the addition of the league's latest Prespakis and the return of Morrison will almost certainly see a statistical lift throughout their schedule.
Still, if the Cats continue leaking upwards of seven goals each week, their previously sieve-like defence could be the anchor that keeps them weighed near the foot of the ladder.
Season summary
North Melbourne (A), Western Bulldogs (H), Collingwood (H), Brisbane (A), West Coast (H), Gold Coast (A), Fremantle (H), Richmond (A), St Kilda (A), GWS (H)
Defining period
Given wins were akin to hen's teeth in 2021, if Geelong's recent form remains the prevailing trend, their upcoming fixture is sure to provide them with plenty of curveballs.
Despite only being asked to travel interstate on a pair of occasions, the Mogs will be required to take on five of the competition's top-eight teams.
A rough first month with contests against the Roos, Dogs, Pies and Lions is sure to see them on the back foot, however, a much tamer sprint to the line should see the Corio club bank some much-needed wins.
Clashes against the Eagles, Suns, Tigers and Saints are sure to be circled as realistic opportunities to secure four points.
Predictions
While last weekend's taming of the Tigers was enough to raise eyebrows, if Lowther's clowder is unable to bring this form into the season proper, further frustration will await both he and his playing group.
Even though a single-win season is likely to be bettered before their fourth campaign comes to a close, a second finals berth is probably another year away for the rejuvenated Cats.
Cameron Grimes: 11th
Danielle Sorati: 10th
Ed Carmine: 13th
Jake Benoiton: 10th
Michael Georgiou: 12th
Mitch Keating: 12th
Niesha Happell: 10th