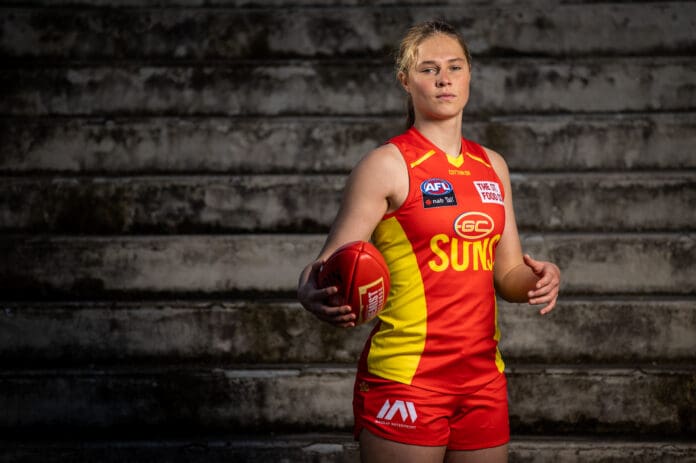 Following the dizzying heights of a finals appearance in their debut season, Gold Coast hit rock-bottom in 2021 after failing to taste victory in any of their nine clashes.
Although injuries, hiccups and a fixture list as tough as a cheap steak were enough to see the Suns claim their first wooden spoon, an off-season spent refurbishing is sure to have boosted moods on the glitter strip.
With a new coach and the draft's No.1 pick in Charlie Rowbottom now at Carrara, the forecast for a mildly brighter third campaign appears written in the stars.
But as the expansion side is set to begin their run from deep behind the peloton, a return to the business end may still be beyond them.
2021 recap
Given the strains of Covid were once again prevalent throughout last summer, Gold Coast were forced to play four straight games outside of the sunshine state.
While inaccuracy cost them a win during their Round 5 match-up against West Coast and a valiant effort was produced when facing Greater Western Sydney the week prior, dual thumpings at the hands of Fremantle and Adelaide were enough to scupper any aspirations of a post-season return.
Although the Suns were afforded the right to round out their schedule at home with respective bouts against the Tigers, Blues and Cats, each ended in defeat and saw Queensland's second side consigned to the ignominy of a winless campaign.
Despite becoming the first club to earn such debasement, the cruel losses of Jacqui Yorston, Sarah Perkins and Jamie Stanton to an array of ailments were enough to see the Suns earn a reprieve from even the harshest of critics.
Off-season moves
With a plethora of names either delisted, retiring or unavailable, first-year coach Cameron Joyce and his recruiting staff cast the widest net possible to find their replacements throughout the break.
While Rowbottom and fellow draftees Ashanti Bush, Giselle Davies and Teagan Levi were brought into the fold, Gold Coast also offered contracts to an array of names from the VFLW, QAFLW and rival clubs.
Even though the 18-year-old Rowbottom is sure to draw plenty of attention from both punters and opposition players alike, should Tara Bohanna prove able to replicate her recent form for the Southern Saints, the 26-year-old could well offer a return far in excess of her price tag.
Notwithstanding her respective means of 16.8 disposals, 4.4 marks and 3.7 tackles per game across the 2021 VFLW season, the key forward slotted 19 goals from 16 starts before claiming best and fairest honours with the Saints.
Recruits: Alana Barba (Essendon VFLW, replacement player), Tara Bohanna (Southern Saints VFLW, replacement player), Shannon Danckert (Bond Uni QAFLW, replacement player), Jacqueline Dupuy (Maroochydore QAFLW, replacement player), Vivien Saad (North Melbourne), Claudia Whitfort (St Kilda).
Draftees: Ashanti Bush, Giselle Davies, Teagan Levi, Charlie Rowbottom
Inactive: Annise Bradfield (ACL), Maddi Levi (rugby), Teagan Levi (rugby), Emma Pittman (work).
Out: Sally Riley, Sam Virgo (retired), Georgia Bevan, Jordann Hickey, Leah Kaslar, Paige Parker, Molly Ritson (delisted).
Strengths and weaknesses
Ironically, Gold Coast's greatest attribute is also the most evident frailty.
Although the Suns' widespread youth will likely mean that a finals berth will be out of reach before the ides of March, the fact that Joyce can both build and hone a nucleus of largely local youngsters in 2022 should see them ascend to success far quicker than the male arm of the club.
Still, with the average age of the 34-person roster sitting a fraction north of 23, the rise of these Suns is still some way off its completion.
The fact that Joyce's new collective leaked more than 53-points per game last season whilst only posting an average of 19.5 of their own will mean that a resurrection of Christ proportions would be required to make the six.
Season summary
Greater Western Sydney (H), West Coast (A), Brisbane (H), Richmond (H), Melbourne (A), Geelong (H), Western Bulldogs (A), St Kilda (H), Carlton (A), Collingwood (A).
Defining period
Having been blown out of the water by Fremantle during their semi-final outing in 2020 before dropping each of their nine decisions this year, the Suns sit just one defeat shy of equalling Richmond's record of 11 straight losses.
So, irrespective of any of the challenges that lay ahead of them this summer and autumn, Gold Coast will be desperate to snap their unhappy run when they face-off against the Giants in Round 1.
Should a third successive defeat at the hands of GWS arise, a shot at redemption against the Eagles in Round 2 could provide the perfect opportunity to sing their song for the first time since March 15, 2020.
While their recent pre-season loss to reigning premiers Brisbane will see them as rank outsiders when the pair play the latest QClash in Round 3, an unexpected victory would be the greatest of their short history.
But as the Suns proved unable to kick a goal in their last in-season outing against the Lions, any dream of toppling Craig Starcevich's side are likely to be of the pipe variety.
Predictions
Given the additions to both their on and off-field staff between seasons, Gold Coast's nadir is unlikely to stretch too far into their third campaign.
And should the majority of the Suns' senior names remain fit for the entirety of 2022, yet another fruitless fixture is sure to be avoided.
Contests against clubs outside of premiership contention will be circled as chances to strike, but with clashes scheduled against four of the most recent top-eight, if a marked improvement is out of reach, another bottom half finish awaits the Carrara kids.
Cameron Grimes: 14th
Danielle Sorati: 13th
Ed Carmine: 14th
Jake Benoiton: 14th
Michael Georgiou: 14th
Mitch Keating: 14th
Niesha Happell: 13th