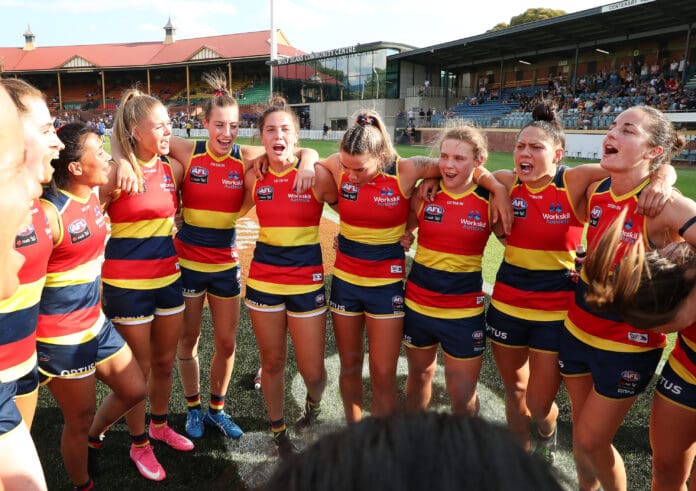 Exciting times are ahead in season 2022, with Adelaide looking like a real chance to secure their third premiership in just six seasons. After a heartbreaking end to their 2021 campaign, there is no lack of motivation or determination to reach the top prize.
The Crows have always had the talent and composure, and over the past two years, they have injected some youth into their side.
2021 Recap 
2021 saw the powerhouses of the AFLW fight their way to make their third grand final appearance in just five years, however, not everything went to plan on the season's final day.
Captain Chelsea Randall was left to watch the game from the sidelines after the new concussion protocol was brought in and the Crows were defeated by Brisbane at the Adelaide Oval.
The Crows held the advantage of experience, and this showed throughout their season with composure allowing them to take ahold of less proficient sides.
However, their star player Erin Phillips battled ongoing knee issues throughout the season, which ultimately hindered her impact.
Still, Ebony Marinoff had a breakout season in her fifth year on the Crows list taking home the club's best and fairest award.
Off-season Moves 
Over the off-season, Adelaide lost 22-year-old talent Chloe Scheer to Geelong along with a number of players who have been placed on their inactive list. They were very active in the 2021 Draft, adding plenty of youth back into their line-up.
Recruits: Jasmyn Hewett (delisted free agent, Gold Coast), Jasmine Simmons (rookie, basketball)
Draftees: Abbie Ballard, Zoe Prowse, Brooke Tonon
Inactive: Angela Foley (ACL), Rhiannon Metcalfe (work), Jessica Sedunary (cycling), Deni Varnhagen (COVID-19 vaccination policy)
Out: Chloe Scheer (Geelong), Renee Forth (delisted)
Strengths and weaknesses
Despite the sting of last season's trip at the final hurdle, Adelaide enters 2022 as perhaps the most battle-hardened side within the competition.
Matthew Clarke's midfield and forward lines are exceptionally potent, with names across the final two-thirds of the ground proving adept at keeping the scoreboard ticking over.
In Erin Phillip's, the Crows have the most dangerous weapon at their disposal - even if the Olympian is approaching her 37th birthday.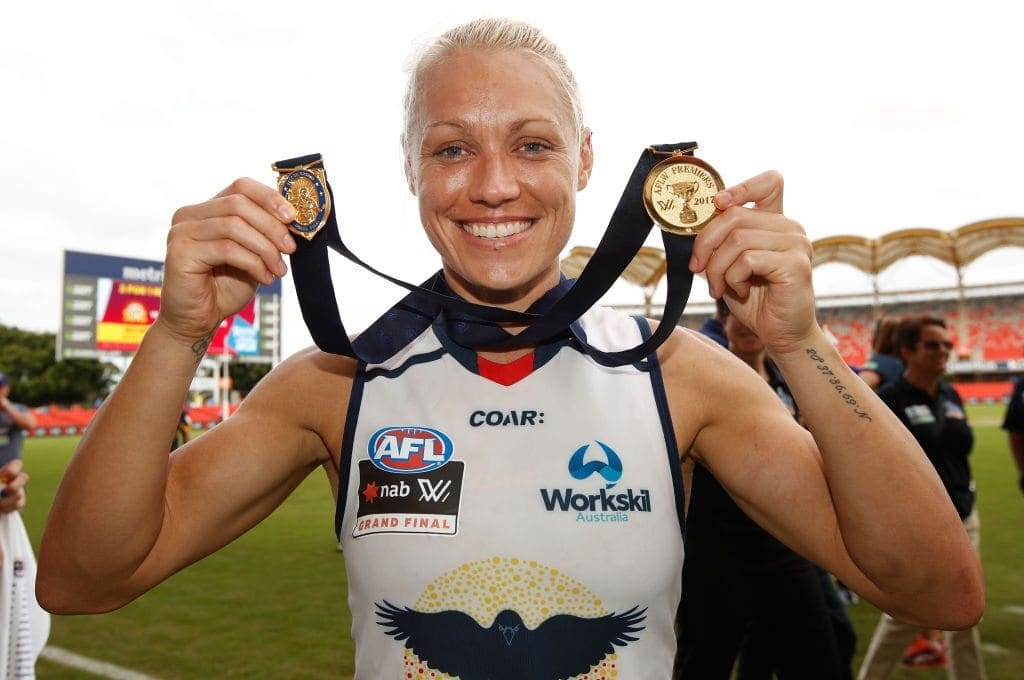 And with an ability to create a league 144 scoring shots in season 2021, fans of the feather will be hopeful that the likes of Danielle Ponter, Ashleigh Woodland, Eloise Jones, Anne Hatchard and Stevie-Lee Thompson can repeat their deeds.
However, as proven by Brisbane's ability to etch out a winning score in last season's decider, the Crows' defensive group may yet require tightening, especially with the loss of dual premiership defender Deni Varnhagen.
Still, the reintroduction of Randall should alleviate some headaches here.
The loss of ruck Rhiannon Metcalfe to another ACL injury could see the South Australian side stretched in the centre circle, so if yet another finals ticket is to be obtained, plenty will fall onto the shoulders of former volleyballer, Caitlin Gould.
Season Summary
Fremantle (A), North Melbourne (H), West Coast (A), Melbourne (H), Carlton (A), Bulldogs (H), GWS (A), Brisbane (H), Collingwood (H), St Kilda (A)
Defining period
The first four rounds present Adelaide with physical challenges as they come up against 2021 finalists in Fremantle, North Melbourne and Melbourne.
The Crows will be able to make a statement early and shape the rest of their season if they come out on top against this trio.
Round 8 will present a different challenge when the Crows face Brisbane in the grand final rematch. This will be a test of both their physical and mental strength.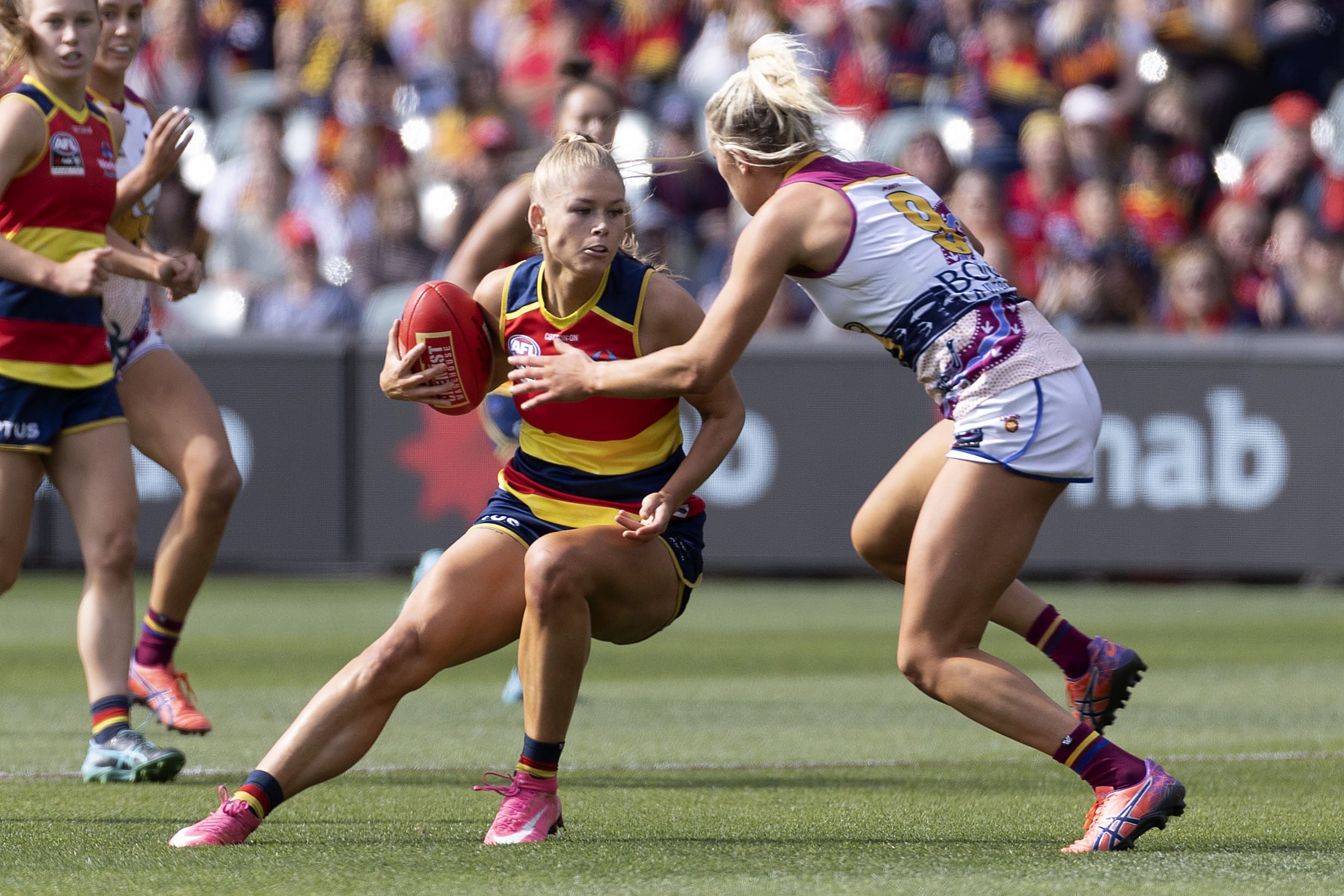 Prediction 
The Crows will be a hot contender for the 2022 Premiership if their leaders can stay fit and steer their young talent in the right direction.
2022 will be an all-or-nothing year for the Crows as it is their last chance to reach success before Port Adelaide joins the competition and their talent pool is cut in half.
Danielle Sorati: 2nd
Mitch Keating: 2nd
Jake Benoiton: 3rd
Cameron Grimes: 8th
Ed Carmine: 6th
Niesha Happell: 3rd