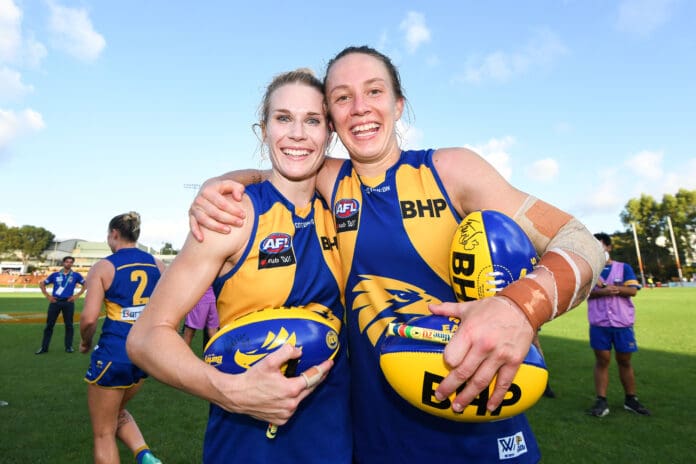 After obtaining a licence to join the then VFL ahead of the 1987 season, the West Coast Eagles quickly ascended to stardom well before their port-side rivals in Fremantle.
Yet, when the fortune of the club's AFLW arm is placed under the microscope, the differences between those heady days and the present could not be starker.
Unlike the club's birth prior to the fall of the Berlin Wall, the admission of their women's side only came after the Dockers crafted a foundational foothold within the competition.
And in a far cry from the teams led by Alexander, Todd, Malthouse and Judge, the convocations coached by Luke Dwyer and Daniel Pratt proved unable to find wins in any of their interstate fixtures.
While the identities of both branches of West Coast's rosters are currently akin to chalk and cheddar, incremental gains were made from their first AFLW season to the next.
With a promising draft class obtained during the off-season, as well as a new coach in former Bomber Michael Prior, fans of Perth's most popular club will be hoping to bridge the gap with their older siblings by the end of their third campaign.
2021 recap 
Following a single win, debut schedule in 2020, the Eagles improved in the wins and losses column whilst also finishing their sophomore season with a slightly healthier percentage.
But given their pair of victories came against cellar-dwellers Gold Coast and Geelong, it remains obvious that Prior has inherited a team that is still off the pace for a finals push.
Add in the fact that the expansion side conceded an average of 48-points per week while posting a mean of just 25 themselves, and this gulf between the competition's late-comers and its contenders appears wide enough to drive a fleet of road trains through abreast.
Further salt was added between the Eagles' feathers when the Dockers blasted them off Optus Stadium's surface to the tune of 67-points in Round 6.
Although the scoreline alone was sure to have had blue and gold barrackers wincing, West Coast's three scoring shots in comparison to the visitor's 20 would have also seen tears in many Eagle eyes.
As mentioned, Pratt's collective continued their lack of success after crossing the state's plumb borderline, and in doing so, extended their interstate streak to zero wins from six attempts.
Off-season moves
Although West Coast's 2021 season provided plenty of fodder for both pessimists and masochists, the club's creeping improvement and plethora of hits on draft night offered enough for optimists as well.
And while some fans of the feather may still see the glass as half empty, the instant impact made by Evie Gooch, Aimee Schmidt and highly touted draftee Charlotte Thomas during their pre-season victory over Fremantle will surely have seen the surface rise for many others.
With another lot of local additions in Courtney Rowley, Beth Schilling, Sarah Lakay and Emily Bennett poised to add further aid to the Eagles' cause, the West's already blinding glare has become just that little bit brighter.
Recruits: Evie Gooch (Fremantle), Aimee Schmidt (GWS)
Draftees: Emily Bennett, Sarah Lakay, Courtney Rowley, Beth Schilling, Charlie Thomas
Out: Mhicca Carter, Beatrice Devlyn, McKenzie Dowrick, Brianna Green, Alicia Janz, Demi Liddle, Julie-Anne Norrish, Kate Orme, Chantella Perera, Katelyn Pope (delisted)
Strengths and weaknesses 
Like many of the other fledgling teams around them, West Coast's current crop of youth can be seen as both a short-term fault as well as their greatest fortitude for the future.
As the outcome of a large list overhaul saw only two tested players join their ranks ahead of this summer, it appears unlikely that the Eagles will be pressing for a place in the six by the cessation of the home and away season.
But with Western Australian talent filling a myriad of key posts right across the park, Prior does have the beginnings of an evenly balanced teamsheet at his disposal.
While the Lathlain-based side improved their offensive output by more than a goal per game between seasons, the extra three weeks of their sprint-like 2021 saw the Eagles cough up an extra 11-points in each of their nine outings.
Despite routine fadeouts long being a hallmark of youthful teams, 2022 will be circled as the season that a strong lunge at the finish line will be required.
The acquisition of Gooch should help this cause given the 26-year-old will provide both defensive relief and further leadership alongside the likes of Emma Swanson and Dana Hooker.
Season summary 
Fremantle (A), Gold Coast (H), Adelaide (H), St Kilda (A), Geelong (A), Collingwood (A), Richmond (H), Brisbane (H), Western Bulldogs (H), North Melbourne (A).
Defining period
For a team searching for their first-ever win away from home soil, the Eagles will be afforded three successive chances to shatter their ceiling when they face St Kilda, Geelong and Collingwood between Rounds 4 and 6.
Though a victory over the Magpies in the backstreets of Abbotsford is likely to be beyond the grasp of their talons, dates with the beleaguered Saints and the beatable Cats could finally see the hurdle hopped at the umpteenth attempt.
While each of these clashes offers West Coast orthodox opportunities to win on the road, a pair of unconventional chances have also arisen after their Round 2 and 3 contests originally scheduled to take place at Mineral Resources Park were moved to the Whitten Oval and Punt Road respectively.
Punters, pundits and players alike will have the Eagles' week two match-up with the Suns circled as the prime time for them to flex their feathered wings.
An unlikely victory in the Round 1 Derby could also act as a double-edged sword, given it would provide another drought-breaking win, as well delivering the Dockers a false start on their dash back to the finals.
Predictions
With a new coach and plenty of untested names on their roster, West Coast is well and truly against the odds for a finals finish this season.
But as a team that is desperate to make the jump from toddling to powerwalking at pace, should some aforementioned milestones be ticked off before the end of March, the Eagles' third campaign is sure to be seen as successful.
Cameron Grimes: 12th
Danielle Sorati: 14th
Ed Carmine: 12th
Jake Benoiton: 13th
Michael Georgiou: 13th
Mitch Keating: 13th
Niesha Happell: 14th