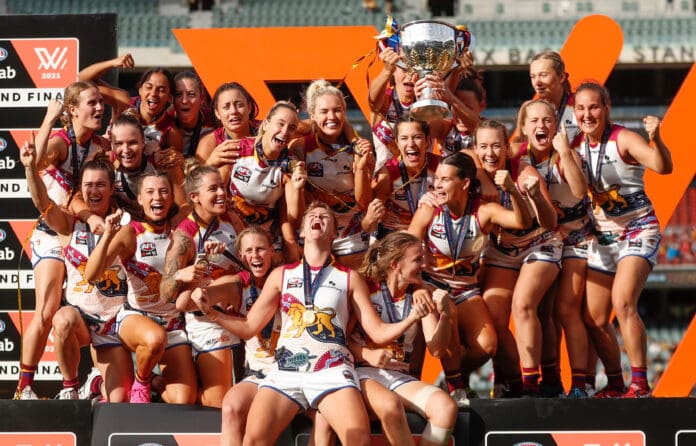 After falling agonisingly short of premiership success in both 2017 and 2018, the footballing world finally heard the Lion's mighty roar when they claimed their debut flag in 2021.
While Brisbane managed to flip the script in April of last year following their three-goal win over the highly-fancied Crows on enemy soil, the task of completely solidifying the club's shift in identity is still ahead of Craig Starcevich's side.
Still, with a balanced and cohesive list that is unlikely to fear any foe within the competition, the scene is set for the suntanned side to continue their reign.
2021 recap

While each of their previous campaigns either ended in tears or confusion, Brisbane proved that they were able to hop the season's final hurdle by hoisting the 2021 premiership cup in front of 22,934 fanatics.
Although the River City side failed to enter their crowning campaign as premiership favourites, the Lions still flexed their credentials over the course of the home and away season.
While the foundation club did drop close contests to Adelaide and Melbourne, Brisbane's seven wins throughout their schedule were achieved by an average of 29 points.
Having finished in second place after nine rounds, Brisbane's entry to the season's decider was only secured after a nail-biting victory over Collingwood on preliminary final weekend.
With this pipping of the Pies and their cruise past the Crows in mind, the Lions rounded out 2021 having toppled four out of their five fellow finalists.
Off-season moves
Given the strengths available to him right across the park, Starcevich and his list management team have chosen not to ring many significant changes during the off-season.
Still, with the retirements of veterans Lauren Arnell and Emma Zielke, Brisbane's brains trust has opted to load up on youth at the draft rather than target ready-made replacements from rival clubs.
The acquisition of Phoebe Monahan will boost the Lions' on-field leadership given her previous role as Richmond's vice-captain.
Embed from Getty Images

Recruits: Phoebe Monahan (delisted free agent, Richmond).
Draftees: Maggie Harmer, Mikayla Pauga, Lucinda Pullar, Bella Smith, Luka Yoshida-Martin.
Inactive: Lily Postlethwaite (ACL).
Out: Lauren Arnell, Jessy Keeffe, Rheanne Lugg, Emma Zielke (retired), Beth Pinchin, Selina Priest, Jordan Zanchetta (delisted).
Strengths and weaknesses
While praising a premiership-winning side is about as easy as buttering hot toast, Brisbane's abilities on each line of the ground still require championing.
With regimented key defender Kate Lutkins still ruling the Lions' defensive roost in 2022, oppositions sides face are once again set to be heartbroken if they head inside 50 without any real aim.
Up forward, Starcevich has the ability to call on six names that proved able to slot five or more majors last season in Greta Bodey, Courtney Hodder, Dakota Davidson, Jesse Wardlaw, Taylor Smith and the ever-impressive Jess Wuetschner.
Yet, with captaincy calibre names in Arnell and Zielke calling time on their storied careers, the buck will be stopping on a new set of names within the pride this summer.
Still, with Sophie Conway, Nat Grider, Cathy Svarc and Ally Anderson reading as the latest additions to the side's leadership group, the tackle happy Lions are not short on talent ready to step up to the plate.
Season summary 
West Coast (A), Carlton (H), Gold Coast (A), Geelong (H), Collingwood (H), St Kilda (A), Melbourne (H), Adelaide (A), North Melbourne (H), Richmond (A).
Defining period 
Following a soft opening five weeks to the season in which they face only one finalist - Collingwood - from last season, and only travel from the Sunshine State once, the back half of Brisbane's fixture is where their mettle will be tested.
After a trip to Victoria to face the depleted Saints, the Maroochydore-based Lions face a run home that includes three-straight contests against fellow premiership contenders Melbourne, Adelaide and North Melbourne.
While each of these aforementioned clashes will be compelling for the eyes of punters in the stands, if this precarious period is not navigated with care, a rough road through to the business end of the season could be on the cards.
However, as their clashes with the Demons and Kangaroos will take place under the sweltering Queensland sun, the reigning premiers will back themselves in within the familiar conditions.
Predictions
Given the relatively relaxing start to their premiership defence, it's hard to see the Lions missing out against sides like the Suns, Cats and Eagles across their season's first month.
Add this to their proven capacity to win on the road, and also it remains challenging to mount a case against Brisbane's chances of going back-to-back in 2022.
If this form across borders continues, along with their ability to best top-six sides, Breanna Koenen is primed to become just the third name behind Zielke and Michael Voss to lead in a Lions' flag.
Ed Carmine: 1st
Mitch Keating: 1st
Danielle Sorati: 1st
Niesha Happell: 1st
Jake Benoiton: 1st
Cameron Grimes: 1st
Michael Georgiou: 1st