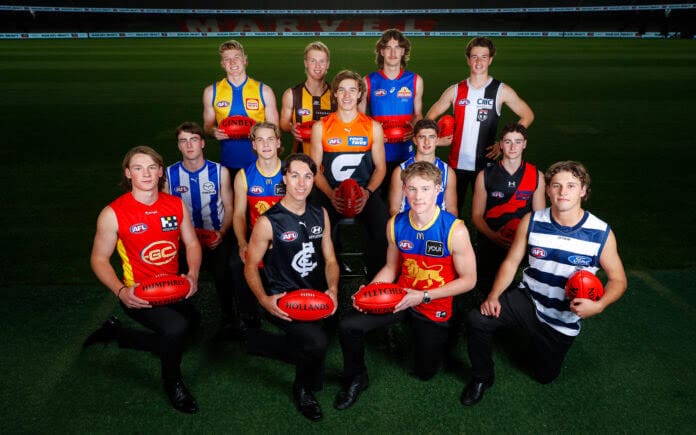 A total of 183 players will be eligible for the 2023 Rising Star Award, with a balance of first-year youngsters and second-season names in the mix for the prestigious honour.
Headlined by Brisbane father-son recruit Will Ashcroft, the 2022 draft class have an array of names seen to be a live chance to take out the Ron Evans Medal.
The criteria to be eligible for a Rising Star nomination states players must be 21 years of age (1st January 2023) or played 10 or fewer matches before the 2023 season.
Nominations, cast by the weekly selection panel of Kevin Sheehan (Chairperson), Nathan Buckley, Jude Bolton, Kane Cornes, and Abbey Holmes, will take place each round of the home and away season, with the best individual performance earning a nomination.
The AFL has confirmed the later rounds of the season will give weight to players who are yet to earn nominations but have built a strong case from earlier in the season.
Ashcroft is seen as the favourite for the 2023 Rising Star Award, while 2021 draftees Sam Darcy and Finn Callaghan will also be in consideration.
West Coast pair Reuben Ginbey and Elijah Hewett are among the class of 2022 draftees expected to have an impact at AFL level this year, while Suns pair Elijah Hollands and Joel Jeffrey join Bomber Massimo D'Ambrosio in being eligible for 2023 after earning nominations last year.
Players eligible for the 2023 Rising Star Award
| | | |
| --- | --- | --- |
| Club | First name | Surname |
| Adelaide Crows | Hugh | Bond |
| | James | Borlase |
| | Billy | Dowling |
| | Max | Michalanney |
| | Luke | Nankervis |
| | Tariek | Newchurch |
| | Luke | Pedlar |
| | Zac | Taylor |
| Brisbane Lions | Will | Ashcroft |
| | Shadeau | Brain |
| | Blake | Coleman |
| | Jaspa | Fletcher |
| | Kai | Lohmann |
| | Carter | Michael |
| | Harry | Sharp |
| | Henry | Smith |
| | James | Tunstill |
| | Darcy | Wilmot |
| Carlton | Domanic | Akuei |
| | Jaxon | Binns |
| | Jack | Carroll |
| | Lachlan | Cowan |
| | Oliver | Hollands |
| | Harry | Lemmey |
| Collingwood | Edward | Allan |
| | Aiden | Begg |
| | Arlo | Draper |
| | Harvey | Harrison |
| | Reef | McInnes |
| | Cooper | Murley |
| | Jakob | Ryan |
| | Oscar | Steene |
| Essendon | Kaine | Baldwin |
| | Massimo | D'Ambrosio |
| | Jayden | Davey |
| | Alwyn | Davey Jnr |
| | Lewis | Hayes |
| | Alastair | Lord |
| | Jye | Menzie |
| | Anthony | Munkara |
| | Zach | Reid |
| | Elijah | Tsatas |
| | Patrick | Voss |
| | Tex | Wanganeen |
| Fremantle | Jye | Amiss |
| | Eric | Benning |
| | Hugh | Davies |
| | Joshua | Draper |
| | Neil | Erasmus |
| | Matthew | Johnson |
| | Max | Knobel |
| | Conrad | Williams |
| | Karl | Worner |
| Geelong Cats | Jhye | Clark |
| | Ted | Clohesy |
| | Toby | Conway |
| | Oliver | Dempsey |
| | Phoenix | Foster |
| | Mitch | Knevitt |
| | Flynn | Kroeger |
| | Oscar | Murdoch |
| | Shannon | Neale |
| | Osca | Riccardi |
| | Cooper | Whyte |
| | James | Willis |
| Gold Coast Suns | Mac | Andrew |
| | Sandy | Brock |
| | Oskar | Faulkhead |
| | Elijah | Hollands |
| | Bailey | Humphrey |
| | Joel | Jeffrey |
| | Lloyd | Johnston |
| | Ned | Moyle |
| | Bodhi | Uwland |
| GWS Giants | Ryan | Angwin |
| | Aaron | Cadman |
| | Finn | Callaghan |
| | Josh | Fahey |
| | Cameron | Fleeton |
| | Jason | Gillbee |
| | Max | Gruzewski |
| | Cooper | Hamilton |
| | Darcy | Jones |
| | Nicholas | Madden |
| | Toby | McMullin |
| | Harry | Rowston |
| | Conor | Stone |
| Hawthorn | Joshua | Bennetts |
| | Sam | Butler |
| | Henry | Hustwaite |
| | Ned | Long |
| | Bailey | Macdonald |
| | Cam | Mackenzie |
| | Seamus | Mitchell |
| | Fionn | O'Hara |
| | Jack | O'Sullivan |
| | Max | Ramsden |
| | Jai | Serong |
| | Josh | Weddle |
| Melbourne | Jed | Adams |
| | Kyah | Farris-White |
| | Blake | Howes |
| | Matthew | Jefferson |
| | Bailey | Laurie |
| | Judd | McVee |
| | Andy | Moniz-Wakefield |
| | Oliver | Sestan |
| | Deakyn | Smith |
| | Daniel | Turner |
| | Jacob | van Rooyen |
| | Will | Verrall |
| | Taj | Woewodin |
| North Melbourne | Jackson | Archer |
| | Miller | Bergman |
| | Blake | Drury |
| | Jacob | Edwards |
| | Eddie | Ford |
| | Brayden | George |
| | Josh | Goater |
| | Cooper | Harvey |
| | Harry | Sheezel |
| | Phoenix | Spicer |
| | George | Wardlaw |
| Port Adelaide | Nathan | Barkla |
| | Jase | Burgoyne |
| | Hugh | Jackson |
| | Ollie | Lord |
| | Kyle | Marshall |
| | Tom | McCallum |
| | Thomas | Scully |
| | Josh | Sinn |
| | Dante | Visentini |
| Richmond | Sam | Banks |
| | Jacob | Bauer |
| | Tom | Brown |
| | Seth | Campbell |
| | Judson | Clarke |
| | Steely | Green |
| | Kaleb | Smith |
| | Tyler | Sonsie |
| St Kilda | Oscar | Adams |
| | Matthew | Allison |
| | Max | Heath |
| | Olli | Hotton |
| | Isaac | Keeler |
| | Angus | McLennan |
| | Mitch | Owens |
| | Jack | Peris |
| | Mattaes | Phillipou |
| | James | Van Es |
| Sydney Swans | William | Edwards |
| | Hugo | Hall-Kahan |
| | Jacob | Konstanty |
| | Jaiden | Magor |
| | Caleb | Mitchell |
| | Cameron | Owen |
| | Lachlan | Rankin |
| | Matt | Roberts |
| | Marc | Sheather |
| | Angus | Sheldrick |
| | Cooper | Vickery |
| | Corey | Warner |
| West Coast Eagles | Jordyn | Baker |
| | Harry | Barnett |
| | Rhett | Bazzo |
| | Coby | Burgiel |
| | Campbell | Chesser |
| | Jai | Culley |
| | Tyrell | Dewar |
| | Reuben | Ginbey |
| | Elijah | Hewett |
| | Noah | Long |
| | Zane | Trew |
| | Jack | Williams |
| | Isiah | Winder |
| Western Bulldogs | Dominic | Bedendo |
| | Jedd | Busslinger |
| | Charlie | Clarke |
| | Luke | Cleary |
| | Sam | Darcy |
| | Harvey | Gallagher |
| | Arthur | Jones |
| | Cody | Raak |