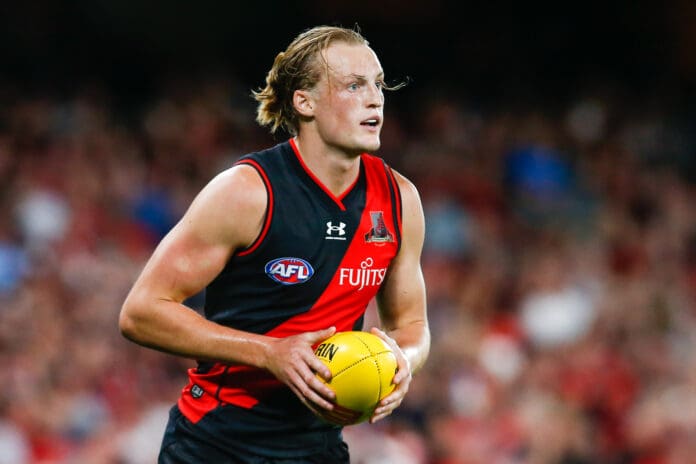 While the grunt work is typically done by the midfield of an AFL side, the heavy-lifting can often be done by the back-line, especially for teams at the lower end of the ladder.
Premiership defences require potent key defenders, intercepters and running ball-users to provide an offensive threat.
Geelong were an unstoppable force out of defence last season, with De Koning and Stewart constantly preventing chaos and allowing Tuohy, Guthrie and others to control the ball effectively.
Melbourne were unbeatable at their best in 2021 with Lever, May, Petty and even Gawn maintaining control of the game with their aerial presence while Salem, Brayshaw and Rivers inflicted damage by foot.
This list will help you decide which team will be the immovable object in 2023 and here we look at the backlines ranked 18-13.
18. Adelaide
With Jordan Dawson expected to predominantly play a midfield role, there are no standout players within Adelaide's back six, at least currently.
Their key defensive game will led by Tom Doedee and Jordon Butts with Josh Worrell or Nick Murray to provide backup. Doedee is a quality intercepter but is probably an ideal second or third option in a good side, while the rest are unproven thus far.
Brodie Smith has been a solid contributor off half back and will be helped by Wayne Milera and Chayce Jones in the medium defender slot. These players could play a quality role in a polished system but don't jump off the page as key players at the moment.
Beyond that, the Crows will be hoping for some development from youngsters Max Michallanney and James Borlase but this back six may have their hands full against the forward lines of Geelong, Carlton and the like.
17. Gold Coast
Gold Coast are another side with little-to-no star-power on their defensive front, the only possible exception being Sam Collins. He has displayed good leadership amongst the group and appears to have a high footy IQ, he will be integral to Gold Coast's defensive improvement.
Charlie Ballard has shown some signs in recent seasons and could be a desirable second tall defender for the future, while Caleb Graham is yet to lock in a starting spot himself.
Ben Long is a positive recruit who will add some physicality and leap to the backline, presuming he is not trialled in a forward role. We'll also wait and see what Mac Andrew's role looks like this season.
Rounding out the defensive squad is Sean Lemmens, Wil Powell and Jy Farrar, all of which  are seemingly yet to reach their full potential.
16. Essendon
One of the most unpredictable sides in 2023, Essendon are a team loaded with young talent and unrealised potential, particularly on the defensive front.
Jordan Ridley and Mason Redman will lead the way and provide quality presence in the intercept and running, assuming they continue their positive 2022 form.
Bombers supporters will be hoping for a breakout year from young key defender Brandon Zerk-Thatcher and most notably from former number one pick, Andrew McGrath who many are growing impatient on.
Nick Hind is coming off a good first year in the red & black and should support the run of Redman nicely.
The biggest worry for Essendon is at the full-back position where it is up to Jayden Laverde or Jake Kelly to occupy opposing power forwards. These two may have their hands full against the premier forward lines in the competition and will struggle to prevent the chaos that oppositions will seek.
15. North Melbourne
With Alastair Clarkson at the helm, we should expect a competitive and physical defensive outing from North Melbourne in 2023.
Griffin Logue is a fresh face who improves their key defensive capabilities greatly after a stellar year in Fremantle's rock solid defensive system.
Ben McKay, Luke McDonald, Aaron Hall and Aidan Corr are all experienced veterans who will be expected to steady the ship when oppositions gain momentum.
21 year old Flynn Perez is set to shine after 16 games last year and an impressive preseason, potentially locking himself into North Melbourne's back six.
Young Josh Goater has also generated plenty of buzz this off-season with talks of a wing/half-back role, while the fitness of Tarryn Thomas is a wait and see.
14. Hawthorn
With the boot of James Sicily and the dash from Changkuoth Jiath, Sam Frost and Will Day, Hawthorn will hope to inflict some offensive damage out of their backline in 2023.
Sicily is coming off a near All-Australian year and is tasked with leading the Hawks as captain this season; his leg is a genuine weapon and will provide a point of difference at kick-outs and up the ground.
Jiath, Frost and Day all have the green light to go; they will provide X-factor with Day even rolling up to a wing.
Jack Scrimshaw, Blake Hardwick, James Blanck and Denver Grainger-Barras are young but are all competent in the air and have some experience which should hold them in good stead when the heat is on.
This backline has potential to mesh very well together; the combination of speed, aerial ability and long kicking can rip teams apart when it works and should be a fun experiment for the Hawks in 2023.
13. St Kilda
Ignoring injuries elsewhere, St Kilda's backline is probably their weakest link, primarily due to their lack of an elite key defensive presence.
Dougal Howard is not an ideal number one option in the tall defender position and Josh Battle is best suited as a utility rather than a full-time centre half-back. Zaine Cordy may help but is not the difference maker that is required.
Callum Wilkie had a brilliant year in 2022, establishing himself as one of the league's premier intercept defenders. His presence should allow the likes of Ben Paton or Nick Coffield to thrive as second options at the medium defender slot.
Jack Sinclair may be St Kilda's most damaging player with his ball-use and run off half back. He will be backed up nicely by Nasiah Wanganeen-Milera, who many expect a breakout season from.
Some extra help comes in the form of Brad Hill and Jimmy Webster. Hunter Clark is expected to play a primary midfield role but may also roll through the back-line at times.