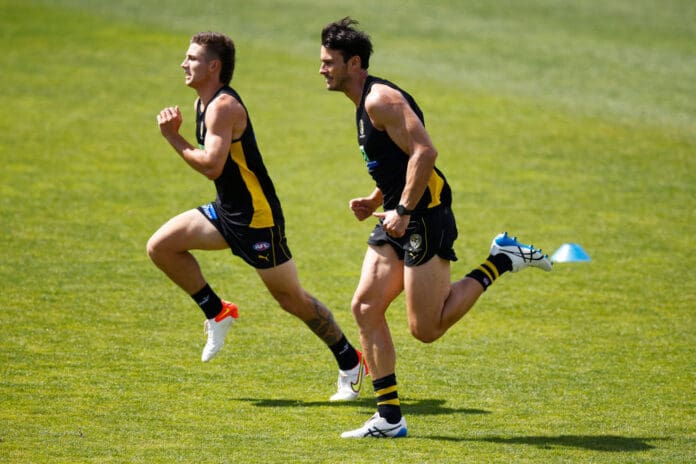 Richmond will welcome back Dustin Martin for Saturday's clash with Geelong, but his return will be combated by a trio of injuries to Noah Balta, Robbie Tarrant and Trent Cotchin.
Martin missed the Tigers' Round 14 win over Carlton due to illness, but has since made a return to training at Punt Road and has been deemed fit to feature this weekend.
"He feels a lot better and he's back training with us," Richmond physical performance manager Peter Burge told Richmond Media. 
He was training with us on the weekend as well. It will be great to have him back this week and available for selection."
Martin's inclusion is sure to buoy the Tigers' prospects against Geelong, but Damien Hardwick will need to rely on his reinforcements as his veteran duo in Cotchin and Tarrant go under the knife.
A crack in Cotchin's clavicle will see the former Tiger skipper miss this weekend, while Tarrant remains in doubt for the contest but will undergo further assessment this week.
"There was an incident near the goal square where Trent had to try and lay a tackle, and he ended up coming off quite sore through his clavicle, the bone through the chest," Burge said.
"He's had some scans and it's showed he has a little crack in there which needs surgical repair and a plate put in there. So, he's having that done in the next day or so. He'll miss this week and we'll reassess beyond this week as to what that means. It's a little bit unfortunate, but we'll get him back as soon as we can.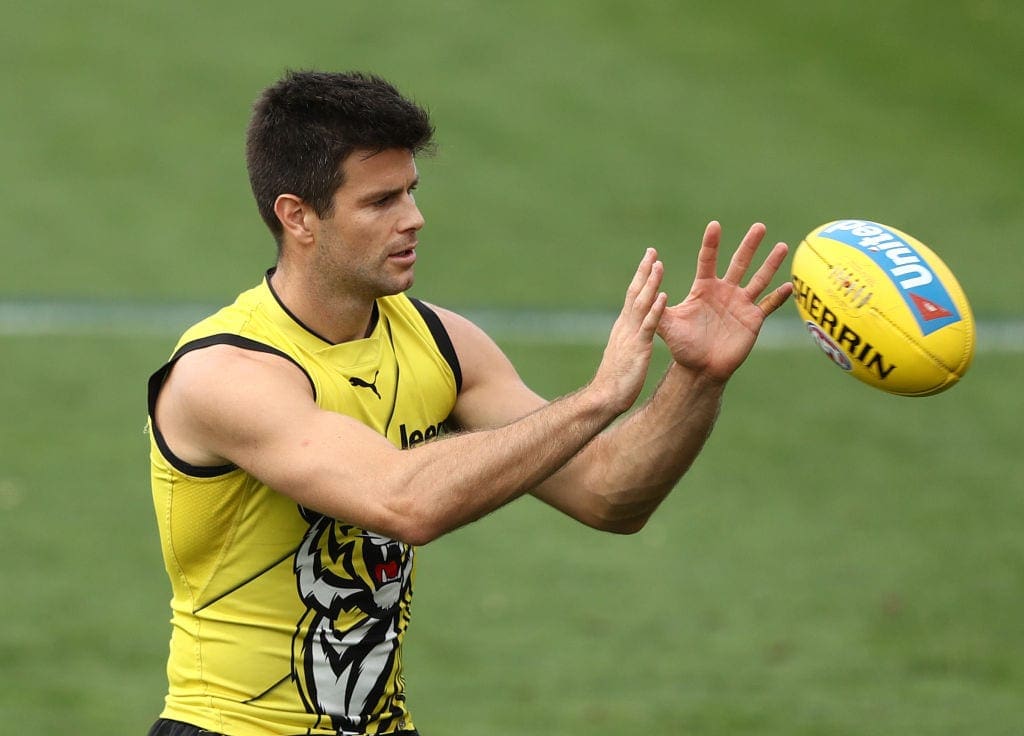 "Robbie battled on through the whole game. It happened in the first couple of minutes, he cracked a knuckle in his hand and he's had to have some minor surgery to put a plate in that to reinforce it.
"He's a chance to play this week because we do have a longer week given the nine-day break. We'll make an assessment later in the week as to his availability, but it's looking more positive by the day and Robbie's pretty tough."
Swingman Noah Balta has avoided major injury to the same hamstring that has kept him sidelined this season, however the tall Tiger is expected to spend some time on the sidelines.
Burge detailed that while Balta has already begun his recovery training, he'll be best placed on the sidelines for the betterment of the club's push to September.
"Noah suffered a hamstring injury late in the game," Burge said.
"Across the far side from us, he was near the boundary line and there was a ball on the ground and he was paddling at it and trying to accelerate at the same time, which is a difficult position to be in for a big guy, and he suffered a very minor hamstring injury in that process.
"He's already running today at a really good speed, so it's certainly not a long-term injury. But, we do need to tread lightly with it and be careful so that when he gets back next time, he stays back and plays the rest of the year for us."
Richmond will clash with the Cats at the MCG at 4:35pm (AEST) on Saturday afternoon.