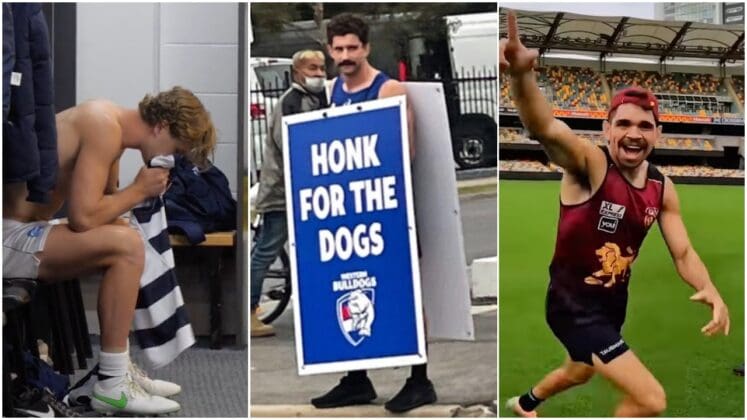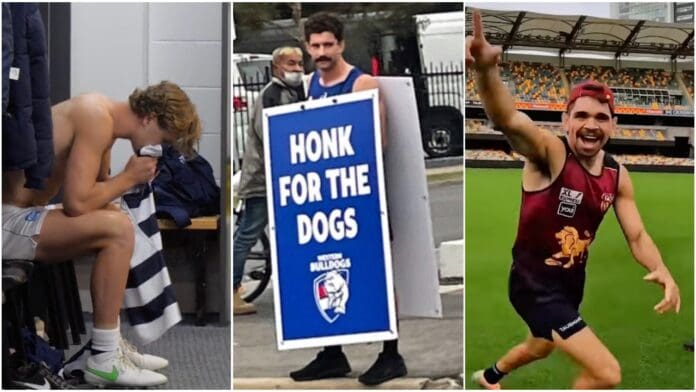 It is always nice to come to the end of the week, and look back on funny, heartwarming and interesting things that have happened in the AFL community that week.
Here are some of the best stories of this week, that we feel will brighten up your day and garner a few laughs.
Tom Liberatore's plea for members 😂
This Wednesday, the people of Melbourne's west were treated to spotting Western Bulldog star Tom Liberatore on the side of the road. Captured by fellow teammate Caleb Daniel on Instagram, 'Libba' fashioned a stylish look of a singlet, shorts and... a sign asking for honks.
When re-posted by journalist Mark Stevens on Twitter, it captured a lot of laughs.
Gotta Iove Libba. pic.twitter.com/EENg93QPJ7

— Mark Stevens (@StevoMedia) May 11, 2022
Essendon FC have a bit of creative fun 
In an unusual turn of events, Essendon decided to have some fun over Twitter, after the account tweeted about making forward Peter Wright's bigger with every 20 likes. Well, the post garnered a lot of likes, and Essendon FC delivered... BIG time.
Follow us along for the photo journey.
It started slowly...
Bit by bit...
— Essendon FC (@essendonfc) May 9, 2022
And then...
— Essendon FC (@essendonfc) May 10, 2022
Well, the final product was this.
— Essendon FC (@essendonfc) May 10, 2022
Sam Butler's debut achieved in an unusual and heartwarming manner
We found it amusing to see Sam Butler find out he will play on the big stage through golf.
In a video posted by the club's Twitter, you see the room filled with the team and their excitement.
When put to the test with a shot from one metre away, and the chance to play this weekend, Butler delivered.
What a way to find out that you'll be making your debut. 😂 pic.twitter.com/Ima9S3mXwq

— Hawthorn FC (@HawthornFC) May 12, 2022
A whole lot of love for the club 
Geelong's debutant Cooper Stephens shared some insight into putting his guernsey on for the first time in an uplifting video.
Shared via the club's Twitter, you can see the passion, hard work and love behind footy and what it can do for a young player.
Love for the jumper 💙 Watch the passion as Cooper Stephens pulled on our guernsey for the first time #GeelongStrong pic.twitter.com/81198dTEDO

— Geelong Cats (@GeelongCats) May 10, 2022
Twitter lapped up the video and proceeded with an outpour of love.
When the jumper means this much to the players, you know the team is in good hands 💙🤍💙 https://t.co/G8VAmpyGVA

— 𝕄𝕚𝕔𝕙𝕖 🥂 (@MicheCaldwell) May 10, 2022
I love this so much https://t.co/yFVzL0RxjV

— Amanda Mace (@BluesChick5) May 10, 2022
Special 👍 https://t.co/Z92qW6kAHp

— adrian barich (@adrianbarich) May 10, 2022
Charlie Cameron proves he is the kicking champ 
When given the option to win $100 if he hits the goal post, Brisbane's Charlie Cameron took to the challenge like a Lion to prey.
Filled with confidence, Cameron booted the ball, just for it to hit the middle goal post, right on target.
Cameron is now $100 richer, woohoo!