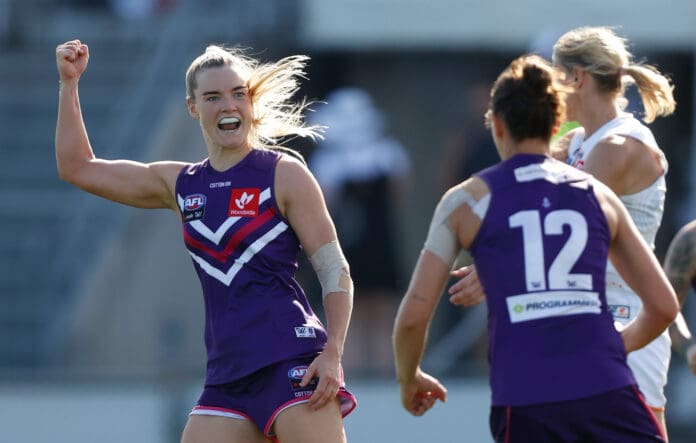 The Coaches' votes for Round 5 of the 2022 AFLW season have been released, with five players managing to poll a perfect 10 votes from the weekend.
Each round, coaches from both sides will award votes the those best afield to culminate the AFL Coaches Association AFLW Championship Player of the Year, with votes awarded on a 5, 4, 3, 2, 1 structure.
Lion Emily Bates and Bulldogs hard-nut Kirsty Lamb were among those to poll 10 votes, while Dockers tall Hayley Miller and Roos ball-magnet Ash Ridell are now joint leaders for the season.
Geelong v West Coast
In what was a thrilling, drought-breaking victory for the Cats, Eagles star Emma Swanson still pieced together a memorable performance to be seen as best-afield. Cats quartet Rebecca Webster, Amy McDonald, Nina Morrison and Darcy Moloney landed votes from the coaches.
9 Emma Swanson (WCE)
8 Rebecca Webster (GEEL)
7 Amy McDonald (GEEL)
4 Isabella Lewis (WCE)
1 Nina Morrison (GEEL)
1 Darcy Moloney (GEEL)
Brisbane v Collingwood
Bates' 22 disposals, five tackles and one-goal performance in the Lions' four-goal win over the Magpies was enough to secure perfect votes. Teammate Greta Bodey also polled seven votes, while Jaimee Lambert has continued her impressive campaign.
10 Emily Bates (BL)
7 Greta Bodey (BL)
4 Jaimee Lambert (COLL)
4 Natalie Grider (BL)
2 Ruby Schleicher (COLL)
2 Catherine Svarc (BL)
1 Breanna Koenen (BL)
Melbourne v Gold Coast
Demons ruck Lauren Pearce was unanimously judged as best on ground in Saturday night's win over the Suns, recording 20 touches and 20 hit-outs. Defender Libby Birch was influential in defence, joining teammate Eden Zanker to recorded seven votes.
10 Lauren Pearce (MELB)
7 Libby Birch (MELB)
7 Eden Zanker (MELB)
2 Shelley Heath (MELB)
2 Lily Mithen (MELB)
2 Jamie Stanton (GCFC)
Western Bulldogs v Richmond
The usual suspects led the way for the Bulldogs on Sunday, with Kirsty Lamb, Ellie Blackburn and Bonnie Toogood among the top-receivers for votes. Tigers star Monique Conti also recorded five votes against her former side.
10 Kirsty Lamb (WB)
8 Ellie Blackburn (WB)
5 Bonnie Toogood (WB)
5 Monique Conti (RICH)
1 Katie Lynch (WB)
1 Jess Hosking (RICH)
Carlton v Adelaide
The Crows were dominant in their outing at Ikon Park, with Ebony Marinoff awarded with BOG honours. Anne Hatchard's strong season saw her continue to poll well, while returning Blues young gun Mimi Hill recorded three votes of her own.
10 Ebony Marinoff (ADEL)
7 Anne Hatchard (ADEL)
6 Eloise Jones (ADEL)
3 Mimi Hill (CARL)
2 Sarah Allan (ADEL)
1 Montana McKinnon (ADEL)
1 Erin Phillips (ADEL)
North Melbourne v Fremantle
Roos star Jasmine Garner was a standout in the final match of the round, which saw North Melbourne record a crucial 10-point win over the Dockers. Fremantle skipper Hayley Miller's seven votes see her go to the top of the leaderboard, joining Ash Riddell, who polled five votes.
10 Jasmine Garner (NMFC)
7 Hayley Miller (FRE)
5 Ashleigh Riddell (NMFC)
5 Emma King (NMFC)
2 Aine Tighe (FRE)
1 Gabby O'Sullivan (FRE)
St Kilda v West Coast
TBC
Leaderboard
37 Hayley Miller FRE
37 Ashleigh Riddell NMFC
35 Anne Hatchard ADEL
29 Emily Bates BL
29 Monique Conti RICH
27 Kiara Bowers FRE
27 Jaimee Lambert COLL
25 Ebony Marinoff ADEL
23 Alicia Eva GWS
23 Amy McDonald GEEL
22 Erin Phillips ADEL
20 Emma Swanson WCE
18 Eloise Jones ADEL
18 Maddy McMahon GEEL
18 Orla O'Dwyer BL
16 Tyla Hanks MELB
16 Alyce Parker GWS
16 Eden Zanker MELB
15 Ellie Blackburn WB
15 Tara Bohanna GCFC
15 Brittany Bonnici COLL
15 Lauren Pearce MELB
15 Ashleigh Woodland ADEL