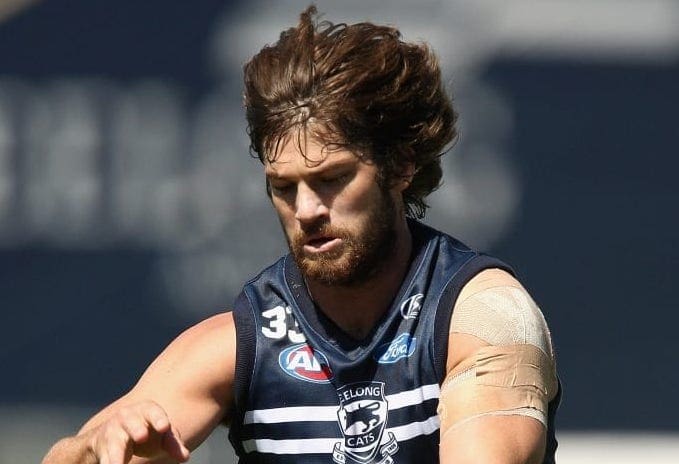 Ex-Geelong player Max Rooke is among a host of former AFL players involved in a class action against the league, with the two-time premiership Cat confirmed as the lead plaintiff after the lawsuit was lodged to the Supreme Court of Victoria on Tuesday.
The lodged class action follows legal action made in recent weeks by former Western Bulldogs AFL player Liam Picken and ex-Collingwood AFLW player Emma Grant for their respective concussion concerns.
In a statement by Melbourne-based firm Margalit Lawyers, principal partner Michel Margalit stated the post-career personal lives of former AFL players have "been shattered" by the impacts of concussions sustained during their playing days.
"The injuries suffered by this group of former AFL players, as a direct result of the concussions sustained while playing Aussie Rules, has had a devastating impact on their lives and the lives of their loved ones," Margalit said, via The Age. 
"Some of the players who have joined this landmark class action have never been able to hold down a job after leaving the AFL.
"Their personal lives have been shattered and they live with constant physical and mental pain. It's heart-breaking and they need to be adequately cared for."
The claim represents former AFL players who suffered concussions or damage from concussions from one or more clubs during the period between 1985 to March 2023.
Rooke is said to be one of at least 60 former players that are involved in supporting the legal action.
It is alleged that Rooke suffered up to 30 head knocks during his time in the league, which spanned nine seasons and 135 games from 2002-2010.
Rooke retired in October of 2010 following a successful period with Geelong, where he was a member of their 2007 and 2009 premiership teams.
He would move into coaching after his retirement, returning to Kardinia Park for the 2011 season before stints at Gold Coast and Melbourne.
Concussion has rapidly become a prevalent issue for contact sports like Australian Rules Football, with further studies into the impacts of head knocks and brain injuries leading to the post-mortem diagnosis of chronic traumatic encephalopathy (CTE) among former AFL players, including Danny Frawley and Shane Tuck.