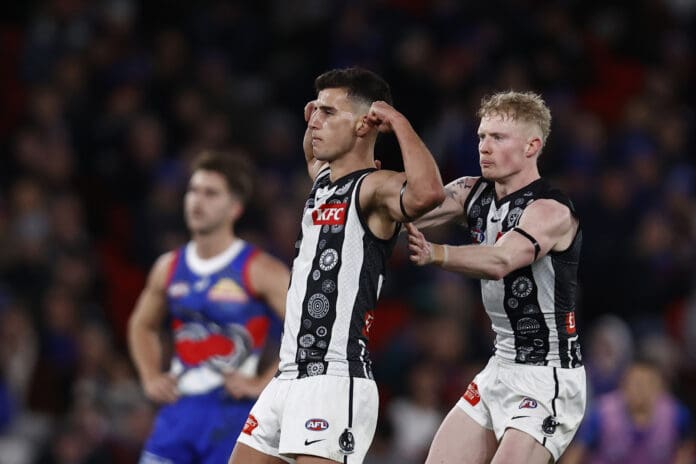 Collingwood sensation Nick Daicos is reportedly in line to sign a new deal with the Magpies that will tie him to the powerhouse club until the end of the 2029 season, likely making him the best-paid young star in the competition's history.
Daicos is currently midway through the second year of a four-year contract, having seen his initial rookie deal double in length after being drafted to Collingwood as the fourth pick in the 2021 National Draft.
The 20-year-old has stunningly risen to the top echelon in AFL as arguably the league's best player before the cessation of his second season with the Magpies, with Daicos the favourite for this year's Brownlow Medal after 19 rounds.
While the Magpies wouldn't need to rush into contract talks with Daicos, unlike other clubs who have needed to this year with their own second-year young guns, Collingwood are said to be nearing the final steps in what is expected to be a four-year extension for the emerging midfielder.
According to Footy Classified's Damian Barrett, Daicos could even have his current deal "torn up" from 2024 and instead have a fresh six-year contract signed, with the parties involved in negotiations said to be in agreement on having the son-of-a-gun locked in until the end of this decade.
Barrett noted the deal would likely make Daicos the best-paid young player the AFL has seen.
"Conversations have been ongoing for some time about Nick Daicos' future," Barrett began.
"We know he's already got a contract until the end of 2025, well (Collingwood and Daicos) are now very close to extending that deal until the end of 2029.
"It will be an add-on of four years to the deal he has currently got and keep him until that 2029 period... it's been in the offing for some time.
"He could end up as the 2023 Brownlow medallist, and he's still got two years to run on that current deal. There's a chance that (the last two years of the deal) could even be torn up and made as a fresh six-year deal.
"Ultimately, the discussions that have been going on for some time have it that 2029 is an ideal timeframe for player, club and everyone attached.
"The numbers are yet to be signed off, but that's where it's getting really pointy ended, but the agreement - at least timeframe-wise - is getting really comfortable."
Barrett also revealed that Daicos' older brother and fellow All-Australian chance Josh is also expected to have his future at Collingwood confirmed in due course.
The older Daicos brother is reportedly in line for an extension for beyond 2024, taking him past free agency on a deal that could be as long as a six-year extension.
Josh Daicos is currently contracted until the end of next year - which will be his eighth in black and white.
The news for the star siblings pair comes days after Collingwood announced a total of six re-signings, with Mason Cox, Ash Johnson, Beau McCreery, John Noble, Harvey Harrison and Jakob Ryan all recommitting to the club in the past week.