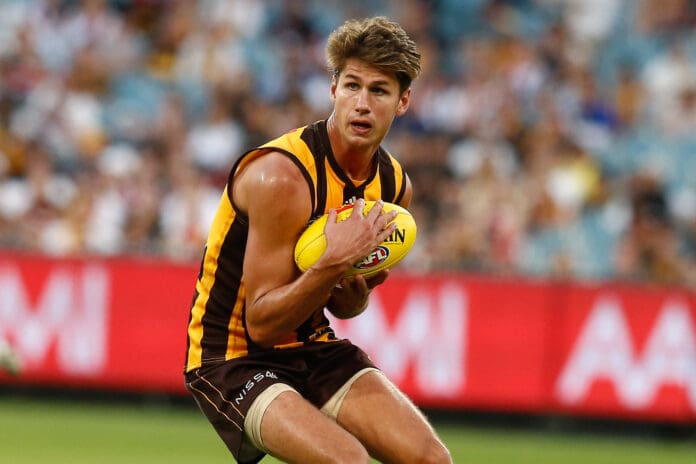 Delisted Hawthorn midfielder Daniel Howe is prepared for another opportunity at AFL level should he be given the chance.
Howe wasn't offered a new contract by Hawthorn at the end of this season after playing 96 games since being drated with Pick 31 in 2014.
Speaking on AFL Trade Radio, Howe said there had been some early interest but expected he would have to wait until the end of the exchange period to learn his fate.
"I think there is a little bit of interest," Howe said.
"Not sure how serious that is at the moment, hopefully after the trade period that interest ramps up and an opportunity arises from there.
"I still love the game, I've grown up loving the game so that love will never end.
Howe said he believes he can be a valuable asset if given a lifeline by another club.
"I think I've got a lot of value to add to an organisation. I'm only 26, I've got a lot of footy ahead of me. I've learnt so much over the last eight years that if I was to get another crack at it I'd be better for it in the long run. "
The 26-year-old admitted he could feel his time in the brown and gold winding down throughout 2022 and said that the club had been pretty honest with him about what his future held.
"As the year unfolded I think reading between the lines I had a fair idea that the delisting was coming," Howe said.
"It wasn't a surprise when Sam (Mitchell) and Rob (McCartney) told me that I wouldn't be there next year. But at the same time it does hit you when you're in the room.
"It became pretty clear to me early on the club was going in a different direction. They were trying to progress their younger players and unfortunately as a 26-year-old, I don't think I fit into their plans.
"Based on conversations and the way the club was going. It became pretty clear early in the season."
Playing his last game alongside retiring captain Ben McEvoy, Howe said he tried to soak it all up in the knowledge he may not be given another opportunity at the level.
"My personal feeling was that that was going to be my last (game). I really tried to soak it up and enjoy the moment... going into that game i just wanted appreciate the moment and appreciate the game.
"My gut feeling going into that last game of the year was that I was probably done at Hawthorn. I just tried to enjoy it."