Nick Dal Santo believes five young players stood out from the rest and had breakout seasons in 2019.
Speaking on SEN, Dal Santo mentioned he should have included Blues midfielder Sam Walsh in the following list.
However, the following five players have all had outstanding years that have set them apart from the rest according to Dal Santo.
3. Josh Dunkley (Western Bulldogs)
Dunkley is now a bonafide stud in one of the competitions best midfield groups.
The 22-year-old was dominant over the second half of the season, finishing the year with an average of 28 disposals per game across the whole of 2019.
The young Bulldog also became an AFL Fantasy and Supercoach gun, finishing the season ranked 8th for total Supercoach score and 6th for total AFL Fantasy score.
The tenacious tackling presence of Dunkley impress Saints great Nick Dal Santo.
"I think he has had a superb year and he's burst onto the scene. I think he's possibly leapfrogged a couple of other elite players in the Bulldogs midfield. He's now part of a strong collective and is a massive ball winner and uses it relatively well."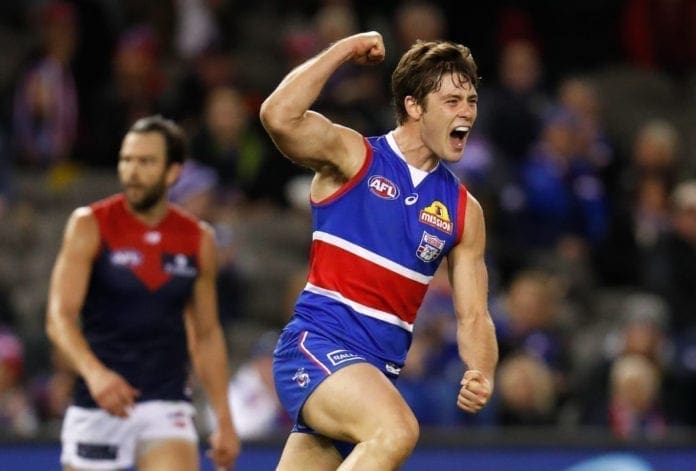 MELBOURNE, AUSTRALIA - JULY 14: Josh Dunkley of the Bulldogs celebrates a goal during the 2019 AFL round 17 match between the Western Bulldogs and the Melbourne Demons at Marvel Stadium on July 14, 2019 in Melbourne, Australia. (Photo by Michael Willson/AFL Photos via Getty Images)