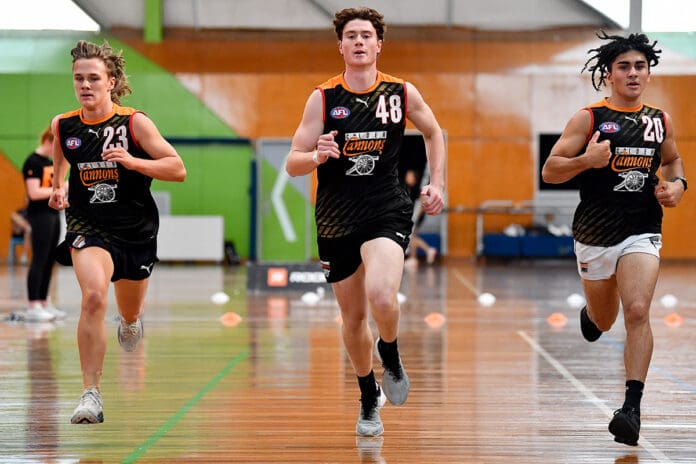 Calder Cannons defender Rye Penny has headlined this year's testing ahead of the 2023 Coates League, impressing with his aerial prowess and agility.
Penny, who trained with Collingwood during the recent pre-season, recorded top scores across the Victorian boy's testing for both the standing vertical jump (86cm) and the running vertical jump (101cm).
The 19-year-old was also among the 10 fastest for the 20m sprint test, recording a time of 2.884 seconds.
That score was bested by Western Jets talent Rook Barry, who posted a scorching time of 2.845.
East Point product Archie Caldow led the way for the yo-yo test with a score of 22.01, while potential Brisbane father-son and 2024 draft chance Levi Ashcroft featured among the best with a score of 21.07.
Montmorency's Jake Woodward notched up the best time for the agility test at 7.84 seconds.
Sandringham Dragons talent Tarkyn O'Leary and Blackburn pair Jacob Vippond and Nathan Philactides were also ones to watch at the testing.
The Boy's 2023 Coates Talent League (previously known as the NAB League), will commence on Saturday with the Northern Knights hosting the GWS Giants Academy.
2023 Coates Talent League testing results (top 10)
20m Sprint
| | | | |
| --- | --- | --- | --- |
| Name | Coates Talent League Club | Community Club | Result (sec) |
| Rook Barry | Western Jets | Yarraville Seddon Eagles | 2.845 |
| Jacob Vippond | Eastern Ranges | Blackburn | 2.854 |
| Jed Daniels | Bendigo Pioneers | Sea Lake Nandaly Tigers | 2.857 |
| Joziah Nannup | Dandenong Stingrays | Doveton | 2.870 |
| Harry Sullivan | Sandringham Dragons | Labrador | 2.884 |
| Rye Penny | Calder Cannons | Gisborne | 2.892 |
| Joshua Goldie | Eastern Ranges | Mitcham | 2.902 |
| Caleb Windsor | Eastern Ranges | Lysterfield | 2.905 |
| Rhys Unwin | GWV Rebels | Cobden | 2.919 |
| Blake Leidler | Oakleigh Chargers | Surrey Park | 2.922 |
Standing Vertical Jump 
| | | | |
| --- | --- | --- | --- |
| Name | Coates Talent League Club | Community Club | Result (cm) |
| Rye Penny | Calder Cannons | Gisborne | 86 |
| Taj McMillan | Bendigo Pioneers | Swan Hill | 82 |
| Phoenix Gothard | Murray Bushrangers | Albury | 78 |
| Coby James | Murray Bushrangers | Mooroopna | 78 |
| Shane Clough | Calder Cannons | Gisborne | 77 |
| Daniel Snell | Western Jets | Yarraville Seddon Eagles | 76 |
| Billy Wilson | Dandenong Stingrays | Dromana | 76 |
| Jed Daniels | Bendigo Pioneers | Sea Lake Nandaly Tigers | 75 |
| Harrison Hewitt | Murray Bushrangers | Wangaratta | 75 |
| Caleb Nancarrow | Oakleigh Chargers | Cairns City Eagles | 74 |
Running Vertical Jump
| | | | |
| --- | --- | --- | --- |
| Name | Coates Talent League Club | Community Club | Result (cm) |
| Rye Penny | Calder Cannons | Gisborne | 101 |
| Sam Hoghton | Gippsland Power | Officer | 100 |
| Jed Daniels | Bendigo Pioneers | Sea Lake Nandaly Tigers | 96 |
| Daniel Snell | Western Jets | Yarraville Seddon Eagles | 96 |
| Jacob Vippond | Eastern Ranges | Blackburn | 95 |
| Ethan Fitzpatrick | Calder Cannons | Kilmore | 94 |
| Will McLachlan | Geelong Falcons | Colac | 93 |
| Davin Cameron | Northern Knights | South Morang | 92 |
| Billy Wilson | Dandenong Stingrays | Dromana | 92 |
| Darby Wilson | Murray Bushrangers | Euroa | 92 |
Yo-Yo
| | | | |
| --- | --- | --- | --- |
| Name | Coates Talent League Club | Community Club | Result |
| Archie Caldow | GWV Rebels | East Point | 22.01 |
| Tarkyn O'Leary | Sandringham Dragons | Parkdale Vultures | 22.01 |
| Charlie Opie | Northern Knights | Ivanhoe | 22.01 |
| Harvey Thomas | Oakleigh Chargers | Turvey Park | 22.01 |
| Oliver Badr | Oakleigh Chargers | Old Scotch | 21.08 |
| Maison Goodman | Calder Cannons | Ivanhoe | 21.08 |
| Jett McLaughlan | Northern Knights | Diamond Creek | 21.08 |
| Tobyn Murray | Geelong Falcons | Colac | 21.08 |
| Darcy Wilson | Murray Bushrangers | Wangaratta Rovers | 21.08 |
| Levi Ashcroft | Sandringham Dragons | Old Brighton Grammarians | 21.07 |
Agility
| | | | |
| --- | --- | --- | --- |
| Name | Coates Talent League Club | Community Club | Result (sec) |
| Jake Woodward | Northern Knights | Montmorency | 7.84 |
| Sam McDonald | GWV Rebels | Ballarat | 7.85 |
| Oliver Poole | Bendigo Pioneers | Echuca United | 7.86 |
| Taj McMillan | Bendigo Pioneers | Swan Hill | 7.89 |
| Nathan Philactides | Oakleigh Chargers | Blackburn | 7.90 |
| Ben McGlade | GWV Rebels | Cobden | 7.93 |
| Connor Byrne | GWV Rebels | Koroit | 7.95 |
| Isaac Kako | Calder Cannons | Pascoe Vale | 7.95 |
| Jett McLaughlan | Northern Knights | Diamond Creek | 7.97 |
| Tarkyn O'Leary | Sandringham Dragons | Parkdale Vultures | 7.97 |