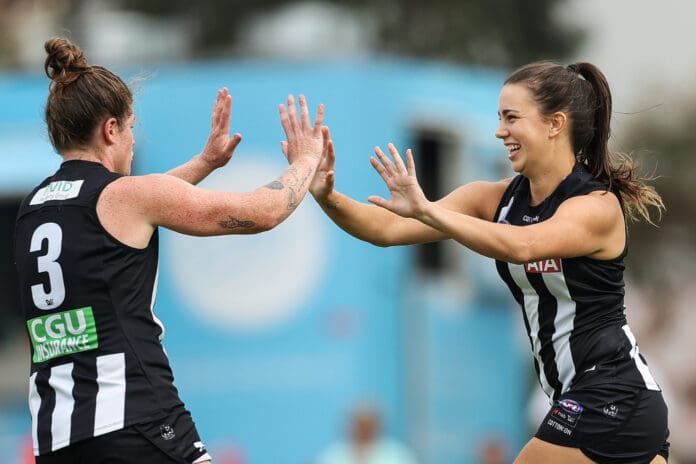 Collingwood captain Bri Davey will take up an off-field role at the Pies for the remainder of the AFLW season after injuring her ACL in the opening game of the season.
Davey suffered the injury late in the Magpies win over Carlton last Sunday and immediately feared the worse.
Having previously done an ACL injury in 2018, the 2021 AFLW Best and Fairest had a horrible sense of deja vu.
Coach Steve Symonds said that the team had been somewhat galvanised by the injury to a degree with Davey seen at training this week doing very light stationary work.
"With Bri going down everyone was a little bit sombre," Symonds told media.
"Bri's been really, really strong, she's experienced this before and sort of knows her way through that side of things. Everyone's galvanizing together and we'll soldier on.
However, the playing group's loss is the gain of those in the coaches box. Davey will now work with Collingwood's midfield group in an off-field capacity in a move Symonds hopes will have a great effect with some of their younger midfielders.
Symonds said that he was somewhat excited to have Davey work alongside him and be able to tap into her football knowledge throughout the 2022 season.
"Bri's got a great football IQ as well, she'll become one of my sidekicks that I'll tap into throughout the season," Symonds confirmed.
"She'll have a role working with our midfield group, particularly some of our younger members who are getting some exposure through the midfield group.
"Bri will do some work with them and pass on some of her experience and knowledge towards those players that hopefully they'll be able to grasp a little bit . She's already stuck her hand up, we had a conversation today about what things might look like.
"We don't lose Bri out of our program, yes we lose her on-field and what she can do with her hands on the ball but we gain more time with her towards her leadership where she's outstanding as well."
Collingwood are set to take on St Kilda this weekend with hopes of keeping their undefeated start to the season intact.