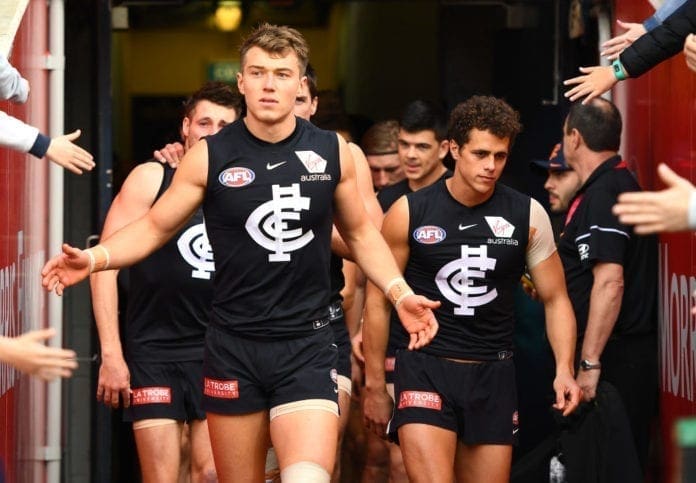 Carlton has announced 3three new additions their leadership group for 2020 with Jacob Weitering, Liam Jones and Sam Walsh being voted in by the playing group.
The trio join Marc Murphy, Ed Curnow and co-captains Patrick Cripps and Sam Docherty in the 2020 leadership group, with veteran Kade Simpson deciding to step aside from this years group.
Walsh was the surprise of the additions, the 19-year old was voted in ahead of only his second season at the club. Walsh won last years NAB Rising Star award polling 29 of a possible 30 votes.
Tim Watson spoke on SEN about the appointment of Walsh.
"It speaks volumes… We know what he is capable of doing on the field, but obviously he exhibits a lot of those leadership characteristics off the field, which is a vote of confidence in his maturity.
"You go and you draft somebody as the number one pick in the country. You want the all-round player… but for him to push his way into a leadership group after one season of footy does speak volumes to what they have (in Walsh)."
Liam Jones' appointment comes after his career was nearly taken away from him midway through last year, with the defender suffering a nasty concussion and missing seven weeks.
Jones turned his career around in 2017 after moving into defence when playing in Carlton's VFL team, now a pillar of the Blues defence the promotion is further acknowledgment of the courageous defenders progression.
Jacob Weitering is one of three number one draft picks in the group. The 22-year old has had some ups and downs in his time at Carlton – a brilliant first season was followed by some poor form, a drop in confidence and a stint in the VFL.
Weitering is now forming a formidable pairing with Jones as the key talls in Carlton's defensive setup.
Co-captain Sam Docherty said the additions to the leadership group have earned their place among the clubs leaders.
"Weiters, Jonesy and Walshy are exceptional leaders in everything they do, whether it be on the training track, during games and living the values of our football club," he told the club website.
"It is an honour to lead the Carlton Football Club, even more so when you are given that responsibility by your teammates."
Carlton will kick-off their Marsh Community Series against Fremantle at David Greys Arena on February 29.