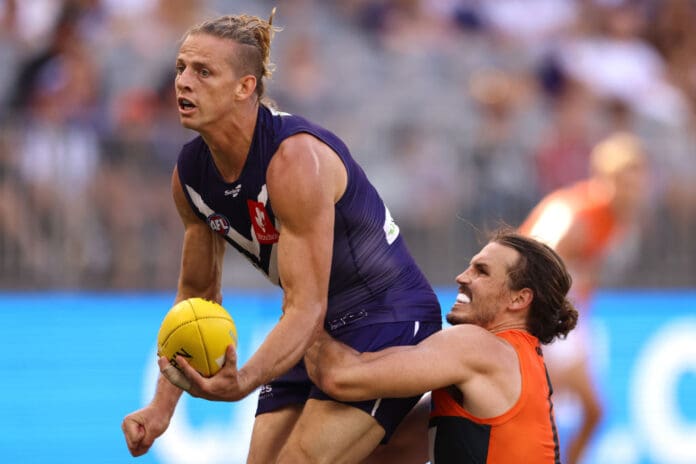 Fremantle's season has hit a minor speedbump with the news that Nat Fyfe will miss a month of football. The star skipper will undergo a 'small' procedure on his back to alleviate nerve pressure, an issue that surfaced on the road to recovery from a shoulder reconstruction.
Speaking to Channel Ten's The Project, Fyfe revealed the injury came about during his interrupted pre-season. It's been well documented that Fyfe had an infection following his shoulder reconstruction, a problem that caused him to miss a large chunk of the summer.
Having lost eight kilograms due to the complication, Fyfe had been working on getting back to his ideal weight and condition. Unfortunately, the push to get back to his best has come at a cost.
See Also: Why Rioli decision isn't a simple one
"I have been coming back from  a shoulder reconstruction and in that big push to get my body back up to speed to put the bodyweight back on and be strong, it hasn't recovered over the last week as we would have liked," Fyfe said.
"It is looking likely at this stage, early next week I will have a small procedure to try and alleviate the pressure on the nerve. That could be three to six weeks (recovering), unless something happens over the weekend drastically but that is what I am looking at."
Though missing the opening six weeks of the season is not ideal, Fyfe thinks it could have an upside. The 30-year-old went on to say it will give him time to heal while also hinting he needs to listen to his body more.
"There is always going to be a risk when you push hard to get yourself back up to speed in a condensed time frame that you are going to put the rest of your body at risk," he said.
"What this does is give my shoulder another couple of weeks to recover, so that it is fully healed. The issue was just the global work going into my body, but it gave the signal to my body to 'calm down' and that I need to rest for a couple more weeks, which is what I will do."
Having beaten Adelaide in Round 1, and with the struggling Saints visiting them in Round 2, Fyfe's absence provides opportunity. The likes of Andrew Brayshaw, Caleb Serong and Liam Henry all looked impressive last week.
See Also: Bulldogs set to lock down star defender on mega deal
The vacuum of experience will allow them and others the chance to continue to step up and lead the Dockers over the coming month.