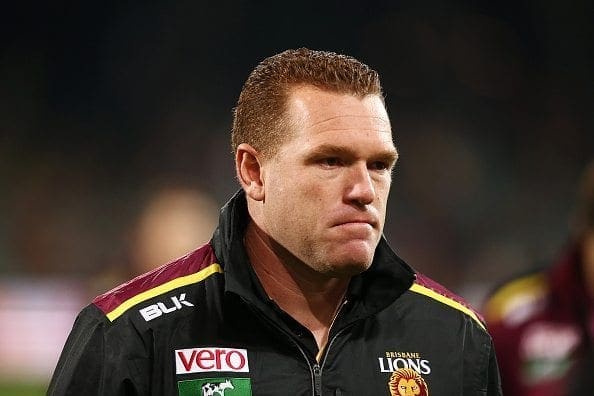 The Brisbane Lions have sacked coach Justin Leppitsch.
Brisbane chairman Bob Sharpless, told reporters on Monday the board met in the morning, before he informed Leppitsch of the club's decision via telephone.
Leppitsch has coached the Lions to just 14 wins from 66 games in charge.
His winning percentage of 21 per cent is the second worst in history for a coach who has coached at least 66 games.
Brisbane finished 17th this season, recording just three wins for the year. The Lions conceded an average of 130.5 points per game this season.
The 40-year-old had one more year to run on his contract.
The Lions' premiership player took over the head coaching role in 2014, from former skipper Michael Voss.
The club released the following statement a short time ago:
Brisbane Lions Senior Coach Justin Leppitsch has been released from the remainder of his contract with the Club.
The Club's Board came to the decision today after a thorough review of the team's performance and the factors influencing continued poor results.
Brisbane Lions Chairman Bob Sharpless said the Club's nine Directors had made the decision to release Leppitsch from the final year of his contract, which ran to the end of the 2017 season.
"Justin presented to the Board last week as a part of our review and he was impressive - he gave a number of reasons why the team's results have not reached the levels that we all expect, as well as outlining where he saw the team going in coming years," said Sharpless.
"Injuries, retirements, a clean-out of the playing list and fixture issues have all played their part, but at the end of the day, this is a results-driven industry and we are simply not a competitive football team at the moment.
"We have regressed from 10 wins in 2013, to seven wins in 2014, four wins last season, and to three this year - while the nature of some of this season's heavy defeats to teams around the same position on the AFL ladder have been bitterly disappointing.
"Justin has achieved a lot in his three years as Senior Coach but the Board was not satisfied - given the team's performance and lack of improvement over the past three seasons - that the status quo should be maintained.
"The Club needs to go in a different direction and we believe that starts with a new Senior Coach.
"Justin is a legend of the Club and we thank him for all he has done during his time as coach - in particular the work in blooding a huge number of young players who will no doubt go on to be long-term champions of the Brisbane Lions.
"We wish Justin all the best in the future."
The Brisbane Lions will now commence a process to appoint a Senior Coach for the 2017 AFL season.