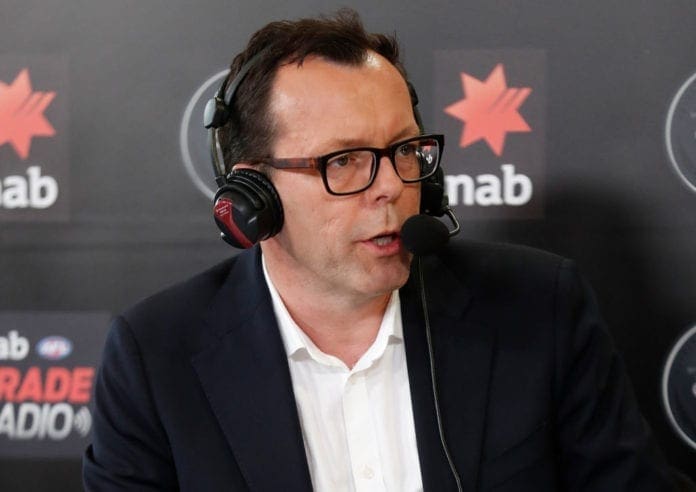 Damien Barrett has unloaded on Eddie McGuire and Collingwood's handling of the 2020 trade period.
McGuire addressed the issue on Triple M's Hot Breakfast on Tuesday morning, after coach Nathan Buckley finally spoke out after a disastrous trade period for his side.
Barrett labelled McGuire's lack of comment during the club's offloading of Adam Treloar, Jaidyn Stephenson, Tom Phillips and Atu Bosenavulagi "as bad as [Barrett has] seen" whilst speaking on his podcast The Sounding Board.
"I would doubt very much that it was (Eddie's decision to stay silent) and if it was, it would fly in the face of everything he's ever done in the media space.
"I don't know and I don't care to know because it doesn't matter. We covered it on Trade Radio and clearly that became an issue on the inside of the club, that trade radio and other platforms were talking about it.
"I still don't believe one word anyone has said about this publicly by the way 100 per cent. There's obviously truth in the middle as there always is somewhere, but to think that Nathan Buckley mopping up via an arrangement to think he can come out and say things and everyone's going to say 'there's the version we're going to take forward', I'm not buying that aspect of it even.
"It was pathetic listening to Eddie over the last three weeks where he either did not engage in conversation around the biggest story we've had in this period or chose not and then we he did offer contributions to it, he gave nothing."
Barrett was particularly annoyed at how McGuire "bought into other clubs' issues" but did not mutter a word whilst he was hosting Triple M's Hot Breakfast - where they usually discuss important topical news.
"Of course he is (in a tough spot), but that's part of the point. He's on radio himself for three hours every single day and he didn't want to contribute to the biggest story going around?
"The other aspect to, and it needs to be thrown in too, one of the senior people of that club when it comes to this space and decisions made about players at that club is Geoff Walsh, who is a lifetime media hater.
"I don't know whether Geoff Walsh formulated that policy, but you throw in everything we've just discussed, it's got to this situation where this club has come out of it in a way that it didn't need to endure.
"Just getting back to my point, watching it from afar and forgetting the Adam Treloar, Jaidyn Stephenson and Tom Phillips situations, just looking at it now as we can, if they had have got their public messaging right, even if the public messaging was a half-life, if that's okay from the outset, everything else ends up being okay."