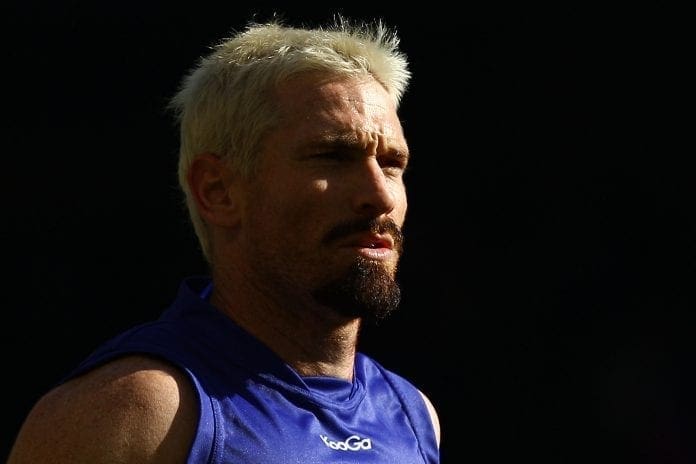 Jason Akermanis was one of the greatest players in the modern era. With a Brownlow Medal, three premierships and four All-Australians to his name, there wasn't much that Akermanis couldn't do on the footy field.
So how did his career end so poorly? The Brisbane Lions legend gave his side of the story while on The Jim Session Podcast.
It has been made well public the feud that ensued between Akermanis and Lions coach Leigh Matthews, with tensions starting in 2003 with the crafty small forward publicly stating that teammate Nigel Lappin was playing with broken ribs before the 2003 Grand Final against Collingwood, which infuriated the man they call 'lethal'.
It was then in 2006 where Akermanis wrote a column in the Courier Mail questioning Matthews' coaching decisions following their Round 1 match against Geelong, where the hall of famer copped heavy attention throughout the match.
The legendary Lions coach did not take the comments well, and heavy tensions developed between the two, with Akermanis revealing he should've handled the situation differently.
"I was a bad player, I was leaking stuff to the media, I hated what he was doing, he was trying to bully me and get Caroline Wilson to do stories on me. It got really bad and it was bad form on both of us," Akermanis told The Jim Session Podcast.
"I should taken it up privately with him, which I didn't and it cost me."
SEE ALSO: Lions legend blames 2004 flag loss on "sh*thead" ex-AFL boss
In July 2006, Akermanis was then sacked by the club, where he moved onto the Western Bulldogs in 2007.
The Brownlow medallist was able to revive his career at the Dogs, kicking 49 goals in 2008 and 43 goals in 2009, and was apart of the Dogs sides that made it to the preliminary finals in those years, but was filthy that he wasn't selected as an All-Australian in 2009.
"It was baffling. I know why I wasn't selected, because I was giving it to the AFL in the columns. They're sensitive sooks when they need to be," Akermanis said.
Although the Lions legend played well in those years at the Dogs, there was a constant rift between him and the playing group due to the columns that he was writing.
"Players got the sh*ts with things I was saying in the columns, they had a sook. The senior group like Daniel Giansiracusa couldn't understand it, Matty Boyd couldn't understand it," Akermanis explained.
This was in reference to the column that Akermanis wrote in 2010 where he expressed that homosexual players should stay in the closet because football culture wasn't ready to accept them.
This upset the Western Bulldogs, as well as the broader AFL and general community as it was highly controversial, with the Bulldogs believing that it was a distraction to the team's overall goal to win a premiership.
"Robert Murphy and Ben Hudson said 'I don't want to play with this guy' and that really was the end for me because those guys are very powerful and quite influential so they were happy to address it with the senior group," the Brownlow medallist explained.
The 44-year old was scathing of then-club president David Smorgon on his handling of the situation.
"I had idiots like David Smorgon who had no idea how to deal with the media, no idea how to deal with me, couldn't handle any negativity, and if the AFL gave him any grief then he would completely sh*t himself," Akermanis said.
The Bulldogs then held a meeting with Akermanis which included Smorgon, coach Rodney Eade, CEO Simon Garlich, football boss James Fantasia and captain Brad Johnson.
The hall of famer knew straight away that he was going to be sacked, and let Smorgon know his true feelings about him.
"What the hell is he doing in here?," Akermanis said alluding to Smorgon's presence in the board room.
"This is a footy meeting, he knows nothing about footy although he thinks he does, he doesn't know what it's like to be a player or work within a group and he's just an external nuisance to me."
It was after that meeting in July 2010 when he was told that his contract would be terminated, that he came to the realisation that he would never play in the AFL again.
"It wasn't an easy day, you put your whole life into it, you put 16 years into it since I was in year 12 and its given me so much," Akermanis explained.
The man from Mildura couldn't help but feel frustration at the way he was treated in the fallout from the Bulldogs, and subsequently his career.
"I had this horrible ending where the Bulldogs were sponsored by Worksafe, yet here they were bullying the sh*t out of me," Akermanis pleaded.
It was an unfortunate end to such a decorated career for Akermanis, who now resides in Brisbane with his family and obtained his real estate license last year, in what looks to be his new line of work.