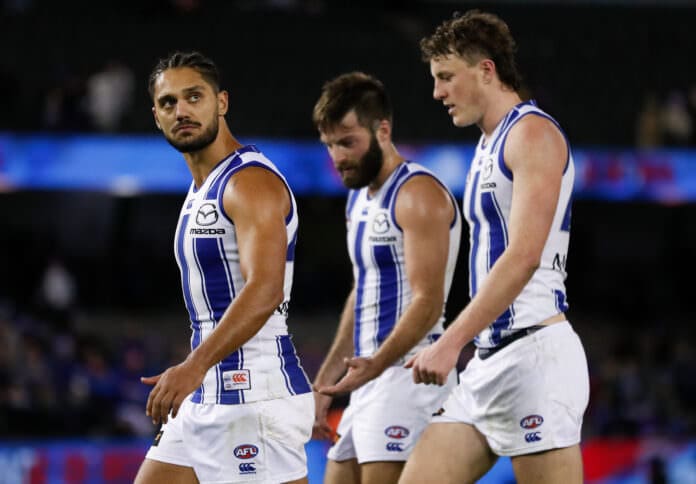 North Melbourne will be looking to attract mature-aged talent at season's end as David Noble continues to work through a list rebuild at Arden Street.
The Roos are littered with young talent, however find themselves without players in the prime of their careers that are able to lead the young cohort through a difficult period in the AFL.
Currently, Noble's squad consists of just six players between the 25 to 29-year-old bracket, none of which have played more than 150 AFL games.
The void in their squad will see the club's list management focus on adding older recruits in the off-season, as opposed to strongly attacking the National Draft like in recent years.
While excited by the emerging talent currently at his side's disposal, Roos football boss Dan McPherson told AFL.com.au that the Roos are set to keep an eye on ready-made talent, whether that be through free agency, trading or recruitment from state leagues.
"Absolutely, the (young) talent is there on our list," McPherson said.
"We're really confident with the young talent that we've got. The gap that we've got at the moment on the list is the middle-aged guys, the 23-to-27-year-olds. That's the gap that we need to fill as quickly as we can.
"We'll be looking at the end of the year to try and bring a couple of guys in that demographic in to complement the guys that have been around for three or four years who are 22 or 23. They still need a bit more leadership in that group."
North Melbourne were able to bolster their key defensive stocks through last week's Mid-Season Draft, securing the services of Williamstown's Kallan Dawson.
While their backline has been buoyed by Dawson's arrival, McPherson flagged several areas are still in need of strengthening through recruitment.
"Where we are at the moment, if we're going to get mature-aged guys in then it's sort of based on what we need – and we need a fair bit at the minute," he added.
"Whether that's a winger, a running half-back, or a key forward or defender … we're not going to pigeonhole exactly what we need down to one or two positions.
"If there's a good free agent or mature player that we think will help us, we'll do our best to try and get him in."
Placed 17th on the AFL ladder after the opening 12 rounds, the Roos currently hold Picks 2, 56, 63 and 74 - having traded their second and third-round selections to the Tigers and Bulldogs last year respectively.