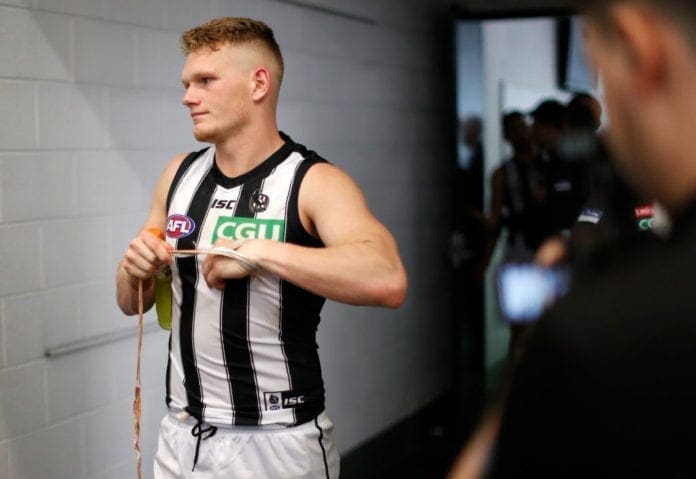 Collingwood star Adam Treloar was told by the club two weeks ago that he was no longer a wanted player, per Fox Sports' Tom Morris.
Despite Treloar reaffirming his preference to stay, the club reportedly told him that they don't see him part of their future plans and will even pay more than $200,000 of his 2021 salary at a rival side.
Former Magpies recruiter Matt Rendell, who was let go by the club this year, opened up on the brutal stand off on Trade Radio.
"My belief is he might have gone to them and asked 'do you want me?' Rendell said on Monday.
"And they said 'no.' If that is the case, he has a decision to make now.
"I have no doubt they said the same thing last year and he refused."
The 27-year old last year privately signed a lucrative back-ended five-year deal until the end of the 2025 season.
His 2021 contract is reportedly worth close to $900,000 as the Pies now face a salary cap squeeze.
Collingwood have kept quiet about these recent trade reports, which first came to surface earlier this month amid news that his partner Kim Ravaillion has signed a deal with Super Netball's Queensland Firebirds.
In his meeting with the club, Treloar was reportedly told he was no longer wanted and if he found a trade destination, the Pies would make a deal.
They identified the Gold Coast Suns as an option in a deal for their Pick 5.
Rendell believes the club is also concerned about Treloar's family situation, with Ravillion impending move to Queensland meaning the couple will need to fly back and fourth as often as they can to help raise their young child.
"He is an obsessive compulsive kind of bloke which makes him a great footballer," Rendell said.
"But they would be worried about him fretting about not seeing his partner, or who knows what is going to happen next year with COVID-19, whether we are out of this or not.
"It is so hard to predict. They would be thinking it might affect his footy being separated from his partner and his child.
"They probably thought it is not a bad idea to float that (trade) again.
"He has said 'No, I can make it work, I want to stay in Melbourne. I like Melbourne."
Collingwood also still need to re-sign out-of-contract pair Jordan De Goey and Brodie Mihocek, with the former believed to be closing in on a two-year extension.