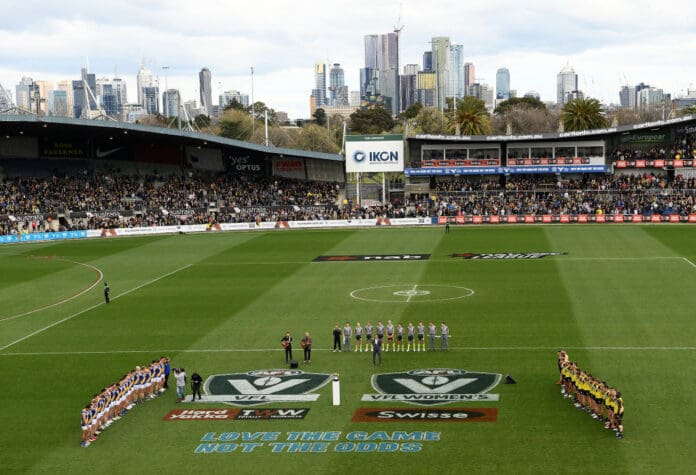 The AFL has released the fixtures for the first two rounds of the new VFL season kicking off on Friday April 16 in a new revamped format, making it the largest second-tier competition in Australia.
A total of 22 clubs from Queensland, New South Wales and Victoria, including six each from New South Wales and Queensland, will battle it out in a 16-game season spanning over 19 rounds.
AFL Head of Talent Pathways and State Leagues Tristan Salter said that there is genuine excitement about the return of VFL football.
"We are so excited that footy is back. Although we have to be vigilant, aware and responsible throughout the season, we cannot overstate the excitement of every body connected to the VFL about the return in April," Salter told AFL Media.
"Last year was devastating to everyone connected to community football. The AFL is very proud of how all VFL clubs, players, officials, supporters and corporate partners managed through a difficult year and kept their communities connected."
"All 22 clubs play a vital role in keeping their suburban and regional networks engaged. They are pillars of their local communities and so important to growing and nurturing our national code."
A NEW ERA pic.twitter.com/3frPyxlqXA

— #VFL / #VFLW (@VFL) March 18, 2021
A NEW ERA pic.twitter.com/XIPVtT9dqU

— #VFL / #VFLW (@VFL) March 18, 2021
Given some clubs have affiliations with AFL lists, the fixture for the competition will be aligned with the AFL fixture which will provide plenty of flexibility for all clubs involved and will provide ample opportunity to accommodate those within the AFL environment.
Salter said the aim of the competition is to provide the best standard of football available and to give clubs and fans the very best chance to enjoy VFL football again.
"We begin a new era for the VFL in 2021 with a renewed level of optimism and excitement, focusing on delivering fans the highest standard of state league football in Australia," Salter said.
"The introduction of six clubs from the northern states will not only provide more opportunity for players to potentially realise their AFL dreams, but also improve the standard of footy for the legions of passionate fans and their local VFL club.
"All 22 clubs have been pillars in state league football and this season will provide all clubs, players, coaches, officials, members and supporters the best opportunity to flourish again after a challenging year in 2020.
"We know the legion of supporters are looking forward to the return of the VFL season and there is much for fans to look forward to, whether that be attending matches or watching the broadcast."
The next block of fixtures for the VFL will be released once the AFL confirms the fixtures for Round 7 onward.
2021 @VFL Fixture#ANewEra pic.twitter.com/G5otXpLvCV

— #VFL / #VFLW (@VFL) March 19, 2021