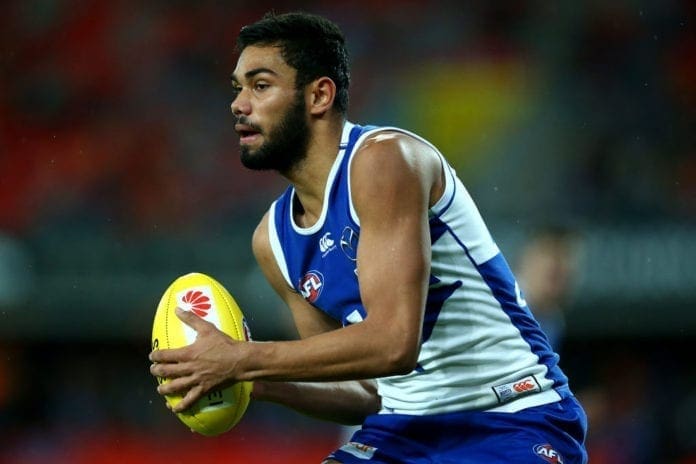 5 Votes: Tarryn Thomas (North Melbourne) 
Thomas continued his superb form a week after his Rising Star nomination, kicking two goals in the Roos 23-point loss to GWS.
Thomas added 12 disposals to his tally but it was his pressure that earned him praise.
The forward had five tackles and three clearances to add to his bow.
4 Votes: Sydney Stack (Richmond)
Stack's composure was crucial in Richmond staying in the contest for three quarters against Adelaide.
The youngster showed poise to distribute the ball out of defence at times when the Tigers were under constant pressure. He was also able to press into midfield and provide five forward 50 entries.
Stack finished the game with 22 disposals at 81.8% efficiency, six marks and four tackles.
3 Votes: Sam Walsh (Carlton) 
Walsh was not as evasive as the week before but he was still crucial in the Blues narrow loss the Western Bulldogs.
The midfielder had 22 disposals at 68.2% disposal efficiency, five marks and four tackles.
Walsh played behind the ball more than he has previously this season and collected three rebounds from the backline.
Known for his clearance work, Walsh had only one clearance and one forward 50 entry.
2 Votes: Xavier Duursma (Port Adelaide) 
Duursma has been known for his ability to rack up possessions in his first season at senior level and continued to find the ball for the Power against Fremantle.
The 18-year-old had 10 kicks and 11 hands in his 21 disposals, which was the sixth most of any Port Adelaide player in the game. He also took 10 marks and three rebounds.
One area Duursma will look to improve on is by collecting more contested possessions and against the Dockers seven of his 21 disposals were contested.
1 Vote: Callum Wilkie (St Kilda)
Wilkie picks up one vote for his 18 disposals and six marks against Gold Coast on Saturday.
Wilkie went at 77.8% disposal efficiency four defensive rebounds.
The 23-year-old collects his fifth vote of the season, which is the most of any St Kilda player this season.
Season Leaderboard:
33 – Sam Walsh (CARL)
24 – Sydney Stack (RICH)
17 – Gryan Miers (GEEL)
13 – Connor Rozee (PORT)
12 – Bailey Smith (WBD)
10 – Charlie Constable (GEEL)
10 – Xavier Duursma (PORT)
9 – Tarryn Thomas (NM)
8 – Jack Ross (RICH)
7 – Marty Hore (MELB)
7 – Michael Gibbons (CARL)
6 – Jay Lockhart (MELB)
5 – Callum Wilkie (StK)
4 – Bailey Scott (NM)
4 – Jordan Clark (GEEL)
4 – Jackson Hately (GWS)
4 – Zak Butters (PORT)
3 – Tom Atkins (GEEL)
2 – Oskar Baker (MELB)
2 – Darcy Fort (GEEL)
2 – Nick Blakey (SYD)
2 – Lachlan Schultz (FREM)
2 – William Drew (PORT)
2 – Matthew Parker (StK)
1 – Josh Rotham (WC)
1 – Will Hayes (WBD)
1 – Patrick Naish (RICH)