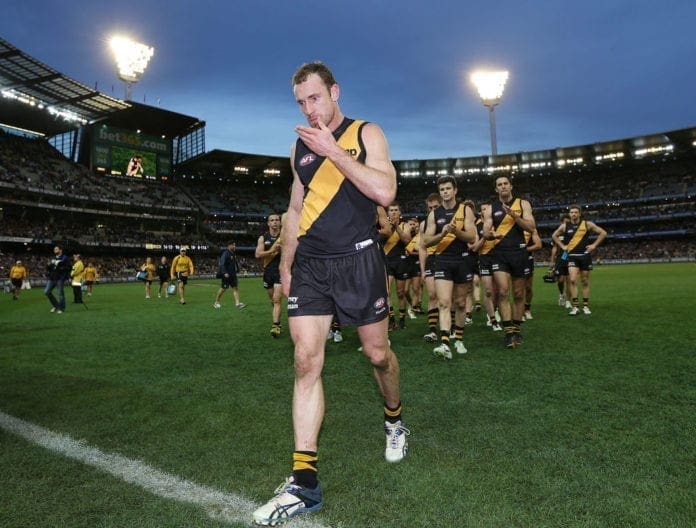 The widow of former Richmond player Shane Tuck has urged the Coroner's Court of Victoria to probe the club's doctors and their alleged 'poor medical treatment'.
Katherine Tuck is demanding answers as to what role the club's medical staff played in allowing him to continue playing after repeated head knocks suffered across his time at Tigerland.
Following an autopsy earlier this year, it was was revealed that Tuck, who took his own life in July of last year, had a severe case of chronic traumatic encephalopathy (CTE).
The disease can be onset by repeated concussions and result in mental health issues including depression and paranoia.
The widow of former Richmond footballer Shane Tuck wants a coroner to investigate his treatment by club doctors. Katherine Tuck wants to know why her husband was treated 'so poorly and badly'. https://t.co/5zYfOfohG3 #7NEWS pic.twitter.com/4TNNw7hHOb

— 7NEWS Melbourne (@7NewsMelbourne) October 19, 2021
According to Fox Sports, her lawyer, Greg Griffin, told the court that it was imperative to find out what happened during Tuck's football career.
"The debilitating illness of CTE was caused by the manner in which Shane Tuck was permitted to go un-medically treated, or not properly cared for during his lengthy contract and period of employment with Richmond," Mr Griffin said.
Tuck's AFL career spanned 173-games for Richmond from 2004 to 2013. He was then briefly a professional boxer before he was found dead in his home last year.
"For the widow and many, many AFL footballers who are watching this outcome with great interest … it is imperative for the coronial investigation to focus on what actually did occur at the Richmond Football Club and in other AFL clubs during that nine-year period (when Tuck played AFL)," Griffin said.
"We would ask your honour in the course of the coronial investigation to perhaps look at the sins of the past to see how they can't be repeated."
Richmond's response to the 'inflammatory allegations'
Richmond Football Club CEO Brendon Gale issued a strongly-worded response to the claims posed by the court hearing.
"We feel compelled to defend the highly professional medical staff that managed Shane Tuck throughout his career in the wake of the inflammatory allegations made at a coronial investigation today," Mr Gale said in a statement via Fox Footy.
Richmond has released a statement in response to allegations aired in court surrounding the treatment of Shane Tuck.

Story 📝: https://t.co/JSHvqRiFu8 pic.twitter.com/To3sfFBtl7

— Fox Footy (@FOXFOOTY) October 19, 2021
"We are appalled at the suggestion our medical staff acted in a negligent or unethical way. We stand behind those medical staff who acted to the highest professional standards, and in the best interests of Shane during his career."
Current protocols
The Coroner said "it wasn't his job to apportion blame to anyone".
He said he was far more interested in "the current state of play" regarding concussion management in both AFL and boxing.
Earlier this year, the AFL introduced a mandatory 12-day break for players diagnosed with concussion.