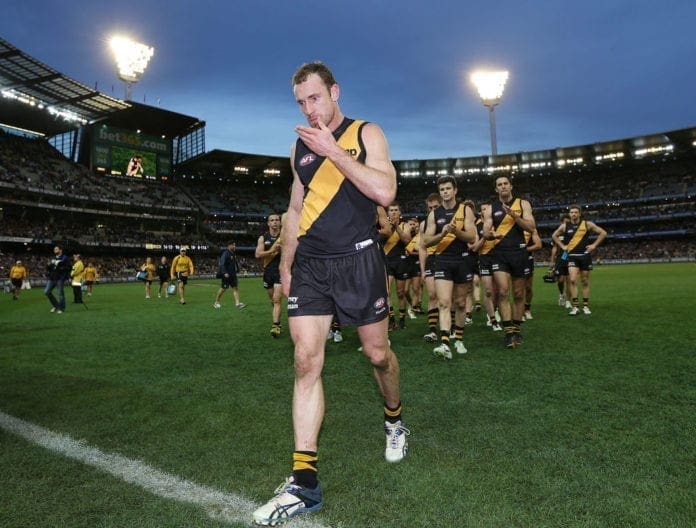 Former Richmond star Shane Tuck has been diagnosed with a severe CTE (chronic traumatic encephalopathy) – a degenerative brain disease – which was found post-mortem.
Speaking to The Age's Greg Baum, neuropathologist professor Michael Buckland said Tuck's case was one of the most harrowing he had ever seen.
"It's the worst case I've seen so far," professor Buckland said. "It was actually quite shocking, the degree of disease he had."
CTE produces a build-up of protein tau in the brain, with Buckland revealing the extent of the damage on Tuck's brain during his life.
"Once I got the tau stains back, it was the first time I didn't need a microscope to make the diagnosis," Buckland said.
"There was so much tau I could see it with the naked eye."
Former AFL greats Polly Farmer and Danny Frawley were also diagnosed with CTE following their deaths, with Buckland stating Tuck's diagnosis is alarming given his age in comparison with prior cases.
"Those cases span three generations of players," Buckland said. "What's disturbing is that the worst case is the most recent, and also the youngest."
CTE is known to cause issues with memory, mood and behaviour and can develop depression and dementia in some cases.
Tuck played 173 games for Richmond before a small boxing career and passed away at the age of 38 last year.