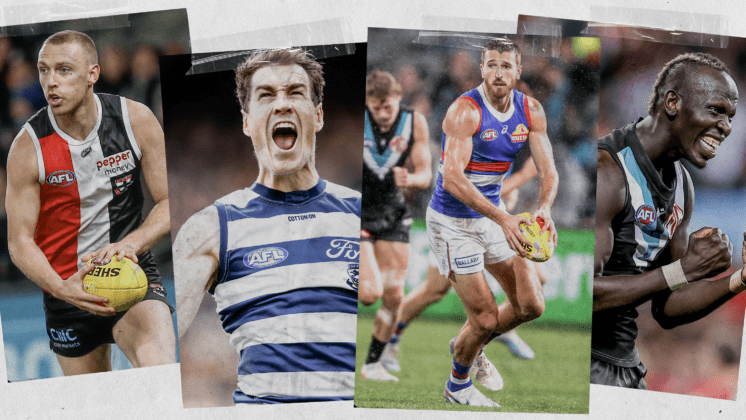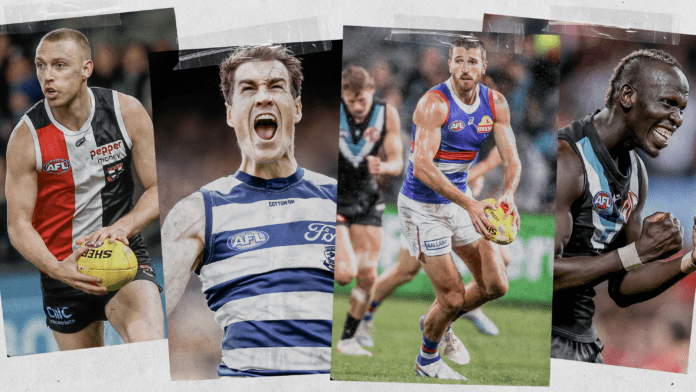 Five rounds into the 2023 season and some typical stars have started separating themselves from the rest, while plenty of fresh faces have broken into the elite category.
The league has never seen a plethora of talent as big as we have now, with more and more players impacting games from all positions and from seemingly all demographics.
From 18-year-old Harry Sheezel to 35-year-old Scott Pendlebury, the modern player has never been more skilful and durable than what we currently have on offer.
Four teams are not represented in the side thus far, with one of those sides being a notable premiership fancy. Six clubs are represented twice and one surprise side has managed three players in our rolling All-Australian side after Round 5.
1. Defenders
We begin our rearguard discussions in the key defender slot, where two talls have separated themselves and are each mounting a case for their second All-Australian blazers. Sam Taylor is developing into the premier key defender of the competition after his past 25+ games. So far this season he has lost only 1 of 18 defensive one-on-one contests, leaving him with an astonishing loss percentage of 5.6%. Next up, Aliir Aliir has carried the Port Adelaide defence through the first five matches, winning games with one-percenters and sitting second in the comp for intercepts.
Callum Wilkie has sent a message to the selectors of last year's side by starting 2023 like a house on fire, leading the comp in intercept marks and shutting down some of the opposition's best. He may be the biggest All-Australian lock so far this year.
At ground-level, young stars Harry Sheezel and Nick Daicos have lit up the competition with their damaging ball use out of defensive 50, forcing opponents to be wary of their backline offensive threat. Daicos is the best kick in the competition and is climbing his way to being the best player full stop, arguably leading the Brownlow tally so far this year. Unbelievably however, Sheezel's first year has been even more impressive than last year's Rising Star winner. He is averaging over 31 disposals a game with the most defensive half-pressure acts in the AFL.
We round out the starting backline with Adelaide skipper Jordan Dawson. Dawson is another player who is developing into one of the best players in the competition, particularly after his last two performances, collecting 60 disposals and 15 tackles while leading his side to two dominant wins over aspiring finalists.
Jack Sinclair will be the first name rolling through the backline after his continuation of last year's brilliance for St Kilda. Similar to Daicos and Sheezel, Sinclair has been one of the most damaging defensive-half players with his powerful running and elite ball use. He also brings a more physical defensive presence than these two and links up beautifully with teammate Cal Wilkie.
Finally, Liam Baker has earned a spot with his toughness and competitiveness in a struggling Richmond side so far. He is somewhat of a utility with the ability to add to the scoreboard as a pressure forward, but his defensive presence in 2023 has been rock solid, as has his ball-use and decision-making down back.