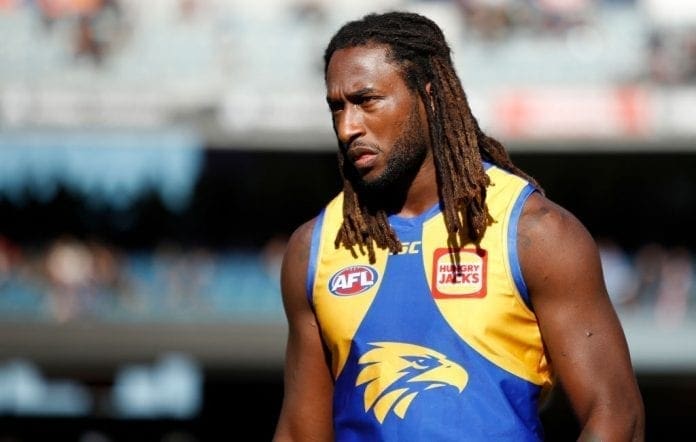 West Coast star ruckman Nic Naitanui has revealed the extent of continued racial abuse he has received by internet trolls over social media.
The 30-year-old revealed he is on the end of racial vilification at least 20 times a year throughout each season, with anonymous accounts online attacking both him and his teammates constantly.
Speaking on the Ordineroli Speaking podcast, Naitanui outlined exactly how often he received racist remarks on the internet.
"We play 20 times a year, I'd get it 20 times a year," he said.
"Sometimes you think you get to the point where you think you're bigger than that but you're not.
I've never really heard @NicNat talk about himself before.

Do yourself a favor and have a listen to the first ep of season 2 of #Ordinerolispeaking

It's funny, inspiring & incredibly uplifting.

Once again @Neroli_Meadows has smashed it out of the park.https://t.co/9gZFliWJku

— Luke P Gavin (@LukePGavin) February 23, 2021
"Especially during the season, especially if you push someone over or you do something to someone's team that they support, there's always someone with an anonymous account."
AFL players copping racist taunts and remarks from people on social media has been a long standing issue in the AFL.
The two-time All-Australian spoke about how much the constant comments have hurt him, especially when it happens to his team mates.
"I don't mind if you bag my football but if you start bringing race or family into it, what hurts me more is when they do it to my teammates, especially younger teammates," he said.
"I got younger teammates like Liam Ryan who cop it all the time, and he went through a phase where he was copping it every single week."
"It's abhorrent behaviour. We want to stamp this rubbish out. We can't reiterate enough how disappointing these sorts of comments are."

Club CEO Trevor Nisbett spoke out against the racist comments made about forward Liam Ryan.

Statement: https://t.co/Xnc59b3aOc pic.twitter.com/mJ1ixC75d6

— West Coast Eagles (@WestCoastEagles) March 25, 2019
Naitanui also revealed how he'd combat his personal fight against racism.
"Sometimes I'd fight back, I used to write back to them or have a go at them, especially if they live in Perth, I'd find a way to catch up with them," he said.
"Especially if you see them in a club or something and you know who they are and you know what they've done, I'll let them know.
"My biggest thing is some of these guys, I don't care if you're a 20 year old man or a 60-year old man, if you saw a big black guy in public you're not going to say the sort of stuff you said.
"I don't know, sometimes you just want to catch some of these guys one-on-one and deal with them because you would never do it (to their face)."