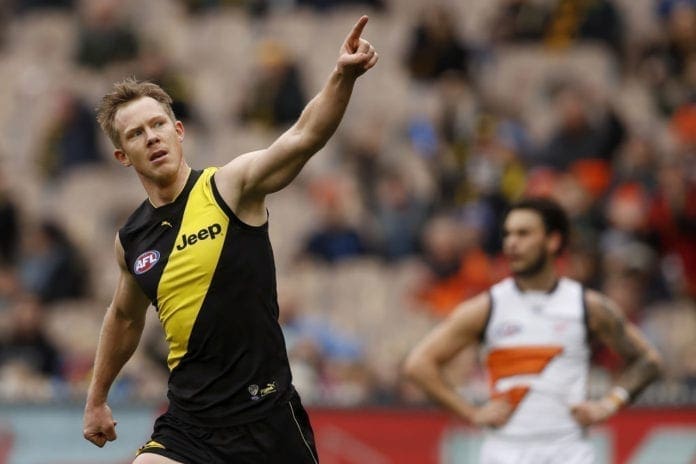 Ahead of Jack Riewoldt's 300th game, AFL legend Wayne Carey has listed the players he believes are the top 10 key/centre half forwards in the game since 2000, per The Age. 
It's a fair list one must say, with some great forwards over the years such as Lance Franklin, Nick Riewoldt and Jonathan Brown all making the list.
Other notable names such as Matthew Pavlich, Warren Tredrea, Matthew Richardson and Riewoldt all made the list also.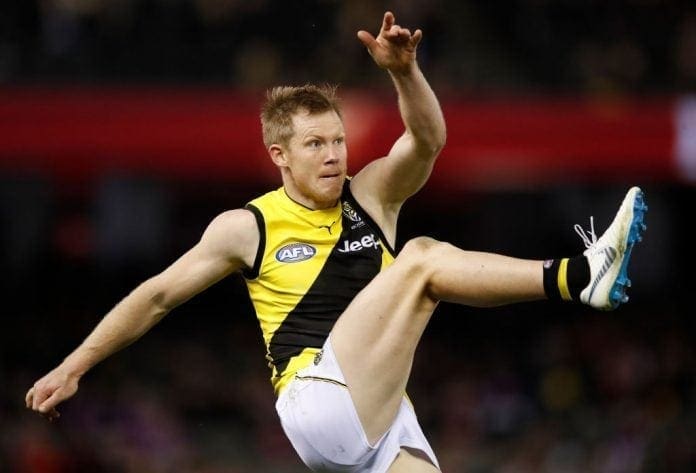 Wayne Carey's Top 10 Forwards Since 2000:
Jonathan Brown
Warren Tredrea
Matthew Richardson
Matthew Lloyd
Brendan Fevola
*In order to make Carey's list, players had to play at least 10 years starting at the turn of the century in 2000. 
Of course, not every forward can make a list like this, and it's all one person's opinion. There have been a number of great forwards over the years and some notable names we feel could be added to the list. Here are some notable of the notable forwards we feel may have been unlucky to miss out:
(Like Carey's list, these players must have made the 10+ year threshold beginning at the turn of the century in 2000) 
Barry Hall
Hall might be a name considered extremely unlucky to not make Carey's list.
Debuting in 1996, Hall kicked 746 goals in his career, with 683 of those coming from 2000 until his retirement in 2011.
Hall was one of the most powerful and dominant forwards in the game. His ability to intimidate and move around the ground and off a lead a lot quicker than one would think was possible for someone his size, made him one of the best the game has ever seen.
Josh Kennedy
Kennedy may have also been very unlucky to miss out on this list. He's been a star of the game for a number of years and continues to play at a high level today at age 33.
It's no surprise why Kennedy has kicked 677 goals in his 274 career games to date. His ability to get up and down the ground, be a massive aerial threat and ability to be dead-eye accurate in front of goal has made him a staple of West Coast's prominent forward line since being traded from Carlton in 2007 in the infamous Kennedy-Judd trade.
Roughead kicked 578 career goals in his 14-year career at Hawthorn and was one of the deadliest kicks in front of goal, helping play a huge hand in the success and dominance of the Hawks over the last decade.
'Roughy' was part of one of the greatest forward duos the Hawthorn Football Club and the AFL as a whole has ever seen, with himself and Lance Franklin terrorising opponents on a weekly basis.
With most of the attention on the brilliance of his forward counterpart in Franklin, 'Roughy' flew under the radar and quietly went about his business in dominating fashion. And when he became the main man in 2014 after Franklin moved to Sydney until his retirement in 2019, he was still kicking bags.
Daniel Bradshaw
Here's an underrated name you may have forgotten.
Even though Bradshaw played as the second forward to Lions stars Alastair Lynch and then Jonathan Brown for most of his career, like Roughead, Bradshaw went about his business under the radar and did it as good as anyone.
Bradshaw kicked 524 goals over the course of his 231 game career and like Roughead, was deadly in front of goal and knew where the big sticks were. He was a supremely talented forward that definitely should have got a bit more recognition over his career.
Michael O'Loughlin
Who could forget the great 'Mickey O'?
A man of unbelievable and undeniable talent on the footy field, O'Loughlin was able to do things on a footy field some could only dream of. He had a knack for goal and could do it in a number of ways. Many of his opponents to this day have still labelled him as the toughest forward they've played on. Not bad recognition.
O'Loughlin kicked 521 career goals and made a name for himself as a key figure up forward for the Sydney Swans for a long time, playing a big part in their 2005 premiership season.