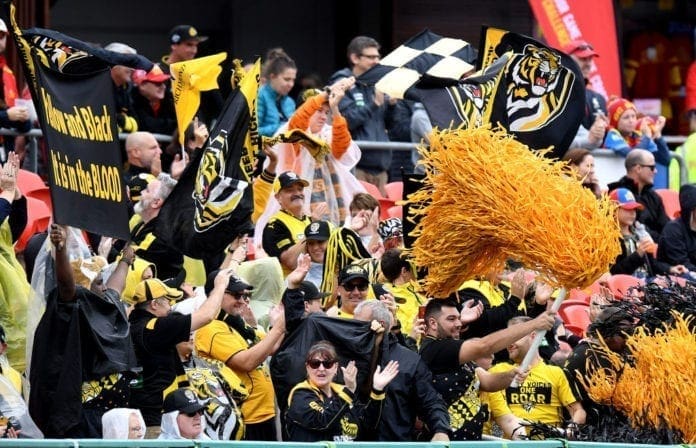 The Magpies' recent form has not deterred members from joining the club as they move up to third in this year's membership tally ladder.
Arguably the biggest sports club in Australia, Collingwood has already increased by 12.9% from 2018 after an impressive run to the Grand Final, and the Holden Centre is seeing the rewards.
The league says the increase in three-game memberships has driven much of its recent growth as fans are keen to show their increasing support whilst often still being armchair supporters.
Richmond leads the way again, surpassing 103,000 for the first time in history whilst the equal ladder leaders out west dominate their state with 64% of the overall membership tally in Western Australia. Fremantle has had the biggest decline of 2019 with a -7.6% decline after rising by 8.6% in 2018.
GWS retain their rapid growth as their fan base has risen almost 33% in two years going from 20,944 to 30,109 in 2019. Meanwhile, both Gold Coast and Brisbane have exceeded their 2018 tally as both clubs have increased by 12.7%, a great result for Queensland football and the AFL.
Of the Victorian clubs, Melbourne has had the greatest incline, obviously with fans believing they would be in the finals race, having an 18% incline with Carlton also sticking strong having 14.8% more members than their two-win season in 2018.
The Dons, Hawks, Cats, Swans, Dogs and Roos have all had slight inclines of less than 7% whilst the Crows, Power and Saints have had declines.
The tally is as follows...
AFL MEMBERSHIP LADDER
| Club | 2019 members | 2018 members | Change |
| --- | --- | --- | --- |
| Richmond | 103,358 | 100,726 | 2.6% |
| West Coast | 90,445 | 80,290 | 12.7% |
| Collingwood | 85,226 | 75,507 | 12.9% |
| Essendon | 84,237 | 79,319 | 6.2% |
| Hawthorn | 81,211 | 80,302 | 1.1% |
| Geelong | 65,063 | 63,818 | 2% |
| Adelaide | 64,437 | 64,739 | -0.5% |
| Carlton | 64,269 | 56,005 | 14.8% |
| Sydney | 61,912 | 60,934 | 1.6% |
| Melbourne | 52,421 | 44,275 | 18% |
| Port Adelaide | 51,951 | 54,386 | -4.5% |
| Fremantle | 51,431 | 55,639 | -7.6% |
| Western Bulldogs | 44,373 | 43,246 | 2.6% |
| St Kilda | 43,038 | 46,301 | -7.1% |
| North Melbourne | 42,419 | 40,789 | 4% |
| GWS Giants | 30,109 | 24,243 | 19.3% |
| Brisbane Lions | 28,023 | 24,867 | 12.7% |
| Gold Coast | 13,649 | 12,108 | 12.7% |