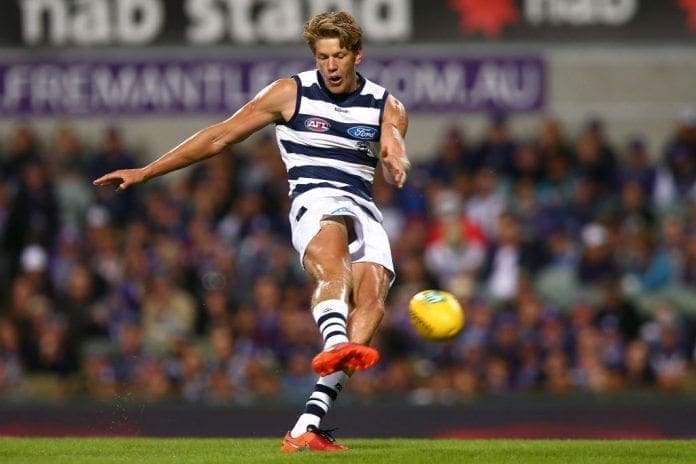 Five points down. A mark inside your forward fifty. The siren sounds.
Naturally, you are on the edge of your seat with the remains of your tattered fingernails still well and truly in your mouth.
But what if I were to tell you it was your ruckman that had the ball. All your reservoirs of confidence are drained now, aren't they?
Stereotypically, we have always thought that big men are deplorable kicks for goal. It almost seems that something gets lost between their brain and their enormous feet as the ball is dropped. However, four of the ten best set shot records in the game's history belong to genuine ruckman.
So far this season, the forty-one ruckman on AFL lists have combined for a total of eighty-six goals, but with a woeful accuracy of just 38.5%
Despite this pitiful output, we have decided to analyse each ruck's record for goal this season and present to you the best of a bruised bunch.
These are the gigantic men that have gone well in front of goal this year.
Ryan Abbott, Tom Bellchambers, Darcy Fort and Max Gawn
1 total shot for 1.0
100% from set shots
100% total accuracy
Eighteen years ago, Eminem warned us that some people only get one shot, one opportunity. This quartet have heeded the Detroit born wordsmith's advice and seized theirs. Although one is never a large sample size, you can't beat a 100% output.
The boys get around Ryan Abbott after he kicks his first goal as a Saint ♥️ pic.twitter.com/QpPUErqx4C

— St Kilda FC (@stkildafc) September 6, 2020
Sam Jacobs
2 total shots for 2.0
100% from set shots
100% total accuracy
Jacobs is obviously a fan of the title track from the 8 Mile soundtrack, as he has captured and converted both of the chances that have fallen into his gigantic mitts this season.
Billy Frampton
6 total shots for 4.1 (1 miss entirely)
60% from set shots
67% total accuracy
Kept out of the team by the white-hot redhead Reilly O'Brien, Frampton has been biding his time in the SANFL. The new recruit's best output for the year came in round four with a pair in Adelaide's five goal loss to the Brisbane.
After multiple missed set shots in the third term, Adelaide have snapped one through Billy Frampton 💪 pic.twitter.com/hRjEU1O6wk

— AFL (@AFL) July 5, 2020
Peter Ladhams
5 total shots for 3.1 (1 miss entirely)
67% from set shots
60% total accuracy
Another ruckman plying their trade in South Australia and another precise giant. Ladhams is currently sidelined due to a Covid breach, but when available, his form at centre bounces and in front of the sticks has aided Port's 2020 ascent. The Norwood product netted two straight in the Power's victory over Richmond, with this audacious snap kickstarting proceedings.
Talk about threading the eye of the needle 😱

Peter Ladhams is the round 11 Coates Hire Goal of the Year winner!

To vote next week, head to https://t.co/IWYYb1MQ8a or Google and search 'AFL Vote'. pic.twitter.com/Ft6npc8OeD

— AFL (@AFL) August 16, 2020


Paddy Ryder
9 total shots for 7.1 (1 miss entirely)
80% from set shots
77.7% total accuracy
Yet another big man that once called Alberton home, Paddy Ryder has never been shy around the big sticks. With upwards of 170 goals from over 250 games, Ryder has continued his accuracy since transferring to the Saints. Ryder's pair against his old side Port, including this deft snap, were instrumental in St. Kilda securing their biggest scalp for the season.
Paddy Ryder pic.twitter.com/ESKbFkHpvP

— The Franga Hanga (@CharlieDons) July 26, 2020


Rhys Stanley
9 total shots for 7.2
67% from set shots
78% total accuracy
From a current Saint to a Cat that once called the holy grounds of Moorabbin home. Since shifting from St. Kilda at the end of 2014, Rhys Stanley has raised his game at stoppages and in front of goal. The tall Cat with the hairband has a pair of pairs to his name in 2020. However, it is this volley better suited to the Maracanã that leads his 2020 highlight reel.
Rhys Stanley strikes and the Cats are clawing back 🐱#AFLDogsCats pic.twitter.com/l2DungbzuP

— AFL (@AFL) August 28, 2020
Toby Nankervis
4 total shots for 3.0 (1 miss entirely)
100% from set shots
75% accuracy
If it weren't for Jake Aarts' backside blocking his goal square volley against Fremantle, Toby Nankervis would be the closest thing the rucking fraternity would have to a 'dead eye dick'.
Although appearing somewhat unconventional in his set shot approach, the former Swan is a perfect three for three from set shots in 2020. With the Tigers desperate to claim another cup at season's end, a sharpshooting ruckman can only help their cause rather than hinder it.