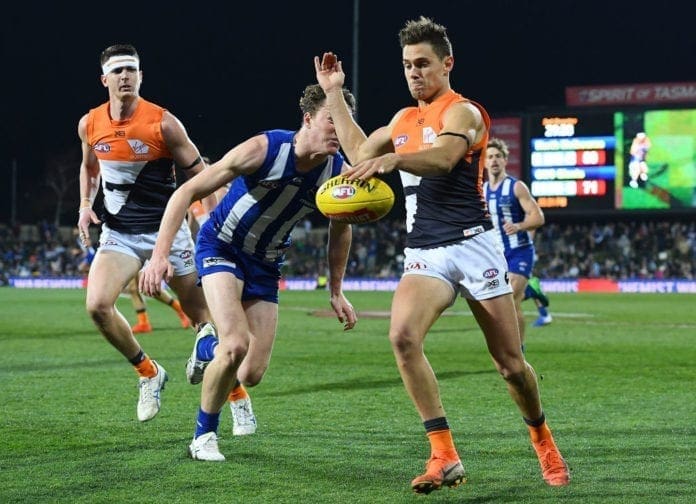 Champion Data statistics have revealed those who are considered the best and worst kicks in the competition, with Andrew Gaff and Josh Kelly shockingly being in the latter category.
Speaking on Trends with Marc McGowan, Champion Data's Head of Data & Analytics Karl Jackson went through the considerations taken when measuring players' disposal efficiency.
"Kick ratings are similar to player ratings in that they're looking at expectation versus reality," Jackson told McGowan.
"So based on where you are, how much pressure you're under and what sort of kick you're trying to hit – whether it's to a lead, or just going to a pack, or a one on one – how often you should hit the target versus how often you actually did."
Some of the findings from the statistics are bound to surprise many, with West Coast star Andrew Gaff's ball use found to be below par upon his return from suspension this year.
"An interesting case study from this year has been Andrew Gaff," Jackson said.
"Obviously he missed the first few games of the season but before Round 6 he played four games and the player ratings had him as the second worst wingman in the comp.
"It really lines up with his ball use and his kicking. At that point in the season he was -11% for kick ratings (with 0% being kicking to expectation), so hitting kicks 11% worse than what he should have been, and that was fourth worst in the competition."
"Since then he's obviously tidied something up. From round 7 to 13 he was going at +2%, so not setting the world on fire but at least going slightly above expectation."
GWS midfielder Josh Kelly didn't escape scrutiny either, with his kicking said to be in the lower regions as well.
"I think it just comes down a little bit to process versus outcome. He probably looks like he's a decent kick but not necessarily hitting targets, and there's been a few players like that historically.
Guys who had low numbers in kick rating, but you look at them and it looks like they've got damaging kicks because they're kicking the ball long, or bursting out of packs and getting the ball forward."
In a twist of fate, Andrew Brayshaw joined Gaff in the low levels of effective possession, with the 19-year-old operating at -20%.
There weren't any huge shocks in terms of the best kickers within the AFL, with Eagles premiership captain Shannon Hurn leading the charge.
"I don't think there would be too many surprises. Shannon Hurn once again number one in the competition, and going at about three-and-a-half standard deviations above what he should be, so he's an absolute freak.
"Some of the other guys up near the top, Jason Johannisen, Shane Edwards and Caleb Daniel – so there's good ball users coming out of the back half."