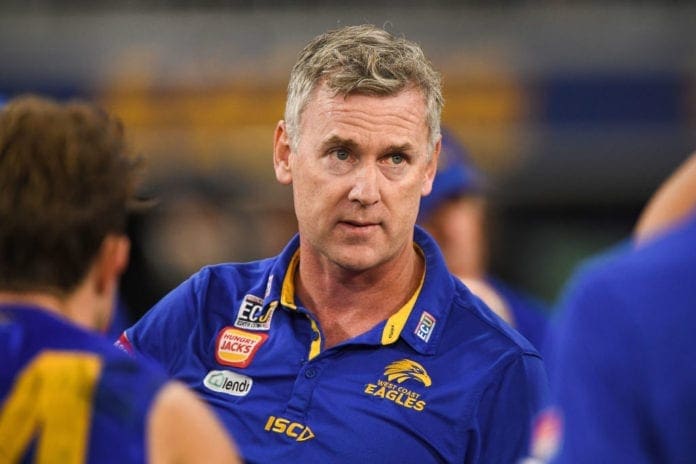 Reflecting on his side's embarrassing loss to Collingwood last week, West Coast Eagles coach Adam Simpson believes the Eagles can still compete in finals this season. 
The Magpies stunned the Eagles to kick the first eight goals of Saturday's match before the Perth side could record their first major in the second quarter.  
The defeat tops off a run of poor performances from the Eagles this season, which includes a 92-point loss to Sydney, a 97-point loss to Geelong, and their Round 17 defeat to bottom side North Melbourne at the Optus Stadium.
Big question marks now loom over the Eagles' finals credentials, as well as Adam Simpson's recent recruitment strategy. 
But the premiership coach has had his say on how the Eagles are working hard to atone for their inconsistencies and their continued efforts to regenerate their squad. 
"After last week, we're digging a bit deeper about what's actually been happening on game day and why can't we arrest momentum and get energy around the contest in the way we want to play," Adam Simpson said in a press conference on Thursday.  
"That's what we've worked on this week. Spirit and synergy are really important for us as well." 
"We've tapped into that as much as we can. It's about what we do on game day. Talking about it is important, understanding it and accepting it and being aware of it too, but we need to action it, and that's our goal this week." 
Arresting momentum has been a huge issue for the Eagles this season, and they struggled to win the contest against Collingwood, who had a whopping 108 more disposals than the Eagles at the weekend. 
It is clear to Eddie Carruthers that the Eagles have altered their style of play.https://t.co/wz6RNJjCEU

— Zero Hanger (@zerohanger) July 21, 2021
But for Adam Simpson, the Eagles still hold their own destiny and will now look to alter this season's disappointing narrative ahead of a tough run-in against third-placed Melbourne (H), WA rivals Fremantle (A), and sixth-placed Brisbane (A).
"The inconsistencies we're having week-to-week is something we've got to dig deep on," Simpson said.  
"At our best, we've been really competitive and bridging that gap has been a concern all year. 
"There's reasons and factors to this, which start from your preseason to your synergy, to your availability, to your effort and energy on the day. So all those things combined have given us an inconsistent look this year."
The silver lining for the Eagles is their four-point buffer over eighth-placed Fremantle, which keeps them safe inside the eight - for now.   
"Having said all that, we're seventh. The ball's still in our court. So it's about trying to find a remedy for some of the things we've just spoken about, and we definitely need to have it. We won't go far if we don't fix it," he said optimistically.  
"Teams underneath us want to be where we are, and as much as we think there's more consistency and better performances in us than we've produced this year, we're still in a position where we can have a successful season. 
"The expectations are always high with us, and that's fine. I think we've given our fans and supporters a lot of entertainment and reward over the years. At the moment, we're struggling a bit, and we're trying our hardest to stay in the eight. 
"The ball's in our court, and that's what we're looking forward to." 
All eyes will now turn to their Monday night crunch match against a red-hot Demons outfit, and West Coast will be without several key players for Round 21, including their captain Luke Shuey (calf), champion defender Tom Barrass (hamstring) and excitement machine Liam Ryan (hamstring). 
For Adam Simpson, continuity has been a big issue for his side throughout the year, but injuries cannot be an excuse for some of the poor form the Eagles have shown. 
"We're missing five players from the starting 22 this week. It's most weeks we just haven't had the continuity we would have liked, but I don't think that's an excuse for last week," he said. 
"I don't think we should be putting our hand up saying the reasons why we were poor against Collingwood in Shannon Hurn's 300th is because of a lack of synergy. I don't think that was the reason. 
"It was a really disappointing performance that we all accept and take responsibility for, including me and the players. 
"And we need to get better.
"This week, we're playing one of the best teams in the comp who have been up and about for a long period of time, so it's another great challenge for us." 
The Eagles' inconsistencies this season have drawn up many questions over whether the club's premiership window is starting to wane. Concerns are also arising over whether their recruitment strategy is living up to the billing. 
This week, multiple commentators have called out the logic behind the marquee trade deal that brought Tim Kelly to the club, while others have urged the West Coast to move on All-Australian duo Andrew Gaff and Elliot Yeo to secure more favourable picks in this year's draft. 
Two years on, West Coast are deprived of first-round draft talent after looking to widen their premiership window. #AFL https://t.co/3rL6yxvUCR

— Zero Hanger (@zerohanger) August 3, 2021
But Adam Simpson was dismissive of arguments that the Eagles haven't been utilising any first-round draft picks, stating: "​​you've always got to look to regenerate at some stage, and I don't think we've had a first-round draft pick since Andrew Gaff."
"Things can change quickly. Trying to keep an eye on the future is always there for us and helping some of our younger players is something that we're aware of. We still think there's a good core of young players in our group who are going to develop into some really good players for us. 
"But replacing Shannon Hurn and Nic Naitanui and Josh Kennedy and these types they're legacy players for our footy club is the big challenge for us. Can we keep producing these kinds of players for our future? Quite often, you have to do it through the draft. 
"We're aware of all that; we don't stick our head in the sand. But it's all part of the planning, and it's not going to be done in one week."