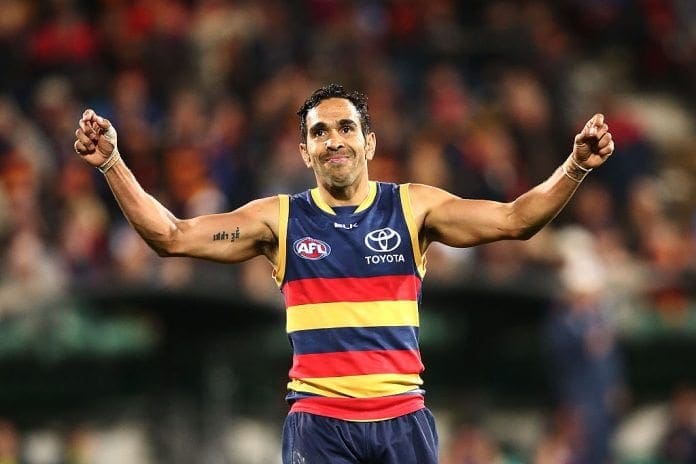 With news of Eddie Betts' retirement, it is only fitting that we celebrate what was one of the most exciting careers of all time.
The little legend out of Port Lincoln, South Australia will play his 350th and final game in his storied AFL career on Saturday night that includes four goal of the years, three All-Australians and over 300 goals kicked for both Carlton and Adelaide across his 17 years in the league.
The 34-year old was influential on-field with his amazing goal-kicking abilities, but also off the field with his work in recent times to stamp out racism not only in the AFL but the broader community as well.
A man that was loved by all, and with so many highlights to choose from, we narrow it down to the top 10 best moments of Eddie Betts' career!
10. Game-saving tackle vs Geelong (2020)
Whilst Eddie was known for his freakish goals, he could still apply pressure like some other great small forwards like Cyril Rioli and Stephen Milne.
With this tackle, it sealed the game for the Blues who recorded a famous victory against Geelong down at Kardinia Park, a venue that is so hard to win at.
9. Marks against Brisbane [2012]
Eddie could delight fans multiples times in a game, and he did so on this occasion against the Lions up at the Gabba, with two mark of the year contenders in the one match.
8. Goal vs Richmond [2019]
Eddie Betts had a lot of highlights at Adelaide Oval during his six-year tenure with the Crows, with most spectacular goals coming from the left side-pocket, but this goal came from the right-side pocket with a snap on the right foot which defied physics to go through the big sticks.
Even opponent Sydney Stack had to marvel in Eddie's sublime skill set.
The little master knew how to make a fool of the defenders matching up on him, and he did just that to Port Adelaide defender Cam O'Shea on this occasion, faking him out and spinning him around to then go on and kick a magnificent snap goal on the opposite foot.
Betts' first game saw his first ever goal in the AFL, and boy was it a good one. After crumbing the ball from a ruck contest, the livewire forward was able to run around into the pocket, before snapping from a tight angle to kick a goal. The first of what would become many spectacular goals throughout his career.
5. Goal vs Essendon [2011]
On this occasion, Eddie was able to make not one but two defenders look silly, as he spun and faked his way out of Dyson Heppell and Henry Slattery's grasp to slot his fifth goal of the night. Betts would go on to kick eight goals that night in a dominant display.
We head into 'Goal of the Year' territory now as the little magician was able to take that prize home in 2015 with this amazing opposite foot torpedo from the 50 metre line boundary to sneak in a famous and memorable goal against the Dockers.
The man from Port Lincoln made that pocket at Adelaide Oval famous for his spectacular goals from there, and this one is no different. The degree of difficulty is massive here, as Betts catches the ball from a spoil, spins around and throws it on his opposite foot for a left foot banana in a split second. That sounds very complicated, but Eddie makes it looks as easy as ever as he took home the Goal of the Year award in 2019.
2. Goal vs GWS [2016]
There have been calls to rename that pocket at Adelaide Oval, the 'Eddie Betts' pocket as he kicked some of the best goals you'll see from here. On this night in 2016, Betts kicked an amazing goal from the pocket as he slid in for the ball, managed to stand up and keep the ball in play weaving around the GWS defenders to snap a goal that would see him take out Goal of the Year in 2016.
Of all the Eddie Betts highlight reels and all the amazing goals he kicked, his banana from the boundary against Collingwood at the MCG is arguably the most memorable. In what was a chaotic sequence of events with Alan Didak flattening Heath Scotland, the play continued into the pocket, where Eddie would find a way to sneak in that banana from the tightest of angles to win Goal of the Year in 2006.
Relive an all-time classic goal in what was just Betts' second season in the league.